[ HOME ]


Profile
(Note: javascript must be enabled to view and enable email links.)
---
KEITH URQUHART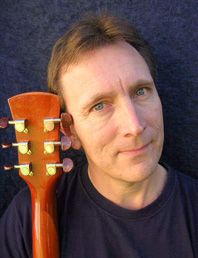 I was born in East Kilbride, near Glasgow, on Friday March the 13th 1959, if I remember correctly. My family was not musical – they really didn't even listen to music much – but by the time I was 5 years old I enjoyed listening to bands like the Beatles, Herman's Hermits and Gerry and the Pacemakers on Top of the Pops.
In the early 1970s I had two key musical experiences that I remember vividly. One was hearing Midnight in Moscow (Kenny Ball and his Jazzmen), one of my parents' few LPs, for the first time. I played that LP over and over, listening to all the parts and how they fit together. The other was hearing a Yes concert on the radio (John Peel for those who remember him). Their music totally flipped me over – particularly an acoustic ragtime guitar piece called Clap. I was just starting to play a bit on a nylon string Spanish guitar of my older brother's, and I feel so fortunate that right from the start, acoustic guitar was part of it.
I bought my first guitar when I was about 13 or 14. I saved my pay from working a milk run, bought a semi-acoustic arch-top guitar and added a pickup. Playing guitar was cool, a few of my mates played, and I taught myself mostly by playing covers. At about 15 or 16 I sold that guitar and my Dad bought me a Les Paul copy. I played in a garage band for a while, doing covers by bands like Deep Purple, Thin Lizzie, Wishbone Ash and Bad Company.
By then, about 1974, I had learnt to play some finger-picking tunes, including Mood for a Day by Steve Howe. I didn't play much at University, between 1976 and 1981, though I was still listening to Stefan Grossman playing finger-picking guitar – he was the real guru of the time – and I learnt to play a couple of his tunes. In 1979 I stayed for 6 weeks at Arran Youth Hostel doing the mapping thesis for my Geology degree, where someone showed me how to play Travis picking (alternating bass line played with thumb).
In 1981, I graduated and moved to Australia with an old Epiphone acoustic guitar in a cardboard box (I had sold the Les Paul copy, but I still have the Epiphone), which made it to Melbourne and then Perth unscratched! With my first or second pay packet, I bought a Gibson ES-175D, one of my 'dream' guitars. It didn't really get me playing much though, and generally I hardly touched the guitar between about 1978 and 1994. I didn't know anyone who was interested in music, or played instruments...not anybody!. In about 1987, I briefly took jazz guitar lessons, but hated the lessons so much I put down the guitar again and didn't play again for years.
1994 saw my renaissance. Two things triggered it. First, I went to a weekend workshop in Mt Isa for instrument players of all types. The workshop leader was a guitar player, and we realised we played a lot of the same stuff from the mid-70s. He invited me to play a support gig for him at the Mt Isa Folk Club, which I did – very badly – but it was good fun. The second thing was that a friend had a spare ticket for a gig at the Tivoli in Bowen Hills. It was Tommy Emmanuel, and those two hours of sensational acoustic guitar playing changed my life in a lot of ways. I left the concert inspired to pick up the guitar again, but actually didn't, for a while at least.
I did start playing again a bit, but I still didn't know any other musicians. That changed in 1996 when I worked with Karina Berry in Brisbane, who invited me along to the Sunday sessions at Cafe Bohemia in Hardgrave Rd That's where I met many of the folkies I'm now fortunate to call friends. Since 1996, I have had a lot of fun playing in a couple of bands with Nicole Murray, Toni Wood, and Nicola (can't remember her surname). I've also done musical collaborations with Maree Robertson and Rachel 'Witney' Lacey, though I've focused on playing solo finger-picking guitar, performing sets at Folkies Old & New, Folk Clubs like the Pod and Mad Ass, and Woodford, Yagubi, and the National festivals.
So, although people might think I've been playing for a long time, apart from some half-hearted playing as a teenager, I really only began to play a lot and focus on solo finger-picking from 1996. My main music influences have been Steve Howe, Stefan Grossman, Joe Pass, Jan Akerman, Gary Moore, and of course Tommy Emmanuel – also other Aussies Michael Fix and Bruce Mathiske. Locally, Ewan McKenzie and Jevan Cole have both influenced and helped me.
I try to promote guitar-playing, especially finger-style, whenever I can, and also to promote fellow players in whatever way I can. At Woodford in 2002-03, I ran a 3-day finger-picking workshop. I'd never taught guitar to anybody before, so it was an adventure – a step into the unknown, but it was one of the most fun things I've ever done! I realised that I get a lot of fun and satisfaction from teaching, and I was lucky to be able to run another workshop at Woodford 2004-05.
Future projects include a 6-week guitar workshop for finger-picking guitar players, hopefully featuring Ewan McKenzie, Alyssa Lajana and me as co-presenters (dates to be announced) and hopefully presenting more workshops at this year's Woodford Folk Festival.
One thing I've noticed over the years is just how high the bar has been raised in terms of guitar playing standards. Playing that would get you a gig in a nationally famous band in the 1970's won't even get you a place in a local garage band these days. When I started playing guitar, Stefan Grossman and Steve Howe were acoustic guitar gurus, whose standards all players strove to achieve, but now playing their tunes doesn't even raise an eyebrow. I think this makes solo guitar playing more daunting and challenging for anyone who wishes to play.
I'd like to play more in open tunings, particularly DADGAD (Open Dsus4) and Open C, though there are so many others (I've a list of about 35 open tunings used by various artists at this stage!) I'd also like to learn more jazz stuff and try to play more tunes on 12-string. Maybe, maybe give slide guitar a bash. And play in a band again, hopefully - they are more fun and less stress than solo stuff. So many tunes and so little time !
Keith Urquhart