[ HOME ]


Profile
(Note: javascript must be enabled to view and enable email links.)
---
KEN EVANS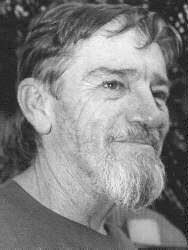 Born in Dunedoo, Central New South Wales, north of Gulgong, in an area rich in music collected by John Meredith, Ken spent his first twelve years at nearby Merrygoen. His grandfather was a brass band musician, and Ken had piano and clarinet lessons as well as taking up the mouth organ at an early age. After three years he found the tuition too formal, getting into trouble for playing Acker Bilk pieces instead of work set him.
At boarding school Ken started guitar on a diet of Pete Seeger, Peter, Paul & Mary and the like. At University in Newcastle in the 60's, he attended the Purple Parrot Folk Club, and introduced Keith Barrett to folk music. Warren Fahey was instrumental in setting up the folk club in Newcastle at that time. There was little Australian folk music being performed then - mostly British and Irish material with the likes of Peter Parkhill and Margret RoadKnight. Ken thought he'd mend this by learning from collected Australian sources and he gives a big THANKYOU to the various collectors who provided the backbone of his material - people like great Australian musician and collector Brad Tate.
In 1969 Ken was encouraged by Keith Barrett (who was his foreman, by the way!) to chuck in his job at the steel mill and take a trip to the Whitsundays, where Ken stayed on as a kitchen hand, playing and singing a bit, before moving to Townsville. He settled in Brisbane in 1969, though work has taken him away for extended periods - to Townsville, where he played regularly in '81 at the Folk Club when Bruce Forsythe was there - a stint at Gladstone (nothing but work seven days a week) - and a number of out of the way places between! Back in Brisbane in 1970 Ken discovered The Folk Centre - there was always a cheap feed of baked beans on toast, and free entry if he sang a few songs (he used to walk to the City from Woolloongabba!) Soon Dick Halligan introduced him to The Barley Mow Folk Club at the Hotel Cecil. When ABC TV aired Around Folk live on Tuesdays, life got busy - Thursday: Barley Mow, Friday, Saturday, Sunday: Folk Centre, Tuesday: Around Folk - with parties after each of these sessions. Thank God for Mondays and Wednesdays! There were monthly QFF Wine and Cheese parties at Pamela Gallagher 's in Milton, and monthly QFF Sunday concerts at Roma Street Forum (I well remember!- Ed)
Ken was involved in retracing the Brisbane Ladies stock route with the late Bob Michell, Anne Infante and Doug Rickards. They met the Palmes, the owners of Taromeo Homestead - which led to The Taromeo Folk Festival at Easter 1978 organised by Don & June Nichols, Anne Infante and Ken, with helpers including Bill Hart, Michael Bourne, Kevin Shearer and John Cox.
In the early 70's Ken played with The Wayfarers for a short while, and with Stan Arthur, Lionel O'Keefe and Ross Roache as The Currency Lads. He was also on the LP Four Letter Words with Stan, Lionel, Ross, Alan Knox, Bill Scott, Geoff Ludowyk, John Deykin and Austin Kelly.
In 1982 Ken was flown down from Mackay to play with Ted Egan, Bob Hudson and Sue Wighton at a Commonwealth Games concert. About then he was an occasional attendee at the old Story Bridge sessions and the Tar Pot Folk Club run by Bob & Shan Babinall.
Ken has been playing music with Glenys Johnston for about thirteen years now. They have a common interest in traditional Australian songs and dance tunes. Ken bought a banjo from his sister in 1986 - it sat in its case for three years until Glenys made him start playing. Ken finds most dance tunes a tad boring to play on the guitar, and says using the banjo is more fun.
He has developed his own guitar style and prefers heavier strings than most. Years ago Rex Muller, an uncle of Glenys, and a fine dance mouth organ player remarked that Ken was no ordinary guitarist!
Ken (and Glenys) are both enthusiastic kayakers and love to shoot through for the weekend to camp, play a bit of music, kayak and indulge in another passion of Ken's - wildlife photography and a spot of birdwatching. He has produced some remarkable studies of plant and animal life.
Ken says the stamina of the Folk Centre days has waned somewhat - he doesn't know how we all did everything back then - but he says the younger generation will hopefully keep up the tradition of a strong social aspect to the music - he laments the coming of the TV, and reckons that it sounded the death knell of social dances and get-togethers in most outlying areas. The old music will continue, but Ken reckons the days of the true collectors such as Meredith and Manifold are basically gone. "It will be up to the youngsters to collect from us!" 2000