[ HOME ]


Profile
(Note: javascript must be enabled to view and enable email links.)
---
KIMBERLEY LYSONS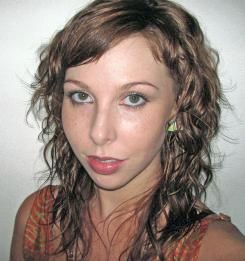 I was born and raised in Townsville, though my parents are from Alberta, Canada - so I always had a weird accent! I was interested in music, particularly singing from a very young age and studied music for a number of years at school.
My parents are quite conservative these days so I was a bit of an anomaly! They did live through an incredible time for music in North America which I re-discovered for them as a kid. So I was raised on Neil Young, CSNY, Joni Mitchell, James Gang, Janis Joplin, Fleetwood Mac, and other amazing bands from that era. Though I didn't know him very well, my grandfather was a poet so my family often says that a bit of his ability trickled down to my generation. As I grew up a world away from my extended family, I also loved learning (and obsessing!) about our cultural background and have drawn much inspiration from our family heritage. I am particularly interested in Traditional music from Northern India, the Romany Gypsies, and am also very passionate about Celtic music. My background is Irish, Scottish, Welsh, Indian and Basque.
I started singing as soon as I started talking! My parents tapped into the fact that I was a relatively artistic kid so I was lucky enough to be able to explore my creativity from a very young age through music and art lessons. I learnt clarinet from the age of 10 through to high school and really only began writing songs when I was 17. My style is very free-flowing (much to my musical collaborators' discontent!).. I don't play guitar or piano so I learnt to weave the songs together as I felt they should flow, rather than following a chord structure. As many of them are entirely comprised of vocal layers, this writing style actually does work.., (for me!). I'm an abstract painter so I liken my vocal compositions to uniting the colourful array of brushstrokes on a canvas. Sometimes not having such a regimented structure for your creative process can be extremely liberating - there are so many possibilities!
I was introduced to the BUG (Brisbane Unplugged Gigs) last year by George Jackson and started going every Thursday to have a listen in. I've always favoured folk over most other genres though hadn't really discovered the scene until meeting George. I've since kept my ear to the ground about other folk events and festivals. My highlight of the year was performing for the first time at Woodford Folk Festival - which happened to be my New Years Resolution!
The support of fellow folk musicians is amazing! I have found the folk community in Brisbane and surrounding areas to be so supportive of up and coming artists such as myself and this has really spurred me on to keep going with my music. It has forced me to get back up on stage!
One of my latest musical collaborations was with a fantastic bluegrass band called Innes Campbell & Present Company. I'm also a member of Aquapella which is a world music choir conducted by Beat Lehmann (Conductor of the Woodford Fire Choir). I performed at Woodford 2009/10 with both of these groups. I am now working on a singing project with two beautiful ladies: Karen Jackson of Fiddlesticks and Cam Kui.
Last year I completed an internship in London at a studio that ties the Visual Arts in with Music and the Performing Arts - which is like a dream to me! I was there on a Design scholarship that I won called The AgIdeas New Star Award and it was one of the most interesting months of my life! The studio works extensively with bands such as Massive Attack, Jay-Z and U2. One of the highlights was working on the on-stage visuals for Jay-Z's world tour. It was a world away from the musical and creative environment that I'm used to - but an amazing and eye opening experience nonetheless!
I am currently working on a music collaboration with Karen Jackson and Cam Kui called Heerabella. We each have many stories to share and yet come from such contrasting musical backgrounds so this is a very dynamic union. We felt the name Heerabella suited the group as it too has a rich history. It was the name of my Great, Great Grandmother who had an amazing story - some of which I only discovered when I was in London last year. I found out she was a princess of the Jat People in Northern India. We each have strong connections to our past - drawing inspiration from our lineage, our home and our individual journeys that have lead us to where we stand today.
My songs are predominantly a capella compositions but I am also going to say that the style is Contemporary Folk. Cam and I have stronger contemporary music influences, and Karen has a very solid background in Traditional Folk. While sometimes challenging, it makes for some interesting combinations of sound. You could even say some of the songs have tribal influences as we love world music, in other words we're diverse! Whatever you want to call the style it's a lot of fun to be part of!
My plan for the future is to keep collaborating with artists, working on music for Heerabella, and to perhaps expand the group so we have a few more voices to work with. I love creating music, I love creating art. Someone very wise once told me (perhaps with a more sophisticated choice of words), in a world full of so many destructive forces, it is good to be a creator. I am never going to stop creating because that is what I live for, and what a joy it is to be able to share that with a few people.
Kimberley Lysons