| BITS & PIECES | LINKS | CONTACTS |

[ HOME ]


Profile
(Note: javascript must be enabled to view and enable email links.)
---
KATIE BESTEVAAR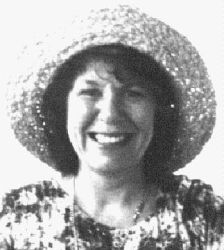 I was born in Manchester, England, the third of five girls, but moved to New Zealand at the age of six. My introduction to folk music, though I didn't know it by that name, was the green soft covered Boosey & Hawkes songbook, which had belonged to my father, and which was a great favourite. An early musical influence was Kathleen Ferrier, an opera singer who also sang folksongs, but more of the 'drawing-room' variety, eg. "I had a bonnet trimmed with blue" etc. We enjoyed Gilbert and Sullivan, and knew many of the songs from "HMS Pinafore", "The Mikado" and others. At the age of twelve I was fortunate enough to see Mary O'Hara, the lovely Irish singer. At that time she was only about 18 herself, and I remember her pure voice singing "The Spinning Wheel".
So I guess I always knew folk music, but to me they were the songs of my childhood, not designated 'folk'. My grandmother had a beautiful singing voice, and encouraged us to sing when we were with her. Family friends introduced me to the singing of Harry Belafonte, Burl Ives, Nina & Frederick, The Kingston Trio and loads of musicals.
Upon leaving school I spent a year with relatives in Melbourne. One Sunday they took me to the Emerald Hill Theatre - a 'defrocked' church which had folk music once a month - and REAL coffee and a Danish available at half time for 50c! Most civilised. There I heard, among others, Glen Tomasetti and Brian Mooney - an Irishman noted for his love songs/drinking songs, and homesick Irishmen songs. He was immensely tall, with wild and woolly hair, and sang like a dream - no wonder soggy songs have such a hold on me! After that first time I was hooked on the music, and we went every month.
Back in New Zealand I went to my first coffee-bar-cum-folk-club, and dived into the songs of Joan Baez, Peter and Gordon, Ian and Sylvia, Julie Felix, Judy Collins and others (am I dating myself here??) With two friends I formed a singing group, and we were getting together some songs ("Tomorrow is a long time" was one, I remember) when I came to Brisbane for seventeen days holiday, and somehow never left. That was in 1967.
In 1968 I was invited to regular Friday night get-togethers at the home of a workmate, Beth Partridge, a flamenco dancer. There I met Harry and Rita Robertson, Geoff Wills, Don Henderson, Reginato, and other luminaries. Around this time I heard about The Folk Centre, run with such dedication by Stan and Kathy Arthur, and felt that I'd come home. Friendships with some of those I love best (hi, Mr. Bones!) were grounded in that place, and some rare times were had! There was such variety of talent there - Jan de Zwaan, Lionel O'Keefe, Mike Clark, Janny Davis, Bill Scott, Anne Infante, Sue Edmonds, Keith Smith, Evan Mathieson, Tom Brant, Scott and Andrew, Kenny Evans, Mary Brettell, Roger Holmes (whose talent for making unspeakable puns remains unbeaten) - even, once a year or so, Peter and Paul (of Peter, Paul & Mary fame). Late in the evening all these well-dressed types would appear, and then we'd remember that PP&M were in town. They'd sing for maybe an hour - and this on top of their night's work!
Now and then Bill Scott would appear, and this was a special treat. He'd begin an Uncle Arch yarn, reel you in, introduce a side plot, everyone rocking with laughter, and then, when the whole room was caught on the end of his line, would stop, and say...... "but that's another story". Such timing! Thank you Bill, such good memories to hug with delight. On the nights Bill was there the offers to clear up at the end of the night would double, with the prospect of more chat, yarns or songs from Bill, and maybe a generous tot of rum from Stan. (I've just realised - it's all your fault, Stan, my liking for rum - not to mention Don & June's influence - particularly June's.)
During the heyday of The Red Brick Bush Band and The New Chum Folk Club, I 'did the door' and booked the artists each week. Joyce Simpson organised The Brisbane Women's Workshop which I joined, participating in the Helidon workshop and a concert at the Hale Street Church Hall before deciding that I wasn't a performer.
My children were born in Brisbane and grew up in the folk scene, for which I am eternally grateful - not only did they have a large circle of friends and role models - not ALWAYS good! - but it meant that they were not forced into the nuclear family model. They witnessed a multiplicity of ways of dealing with life's little hiccups, learning that there wasn't just one right way of doing things. Apart from that, there were so many good times - camping at Mt. Tamborine with 30 folkies, Easter at Taromeo, parties at "The Common", "The Bastard" 's, and Manilla Street, THAT bus trip to Newcastle, Mediaeval Fayres, deli lunch picnics, John Duffield's film evenings in the garden at Cav. Road, and of course Helidon - a favourite festival for many years, plus the excitement of Maleny. A lot to look back on.
Nowadays I continue to enjoy concerts, parties, singing sessions at Roger's, get-togethers with friends, camping at Imbil with Juda, Josephine and 'those bloody Logans'! I look forward to more camping weekends with folkies (particularly as we've now got elegant camping down to a fine art), and more time spent with friends who I may not see every week, but who have been a huge influence on me over the years, and a source of strength and happiness and growth. And, of course, the music. Always and ever the music. All in all, not a bad way to spend 30 years.
Katie Bestevaar 14/1/99