[ HOME ]


Profile
(Note: javascript must be enabled to view and enable email links.)
---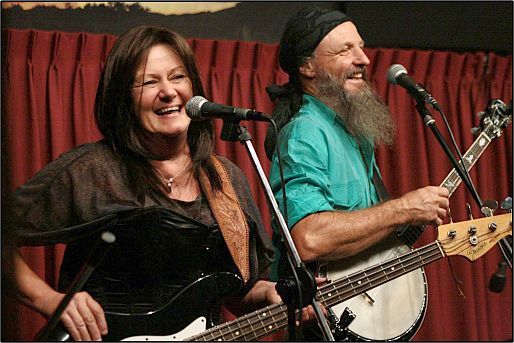 THE LEAPING LIZARDS
The Leaping Lizards are Donna Reynolds and Ron Dimmick usually with other well-respected instrumentalists joining them.
Found only in a remote a valley in Qld, living loosely hidden by the shadows of Tamborine Mountain. These Lizards are indeed celebrating 3 decades of proliferating on the musical fringes of several genres. This band of Lizards who regularly mix Celtic Bushie Australiana, with rootsy flavoured syncopated rhythms, habitually stir something in the Aussie heart that travels all the way down to the Aussie feet.
They've had great advantage of 30 years of development and adaptation within the capsule of musical industry segregation. It is in this way that these Lizards stand out, isolated on their very own evolutionary branch, distinguishing them from other similar species.
These particular Lizards have certainly morphed into something truly unique! You will often find them playing in 42deg heat at hot sweaty festivals, displaying extraordinary behavioural exhibitions of originals, country/folk acoustic music along with what the Lizards themselves call (yes...this variety of Lizard can actually speak!)... 'Australian Heritage Roots Music'. This characteristic display is keenly followed by long long spells lying prone, on large wet rocks....completely unable to move until the stirrings of the new gig begins.
They are definitely a 'must add' to your check out list, of rare & endangered species.
MySpace: Leaping Lizards and FaceBook: Leaping Lizards and The Leaping Lizards
Donna & Ron
[top]