[ HOME ]


Profile
(Note: javascript must be enabled to view and enable email links.)
---
LINZI OWEN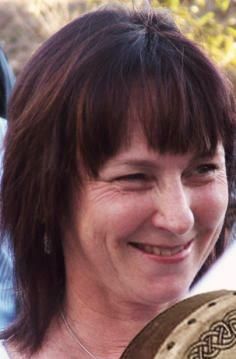 I think I must be the first bodhran player ever to be asked to tell their story but I am a folkie from way back and I do love music, so here goes.
I was born in Cape Town, South Africa and at the age of 6 weeks old my family moved to Bloemfontein, a very small Afrikaans town in the middle of South Africa in what was then known as the Orange Free State. My dad being of Scottish heritage joined the Caledonian Club as both he and my mum loved dancing and music. Some of my first memories when I was about four years old, was learning Scottish Country dancing and doing dances such as Cumberlands Reel, Eightsome Reel, Dashing White Sergeant and many more, I love Strathspeys (when my grandmother was back in Scotland she used to play the piano for Scottish Country Dancing) maybe that's where the love comes from.. As there was no TV in South Africa in those days, our weekends were often spent visiting friends, dancing or listening to my dads LP record collection, which was mostly Scottish. People such as Kenneth McKellar, Andy Stewart and the White Heather Club, Jimmy Shand and his Band and so on. I loved dancing and did the Scottish dancing and ballet right up until we left South Africa for Brisbane, in 1963.
When arriving in Brisbane one of my Dad's first jobs was as a Credit Manager with Butler Bros where he worked with a guy called Stan Arthur. They became good friends which lasted a lifetime and Stan told my dad about a place he and his wife Kathy were running called the Folk Centre in Ann Street. My sisters, Edith and Doreen, who were a bit older than me also got to hear of this Folk Club through the Youth Hostel Association which they had joined and they had started going to the club when it was still upstairs. While I was still at school The Clancy Brothers and Tommy Makem came to town and Edith took me along to see them at the Festival Hall. I fell in love with the Irish sound and vowed back then that I would one day go to Ireland to hear the music. Once I finished school I started heading to the Folk Centre as well, as my sister Doreen was working in the kitchen helping Kathy with the food and drinks. In February 1966 I met and became friends with all these people who had come from a folk club called the Coolibah which had closed down. We started meeting every Friday, Saturday and Sunday evenings and the alcove of the Folk Centre that we sat in became known as Coolibah Corner. Some of these people from that corner that I still remember were Chip Gilmour (I have just recently met up with Chip and his wife Helen again), Phil Cook, Hank Vaudrey, Keith Smith, Chris Nicholson, Evan Mathieson and the main one was Rhys Owen. We'd sit and drink Apricot nectar, eat spaghetti on toast or cinnamon toast and play cards while listening to The Wayfarers, Bill Scott, Dave de Hugard, Sue Edmonds, The Jug Band and many more. Rhys and I became best mates and along with the others we spent most weekends going to the club, playing music in the parks or at parties or just sitting drinking coffee and talking for hours. I am the culprit for brainwashing Rhys with the Beatles. I still loved dancing and often I would leave the Folk Centre for an hour or so and go to the Disco in Edward Street called Snoopy's where I would dance my head off , then head back to the club again for more folk.
After a few years my dad was transferred to Melbourne and as Rhys was then in the Air Force down in Sale, he would often come and spend weekends with my family. I myself didn't take to Melbourne and decided to go to Cairns where I had friends whom I had met through the Folk Centre in Brisbane. Martin and Aubrey Beggs were running the Folk Club up in Cairns so for the two years that I was up there I was back listening to some great folk music and also music from the islands. After Cairns I headed for Perth as the rest of my family were at this time living over there but I could never find any folk music. Rhys and I lost touch around this time and went our separate ways. I got married, my first child Kerry was born in Perth and as my husband was from the UK, we went back there for 12 months. We then went to Auckland NZ for three years, where my two boys Chris and Tony were born. We came back to Brisbane but my only contact with the music I loved was by buying and listening to LP's and later CD's. With my sister Edith, we started a Scottish Dance club in Sandgate as we both loved to dance and loved the music and Edith was a dance teacher. We ran this club for about 10 years and had some great times and met some fabulous people. We would often perform demonstrations at the Redcliffe Pipe Band Ceilidh's and at various school fete's and other happenings around Brisbane. It was a lot of fun. During this time I met a great couple from Ireland, Mary and Tom who became really good friends to me and whenever there was a concert on in town they would take me along. I got to see people such as The Fureys (about 10 times), The Boys of the Lough, Wolftones, Battlefield Band and many more. Tom and Mary went back to Ireland to live in Ennis, County Clare and I made a promise that one day I would visit them.
When my marriage ended, I kept my promise and went on a trip to England, Scotland and of course Ireland, I finally fulfilled my dream from when I was fourteen. Tom and Mary who knew how much I loved music, took me to every music place they could think of including Doolan, wow! I loved the sessions and wondered why over all these years of loving music so much, why hadn't I learnt how to play an instrument. On getting back to Brisbane I decided that I wanted to learn Irish and the Irish Club put me in contact with Adrian Jeffries and Jo Bargewell. Through Adrian and Jo, I not only started learning Irish, meeting great people and making new friends but I also started going to the club and listening to such bands as The Jar, Cul taca, Tulca mor and also going to some great shows such as Lunasa, Mozaik, Sharon Shannon, and more. Jo was giving bodhran lessons, so I decided to go along and have a go and when the sessions started at the club on a Wednesday night I became a regular there, still am. I also found out about the Broadway sessions and The Mad Ass Acoustic Music Club.
Three years ago while travelling on a bus up to Toowoomba to visit my daughter and her family who live on a farm on the Western Downs, I sat next to Helen Rowe. I knew she was a folkie by the fiddle, guitar etc she was carrying and we started chatting about the Brisbane folk scene. I asked her if she had heard of Rhys Owen and nearly fell off the seat when she told me he often got together playing with her and Lonnie Martin. Helen arranged for Rhys and I to meet again and it was a wonderful reunion after 33 years, so much to talk about it was like we had never been apart. We saw each other at the odd gig around town and then late last year we finally got our act together and we were married on the 5th May this year. Over the last few months Rhys has encouraged me with my song writing and has been helping me by putting music to them. He has also bought me a keyboard so I can have a go at the music myself. After all these years of being a listener, which I have loved and will still do, it is great to have a go and to have the support of such a wonderful guy and all my new found friends, especially the ones who are having a go with our songs. Thank you John and Roisin Logan, Mary Brettell and Steve Pye. Most of all thanks to Rhys and my family, and of course music, I love it!
Linzi Owen
(nee Lindsay Thomson)