[ HOME ]


Profile
(Note: javascript must be enabled to view and enable email links.)
---
MARTIN REESE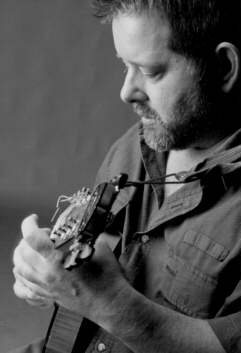 I come from Hampshire, a green and beautiful part of England, with a rich tradition of Morris dancing, unaccompanied singing and rural life, none of which I have ever really taken part in except the rural life, going for long walks through the woods observing the changes of the seasons. No, I came to traditional music first via Simon and Garfunkel, Neil Young, Bob Dylan and the Grateful Dead. There was also a late night radio programme run by a DJ called John Peel who would happily intermix The Clash with Planxty, Captain Beefheart and the Chieftains. It really was a strange time when the world seemed to be rejecting tradition - just look at the Wurzels! - while at the same time embracing it with people like Martin Carthy and the whole revival in traditional singing and music.
I started playing guitar when I was about 14 supported by my family (who didn't know what they were getting into) . I bought a mandolin when I was 17. I don't know why because I couldn't play it, but maybe the instrument chose me! I was lucky enough to have musical friends so there was always someone from which to learn. It was a matter of pride then to work out the chords of the songs yourself as the books you could buy were always full of complicated chords we could not play. I had a brief career as part of a four-person band called Softer Landing as the lead guitarist. We made a little homespun cassette recording and I remember being struck by two things, the creative soaring three part harmonies and the continual screaming lead break that went on without any discernible pauses from start to finish. It was about this time that the manic head-shaking started and I bought a high G whistle (High G !!!) and improvised mournful note-bending airs that often leapt beyond the range of human hearing. It was obvious that something was brewing.
I went to college in Bangor in North Wales to study English Literature (I perceived no paradox in this!) and it was in the Kings Arms Pub where the revelation occurred. Terese and I (things have moved on) were in a jostling crowd at the tiny bar when an Irish reel on flute rose into the smoky air to be immediately joined by accordian, 5-string banjo, concertina and whistle. It was fantastic. It was the first time that I had seen any instruments other than guitars played informally. No one was listening, there was just a cacophony of sound and the whole place was full of energy. It was a mixed singing and music session that went on more or less continuously with high points on Friday and Saturday nights but lots of unaccompanied singing on Morris nights. There were musicians like Dave Shaw, the Northumbrian piper, Paul Thompson on flute, and lots of others, including periodic visitors on bombarde, binou and hurdy gurdy.
The music was a real mixture, from Irish to Welsh, Northumbrian to Morris and Breton. I listened for a long time before plucking up enough courage to join in and then for the next three years I played with people from all over. I got roped into organising the Folk Club and folk dancing for a year and even incorporated some of this new world into my studies in the form of Child's English and Scottish Popular Ballads .
There then followed a period of work and travel before arriving in Brisbane in 1987. For about the next ten years, time passed quickly on family and work and study with the occasional session with people like Danny Holmes and Bill Anderson. Mostly, I just continued playing away at the unending unbroken session in my head. Over the last five or six years or so I have been rediscovering the music and playing in sessions quite regularly again.
I very much enjoyed being part of Malarky with Simon Wells, Terry Jacob and Sebastian Flynn, my first membership of a band since Softer Landing (!), and I am playing at the moment with everybody that I can, including some collaborations that I hope will eventually result in some recordings. I find it really challenging to try to capture the movement and the lilt of traditional tunes in the formal environment of a studio. I never thought I would do anything except play in sessions and I was content with that but I have attended some workshops over the past few years by Dave O'Neil in Canberra and Andrew Claremont, both of whom have unlocked some musical mysteries for me.
I cannot name everybody in the Brisbane folk scene here but you all know who you are and understand of what a vibrant tradition we have custodianship. The sessions in Brisbane are constantly evolving and changing with different venues and new musicians coming through. It is grand to be part of this giant living breathing colourful creature that is traditional music.
Martin Reese