[ HOME ]


Profile
(Note: javascript must be enabled to view and enable email links.)
---
MAREE ROBERTSON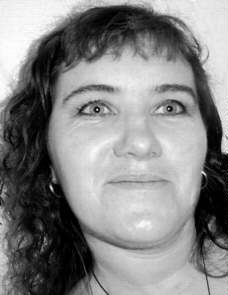 I was born in Brisbane, but spent most of the first 10 years of my life living in Stanthorpe and Warwick - and consider myself to be a country girl at heart. Singing was one of my first loves - I learned to sing for my own independent pleasure when very young - and by the time I was five years old was nicknamed "George" due to my singing the Seekers song Georgy Girl. I remember singing to the bus driver on my way home from school in Grade 2 or 3.... I also remember wearing a white dress with a blue bow for my rendition of Six Little Ducks for a school eisteddfod. I also had my very own singing nun teacher in 1972 - an early influence.
Family musical influences ranged from the ubiquitous Seekers sing-a-longs while driving across Cunningham's Gap to visit grandparents in Ipswich and Brisbane, to listening to LP records of Jim Reeves and Jim Nabors at Pa Robertson's house, to snippets of corroboree songs sung and harmonica played at Pa Power's house. An early memory that presages my life-long interest in political music is hearing the I Have a Dream speech announcing Martin Luther King Jr 's assassination over the radio while we were driving over the Gap, and getting spine tingles...... I must have been 5 years old.....
My own musical expression was muted through my later childhood and teenage years - besides a brief inglorious appearance in the chorus of O What A Lovely War in Grade 8, and learning (by osmosis) the words to all the songs my two teenage sisters played as singles or on guitar for the popular folk masses of the time. This was the seventies - so I can happily sing you all the words of Billy Don't Be A Hero if you want..........
My own teenage musical interests ranged from any theatrical/musical combination - Fame, Rocky Horror Picture Show, - to anyone on the radio I could sing along with (Carole King, Anne Murray, Boz Scaggs) - to my first adult musical interest in Van Morrison, courtesy of my older brother Daniel.
I had an unrecognised skirmish with the folk scene by attending Bush Dances at the Lone Parents Club (with Rantan ) and the New Years Eve Bush Dances at City Hall (with The Verandah Band ).
By the time I was living out of home and going to Uni - I was into the alternative live music scene based around 4ZZZ.
I had lots of friends in bands - but my self-consciousness stopped me from performing.
In 1987, I got involved in helping to organize the Raven Room - a late night cabaret at the then Brisbane Community Arts Centre (now Metro Arts). One of the regular performers was Lonnie Martin - and John Thompson was the bouncer..........and the rest, as they say, is history (for more gossip about this period you must ply us with cake :-) )
By 1988, I was sharing life and love with the said JT - and it was through him that I discovered the folk scene, and discovered that I could, in fact, sing myself - in public......(thanks Bellamy :-) ) The 291 Club (with Geoff Wills, Don Henderson and Peter Auty in fine form) was also a big encouragement.
A rapid intoxication with all things folk followed - Helidon Folk Festival (with Jan Davis and Phil Brown, Mary Fletcher and Kev Carmody ); Mediaeval Fayre sessions and the Aussie Nash with Gerry Farrell; the 1989 National Folk Festival at Maleny - I was in singing heaven!
In the same period, I met the inspirational Ann Bermingham - eventually leading to the formation of the political folk trio One Step Forward with Ann, John and myself - still one of the most serendipitous folk music collaborations I have witnessed.
I also got myself entwined in the organising group for the Maleny Folk Festival (at one of those 'barbecues' I know to avoid now :-) ) and ended up organizing "The Gate" at Maleny for 3 years.......until I learned the hard way that it didn't satisfy me to see only my own gigs at a festival! I loved the spirit of Maleny and the fabulous opportunities to see legendary and awe-inspiring musicians play.
Hugely significant influences from this time were Judy Small and The Fagans - I had found the delight in being able to exercise my political passions (ie feminism, social justice, anti-racism/homophobia) through music. I have sung at more rallies than I can count......and One Step Forward singing a whole chorus of Montreal Dec '89 on the Channel Nine News is among my proudest musical moments...
By 1994, One Step Forward was living in three different cities at either end of Australia, we had played at the National and the Melbourne A Cappella Festival, and it was time to let go.
While living in Melbourne and then Canberra in 1993-96, I got involved in organising folk clubs and concerts and doing some work for Crafty Maid Music. I realised that sometimes organising concerts myself was the only way to get to see some of my favourite musicians. Over the years I have produced concerts for Fred Small, Penny Lang, James Keelaghan, Chris Williamson, Tret Fure and many more - and feel proud that I have been able to help folks get to see these musicians in action. Folk music producers hardly ever make any money - and often risk big losses. Supporting your local club/producers is the best way to make sure the quality of your musical life will stay high!
I returned to Brisbane in 1996 - and in 1997 Marina Hurley and I set up The Pod Folk Club at Paddington - which has survived in various permutations to this day. We put on some great shows there - including interstate folkies Bernard Carney, Enda Kenny and Peter Hicks. It was also at The Pod that I am proud to say Rebecca Wright made her folk debut when she was only 16 years old.
Since then, I have sung and toured with Rebecca, experimented with other musical combinations, sung in the Homelands Bulgarian Choir for the Brisbane Festival, and organised a series of musical extravaganzas for Woodford Folk Festivals - including You've Come A Long Way, Baby with Rebecca; Electric Women with Nicole Murray and everyone in the known universe; and last year, previewed my current musical project Barking Mad (Living with Mental Illness in a Culture where Sanity is a Shopping Franchise) - which is currently in rehearsal with myself, Ann Bermingham, Lonnie Martin and Jane Carpenter for interstate touring in September 2002. (contact for details)
I continue to be passionate about promoting the music I love - Jigzag from Sydney and Veda Hille from Canada are two current favourites - and to work towards making the world a better place through music and all the courage and joy it can offer us. Thanks to all the folkies who've brought sunshine into my life through their company, singing and playing -
Love, Maree