[ HOME ]


Profile
(Note: javascript must be enabled to view and enable email links.)
---
MARK ANDERSON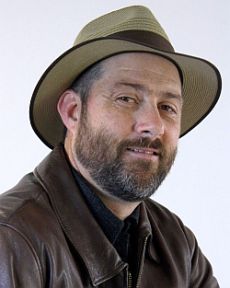 aka Ruffcut Anderson
I was born the second of three brothers in Melbourne 1963 to an unusual family. My father was a famous Worth's Circus performer and strong man by the name of The Mighty Apollo who performed amazing feats of strength. He was also an accomplished Adagio dancer in his earlier days with his own dance troupe and traveling show. Dad also owned and operated gymnasiums in and around Melbourne. My mother was a professional model who won many beauty and beach girl competitions. So my early years were filled with exposure to television studios, circus, live performance and carnie folk. While I can't say that my family were musically inclined, the stage was truly in my blood.
At the age of thirteen I started to teach myself harmonica, my first musical instrument, portable and deadly in the wrong hands. I had a traveler record player with a couple of Sonny Terry and Brownie McGhee 45's which I tried to mimic. There is a reason that practice rooms are sound proofed, drove everyone mad until I was able to master some melodic tunes. Soon I discovered the joys of musical performance. I was attending Doveton Tech School in the seventies; they had a good music curriculum with a brass band. I discovered that by signing up for the band I could be excused from some classroom work to study music and better still "go touring with the band" Bargain!! So the Trombone was thrust upon me and once again I drove the neighbourhood to the verge of madness even with a mute attached. Anyhow plenty of practice and a couple of years later I worked my way to 1st Trombone with the band playing the usual array of school band music.
It was during this period I learnt to play guitar heavily influenced by early country blues masters but had not yet developed true musical goals. I played numerous school and social events, went on tour to New South Wales, won a school music award, I even played a brief but regular stint with the Vic Railway Brass Band at Flemington Race Track on alternate Saturdays. December 1979 at seventeen I left school to join the workforce leaving musical aspirations behind me. I could not afford my own Trombone but owned a guitar and set of blues harps which I sometimes played at gatherings, camping trips and such. I got involved with the odd duo playing a mix of middle of the road guitar favourites. My personal repertoire consisted of Eagles, JJ Cale, Robert Johnson and Jethro Tull songs that seemed to impress the natives. That was pretty much it musically until I moved to Brisbane in 1987.
At the age of 25 I decided to leave Melbourne and head north around Australia for the second time. I sold up, packed my mortal remains into my truck. I arrived in Brisbane a few weeks later and have lived here ever since. Sometime around 1998 a good friend Tracey Dunnet who seemed impressed with my musical ability introduced me to her friend Tony Von Wieldt of Loves E Blur, The Five Hanks and Disgraceland fame. This was my first introduction to the Brisbane acoustic music scene and more importantly the genres of Bluegrass, Country Blues and Folk Music played by many talented people. Tony and his wife Katrina hosted regular veranda jams at their home in Sandgate. It was at one of these jams I met Kym Watling of Disgraceland, a fine claw hammer banjo player. This was the first time I had heard a banjo played live, I was hooked. A short time later I had purchased my first banjo and started on a new musical journey. This lead me to music festivals and gatherings such as Imbil, Maidenwell, Mulgowie and more recently Neurum Creek.
These events have been a corner stone to my professional development as a musician over the years. It was at Tony's that I first met Dave Martyn a talented local country blues guitarist. Soon after Dirt Music Club was born. We cut our teeth playing Country Blues and Contemporary tunes by Big Bill Broonzy, Blind Willie McTell, Steve James, Tom Waits and Steve Earl. Dave discovered the Mad Ass Folk Club then located at South Brisbane and after a couple of solo performances arranged a gig for Dirt Music through my long time friend Alison Mackenzie. Dirt Music became regulars at the Mad Ass over the years playing The Winery, The Broadway and finally The Muddy Farmer. Dave Martyn and family moved to New Zealand, resulting with the band morphing into a five piece ensemble, recruiting local legends Gav Becker on bass, Coojee Timms on guitar and vocals and Max Christensen on sticks. We did many shows at pubs, clubs and festivals with our last performances at Woodford in 2009 playing four shows.
During the period from 2005 to 2010 I morphed into the character of Ruffcut Anderson on banjo, mandolin and vocals with Little Son Gregory in our duo The Jook Joint Boys playing mainly traditional country blues in theatrical style. Amongst our many shows we were the opening act at the first three Guitar Shows in Brisbane and had a four-year residency playing Cafe Checocho in West End.
December 2008 Alison and I moved to Toowoomba where I formed my current project outfit "Acoustic Union String Band" specialising in Americana music. Everything from Civil War to Johnny Cash. It started as a four piece with Chad Swaby on guitar and vocals, Michelle Swaby on fiddle and Alison Mackenzie on mandolin. We played many memorable shows around The Darling Downs and Brisbane. November 2011 we moved back to Brisbane. These days Acoustic Union works Clubs, Pubs and gatherings mainly as a two piece outfit with Mal Nebe on double bass myself on resonator guitar and banjo with notable support artists like Ewan MacKenzie to help with the dirty dishes when he is available. I will finish by thanking all my music friends and associates not mentioned. I could not possibly fit everyone into a thousand words.
Cheers from Ruffcut
Webpage: profiles.google.com/ruffcutanderson or