[ HOME ]


Profile
(Note: javascript must be enabled to view and enable email links.)
---
MARY BRETTELL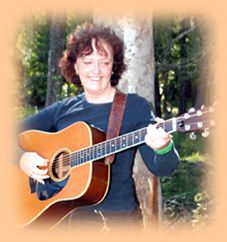 Mary Brettell has been singing since she was very young. She grew up in a singing family and was actively encouraged to perform by her parents. She says "as a child I always wanted to be a singer and used to gather together the neighbourhood kids and put on concerts under our house." The Folk revival of the `60s encouraged her further - the days when Peter, Paul & Mary and The Seekers were popular and played frequently on the radio. In 1968 She bought her first guitar and began playing and singing in coffee shops. She was lucky enough to meet Dave Worthington who convinced her to go along to "The Folk Centre" in Ann Street and do a bracket of songs. There she met many friends including ones who are still around the Brisbane folk scene, like Anne Infante, Jan Davis, Don and June, just to name a few, also some who have drifted away such as Keith & Jan Smith and Serge Petelin. Stan Arthur gave her a regular spot at the Folk Centre. As she says "I have been a sort of Folkie ever since".
Mary involved herself with the QFF in the early '70s and was a regular performer at the monthly QFF concerts at the Roma Street Forum, along with the singing sessions at the monthly wine & cheese parties. The old Barley Mow Folk Club at the Hotel Cecil was a regular haunt and she performed at some of the early Mediaeval Fayres and Folk Festivals, such as the National Folk Festival 1973. Mary has a deep rich voice and sings anything from unaccompanied English traditional material to Bluegrass and contemporary, and everything in between including Australian Traditional songs. She joined 'Hilltop Holdout Bluegrass Band' in 1978 and still fondly remembers their performance supporting the Fureys at Festival Hall. Later she became a founder member of the 'Stanley County Newgrass Band' which appeared regularly at the old Tar Pot Folk Club at the National Hotel, Brisbane. She has played as a member of groups such as The Wayfarers, Rantan, Prickly Pear and The Royal Bounty Bush Band.
Mary has some good tales to tell, about performing at the gathering of thousands of bikies at the Motorcycle Riders Aassociation Annual Christmas Toy Run at Musgrave Park and a particularly "interesting" event where she had her toes and ears nibbled while trying to sing to a crowd in a gay bar. At Expo 88 she did stints at the American Pavilion with her repertoire of American Country & Bluegrass material and at the Australian Pavilion singing Australian Folk Songs. Mary says, "I sing a wide variety of songs from British, Aussie to American, both traditional and contemporary. I look for songs that have good rhythm, and tell an interesting story. My main aim in performing is to entertain. I like to grab the attention of my audience by performing well."
For seven years Mary has played guitar, in an Italian Folk group 'Coro Abruzzo' who have performed at Maleny, Woodford and early Solstice Festivals, as well as many other multi-cultural events from Brisbane to the Gold Coast and as far south as Lismore.
More recently Mary has performed at Woodford Folk Festival (2003, 2004 & 2005) and at the 2006 National Folk Festival in Canberra.
You can catch Mary at the Kookaburra Cafe Folk Club (ed: Now Red Hill Folk) at Red Hill (not far from Paddington) most Wednesday nights.
... and she is your FolkRag webmaster !!
Mary Brettell