[ HOME ]


Profile
(Note: javascript must be enabled to view and enable email links.)
---
Matt Kealley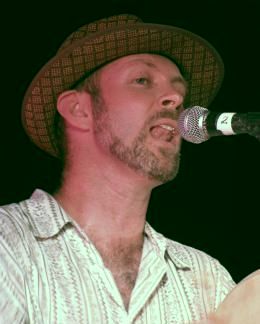 Songwriting is my passion, yet it took me a few instruments and music genres to get to the celtic-folk-rock cocktail of spirited acoustic music that I now write and love to play. A good thing too as broad horizons can take you on an interesting journey...
"Sometimes we get a little bit of trouble 'round here. Only on the odd occasion but it has been brewin' for a few weeks and I think tonight is gonna be the night. So I suggest that when it happens - because it will happen - stop what you're playin', grab a beer and wait 'til it sorts itself out. Once they're all done, I'll unlock the doors and let 'em back in and you can get playin' again. OK? OK!''
So was the start of my gigging days back in Western Australia around about 1994. Not Enough Rope was about to play its first ever pub gig at the Oasis Hotel in Merredin, a small country pub roughly half way to Kalgoorlie. We were an original band from the city that had come to entertain the locals on the dubious recommendation from a young lass who had heard us bleary-eyed at a 21st about a month beforehand. We had 14 original songs, six covers (three by Weddings Parties Anything and two others that were very obscure) and a couple of traditional Irish songs - and we had to play for three hours. Basically the band was shitting itself.
We sucked. I played the drums loud, the accordion screeched, strings broke but the crowd seemed to enjoy it and that was the moment - the moment I was hooked.
I still get that feeling every time I play my songs. It's hard to describe. It's a feeling of euphoria mixed with humility and coolness. Playing your own music is great. Playing in a band is even better and playing with talented musicians who make your songs sparkle is just superb. I met a couple of talented musicians in Don Jarmey and Jamie Corfield when I moved to Brisbane in 2004 for the smart-state policy. It was a smart move and I'm glad to play with them in Jigger.
I was born in Darwin in 1973 to non-musical parents. I say non-musical because they didn't play instruments or sing. However my dad loved listening to music, particularly live music and specifically Dixieland jazz. We moved to the hills of Perth before cyclone Tracey could spin his collection of Kinks, Dave Clark Five, Satchmo and Santana. Jazz was a big part of my musical influence growing up and just about every Sunday afternoon in summer, he would take the family to the Kalamunda Hotel to listen to his mate Dave play clarinet in a trad-jazz band. Dave could wail on that licorice stick and I wanted desperately to do the same. So that's when I started to learn…the flute.
Yeah, I know, the flute isn't exactly the clarinet, but playing the flute wasn't all bad. I've played it in the bands I've been in and have even moonlighted onstage with the Waifs, but I never really did understand why I ended up learning it. I think it was at school when they offered the choice of guitar, trumpet or flute. Dave said it was the closest fingering to the clarinet. Dad agreed. I should have picked guitar. It was all Dave's fault!
The Mundaring Weir Hotel was where the folks would go for a few drinks, a pig on the spit and to listen to a folky duo or bush band. Winters were spent dancing the drongo, mucking around on the weir and water pipes that were built to pump the water to Kalgoorlie during the goldrush. I often marveled how the workers lived and it must have rubbed off because I wrote a song about the water called Flow Sweet Water Flow.
I first sang that song at one of the sessions at the Broadway Hotel around 2005 and I recall getting a few surprised looks when I said it was one of my songs. The folky clique was a hard mob to break into and I often would return home a little bemused. My gorgeous wife Jo would ask me about the session and I would often respond – "no names yet but Tanky, Ned Kelly, The Knitting ladies and Mando man all commented on my songs". You know who you are.
My past flute teachers never had kind nicknames. I was sick of classical and wanted to improvise. Jigs and reels were never considered so searching for inspiration at high school in the late 80's saw my eclectic taste in music broaden to blues and hip hop mixing with the Beach Boys, Harry Chapin and Midnight Oil. The movie "Crossroads" about a man who sold his soul to the devil for his music skills made me reach for a harmonica. I know the movie was about guitar, however I soon discovered delta blues and the fact a harmonica could easily fit into a flute case. I also discovered Run DMC, Public Enemy, beat boxing and the fine art of sampling and scratching – goodbye flute hello drums.
My first drum kit was bought secondhand in 1994 and sounded like a badly tuned weetbix packet. This together with some tinny cymbals and a new love of the Pogues and the Levellers inspired a band that recorded several albums and gigged pretty regularly around WA. The drums were upgraded and we soon played all the festivals and Irish pubs, regularly supported Things of Stone & Wood and Weddings Parties Anything when they were in town, and even gave John Butler a support slot at our CD launch in 1998. Playing live drove me to writing songs, this was difficult on the drums so I finally picked up the acoustic guitar and taught myself to play.
Long residency at Irish pubs in Perth and a yearning for singer-songwriters taught me how to write songs that told a story and generally stuck in people's heads. I think the exposure to all different kinds of music also helped. The journey on the eastern seaboard continues and I have met some wonderful musicians and played music with some brilliant people. I have written songs with Mark Cryle and have been threatening to write with Roz Pappalardo for quite some time now - time just seems to tick away!.
The gigging continues and my horizons are broad. With the support of Jo and Brodie, I trust there will be many more instruments to learn, anecdotes to tell and songs to sing.
Matt Kealley