[ HOME ]


Profile
(Note: javascript must be enabled to view and enable email links.)
---
MATT MOLINE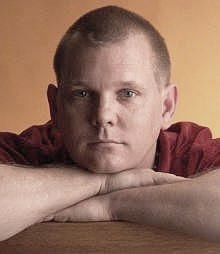 I was born in our nation's capital Canberra in late October 1966, it was a balmy spring afternoon. Even then I liked to arise late in the day occasionally. I must have thought it would be a good precedent to set early on.
My father was a journalist with the Australian and started the paper with his friend and fellow pith taker Rupert. Rupert thought dad should make the paper look good so made him features editor and chief sub editor. My dear sainted mother is also a taker of the pith. On one occasion I remember she took me to an exhibition of the Impressionists, I thought they were a folk band, at the NSW State Gallery... we were standing in front of a Monet, something with lilies and a pond... standing a few feet away were two women... lets call them Tru and Pru.... who were looking at the painting next to the Monet. Mum noticed they were dropping the 'eyes'... so she exclaimed My god... he must have been good!... that green is a very hard green to get... and wow! that frog looks like it is going to jump out of the frame and hop away... I'm impressed. She and I then moved off to the next picture. Pru and Tru... moved in behind us and laid a critical eye across the lilies... their eyes searching for the frog... alas... they could not find it and departed downcast.... She is a dear pith taker my mother.
Neither play an instrument as such... except the one that makes laughter and happy sounds... which they only seemed to play late at night and early in the morning behind the closed door in their bedroom. They must have been practicing, because they never performed in front of my sister and I. I think they were a little slow, because they practiced a lot.
Though... there is a wonderful photograph of my mother seated at a baby grand, hand flourishing in the air above her head... I still have no idea whether she had just finished playing... to this day I harbor a deep suspicion she was a secret concert pianist... where else would I have received the genes for making happy sounds...
The first album I ever had that was mine was the soundtrack to the film Buggsy Malone. My mum joined a mail order tape club. She got Beautiful Noise by Neil Diamond and my sister got Bat Out of Hell by Meatloaf, my first experience of a musical. So really they were all classic soundtrack albums. One for a movie, one for the theatre and one for life.
I started playing guitar because a friend had started lessons... and I thought it would be cool... I was not very cool then.. and I knew chicks dug it, I was not cool... but I was not stupid. He stopped and I kept going. It has been 28 years now since I started lessons with Jason, he was my best friend and lived 300 meters up the road. He loved Kiss and had several hundred pictures of them on his bedroom wall. I thought that was dumb so made a deal with him. When we wrestled next if I won... he had to take down one picture a day... needless to say it took him 6 months to take them all down. In the meantime he took me to my first concert... I was 16... and yes it was Kiss in concert at the showground's in Sydney in 1982. I recently found out the support act had a guitarist called Donny Burke - I went to his 60th birthday party last week in West End, I gave him a Matt Moline solo album, of instrumentals, and a Johnson Stompers Album, Bush Telegraph. :-) Did I mention Jason and I… we used to wrestle.
In 1989 I accidentally fell into the folk scene in Townsville FNQ. I bummed around with a guy called Nigel Oliver. He taught me to play pool and gave me one guitar lesson in the 3 years we shared a flat, just behind the Strand in North Ward. Let me go back a bit; I first heard him playing the song Ange, by Davey Graham and I was trying to get my fingers to do both the bass line and the melody. There was this guy with long hair and a Martin guitar busking in the mall. Playing this instrumental I was frustrated with. Well it was more my fingers than the guitar that were causing the frustration. I had spent all my money at the markets... so threw in his guitar case a New Guinean cooking banana... one of the huge red ones. Three weeks later I was renting a room from him... $35 a week... ahhh... the olden days. Over the next fifteen years we played in two bands together, 42 Skiffle and then the Johnson Stompers, a delta blues quartet, with which we toured for 5 years. Michael Tully (vocals, bass and double bass) Nigel Oliver (guitars... about five of them onstage at once and repertoire), Uthal Plantener (washboard, percussion and building things from wood, sticky tape and a matchbox), I sang the silly songs and played mandolin, harmonica and funny noises. We came to Brisbane in December 1993 with the promise of one gig and one showcase for the Queensland Arts Council. Henry Laska, the then QAC touring co-coordinator, heard us play at the Yunguburra Folk Festival, which is 500 people in a beautiful old wooden Queensland pub for the weekend. The dances were in the hall next door. Henry invited us to showcase at the QAC AGM between business and workshops for the 160 delegates from around 80 branches from across the state. At the showcase we had 20 minutes to strut our stuff... which was cut to 10 min because they were behind schedule with the How to put on a gig workshop... we played for nearly an hour... the delegates were dancing and formed a huge conga line... going out one door and back in another door on the other side of the theatre. 60 branches signed us up immediately... we toured with them for 3 years. The Stompers still hold the record for amount of shows played in a year and mileage traveled... We worked out one day when we had finished playing eye spy in the van, I think it was somewhere between Blackall and Anakie, that we averaged the same distance as if we had gone three times around the planet... every year... all within the borders on the sunshine state.
Around the same time half of Townsville left and moved to Brisbane. Many dear friends were playing around town within the folk scene. Ryk Rostron inspired me to pick up the mandolin. Don Jarmey showed me what energy on stage was all about. Rose Broe taught me about gentleness of spirit and reminded me to take the pith. Ewan Mackenzie taught me about the pure joy of expression and why jazz and blues were different... he said it was a pyramid... the blues came from the emotional side and jazz from the intellectual... but they met at the top of the pyramid. Was a pinnacle moment for me.
I am a Jam Tart and will play anything, any style. I love all music. Is something my mother taught me when I was in the crib... apparently, she claims, I was whistling Beethoven's ninth when I was three... bless her.
I do stuff with things and things with stuff.... and of course... I am a jam tart. Stay tuned for the Stretchy Band.
Matthew Moline
7th Dimension