[ HOME ]


Profile
(Note: javascript must be enabled to view and enable email links.)
---
MIA O'BRIEN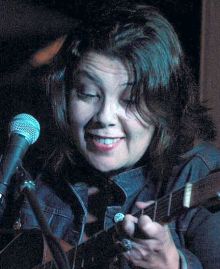 When I was about 10 years old our family lived in Singapore. My father was an officer with the RAEME corps and the posting was part of the ANZAC forces initiative to support the British peacekeeping efforts in that region during the '70s. It wasn't long before my dad's family connections with the media (his brother was a news anchorman in Melbourne at the time) and deeply resonant voice drew the attention of the folks running the British Forces Broadcasting Service radio division; and he was invited to host a weekly show called The Night Owl Show. Now as anyone over 40 knows every man (and woman) should have a chance to host his/her own radio show at least once in his/her life! Pretty soon I convinced him to take me every Friday night as he spent a few hours hunting down and lining up some of the most luscious Australian country and Americana music he could find to spin on those turntables. The ex-pats loved his weekly selections and I started doing my best interpretations of Johnny Cash, Hank Williams and Loretta Lynn on the other side of his sound booth at the station. Eventually I was banned from singing These boots were made for walking on the grounds of over-exposure….a directive I continue to adhere carefully to, to this day.
My mother on the other hand is Spanish-Philippino and her penchant for Segovia and Andalusian guitar music constantly permeated our turntable at home. I think that's why I was awestruck by Linda Ronstadt in the late 70s. I couldn't make sense of Suzi Quatro or Sherbet but Linda's beguiling, eclectic mix of contemporary country, mariachi, Mexican folk and re-invented jazz felt like home to me. Not to mention the long dark hair, ruby lips and cowboy boots! Love!
When I turned 16 my grandparents came to visit from the Philippines. We waited what seemed like hours for them to disembark from the plane. They eventually appeared and the source of difficulty was apparent. My grandfather was wheelchair bound and had brought with him a beautiful handcrafted guitar from Cebu (a city in the Philippines). Cebuano guitars were well known and popular with tourists and nationals alike. He'd brought the guitar as a gift for my 16th birthday, insisted on nursing it throughout the flight, and there was no way he was going to hand it over to the flight attendant as he got off the plane. So they had to lift him from the seat into his wheelchair and onto the tarmac while he continued to clutch this instrument with both hands, determined to hand it over himself once we finally met.
I loved that guitar and swore that I could still smell the scent of my grandfather whenever I played it, even after he passed away. I took a few lessons and used my first official paycheck to buy a Maton six string when I was about 19. I played four chords (not counting 7ths) and got a little distracted by a guitar teacher proffering contemporary gospel music and the odd James Taylor tune. After a while I yearned for something more substantial musically but didn't manage to find it. And as is the case for many of us in early adulthood, found myself talked into putting music aside in favour of pursuing more 'grown up' activities like career development and self-sufficiency.
Marriage, two kids and a PhD – that's all I really have to show for the thirty odd years between 19 and 49. Well that and enlightenment, perhaps. And all of those things are great! But I woke up one gorgeous Sunday morning in my late 40's realising I missed having music in my life like crazy. I know - two musicians in the house must have meant there was plenty of music in my life already. But I missed making my own music. So I walked upstairs to our little studio and asked Tim if I could borrow one of his guitars. It wasn't the first time since I'd met him by any means. I'd played for the first few years of our marriage and ran through hours of classical repertoire a week during my first pregnancy. But this time it was definitely different.
By then Tim (O'Brien) had taken me to the Mad Ass Folk Club and I'd started to see performers in the Brisbane Folk scene on a regular basis. Súnas, 'Oz Manouche' (Ewan MacKenzie), Mark Cryle (& the Redeemers), Jumping Fences, The Pirate Brides, Women in Docs, Cloudstreet, Amanda Gilmour, Caroline Hammond, Mama Juju, Angela Toohey… I've probably left dozens of them out. But the Brisbane Folk scene had me at 'hello'! So much wonderful local talent and so many lovely, encouraging people. I couldn't play very well at all but I really, really wanted to try. And so I did. It was a little like doing another PhD, but much faster, and it required a lot more wine. So many chords to learn, hours of right hand exercises to improve technique; and this time I sang. In the kitchen. For hours.
Tim taught me a simple blues progression and I wrote my first song in the car that same Saturday morning. It took me few months to work up the courage to play at an open mic session in West End - and a few weeks after that I did a short set at one of Tim's performances. Last year we started putting out feelers to do paid gigs and we've been working as a guitar/vocal duo most weekends ever since. It was our first anniversary (as a working musical duo) in August.
I wear three distinctively different musical hats.
Together with Tim I play a fusion of acoustic folk/swing music reworking well known standards and early jazz and blues tunes with gypsy jazz styled rhythms. I'm hoping the manouche purists will forgive me for that! In this I'm inspired by many but try not to imitate anyone in particular. The repertoire is fun to play and just luscious to sing - and it's proving quite popular in dining venues and events in and around Brisbane at the moment. I keep an up-to-date gig diary and post an occasional blog onto this site: miaobrienmusic.com
Next to this I have an abiding passion for Americana folk tunes and sweet harmonies. So I'm collaborating with some folkie friends on this and building a repertoire that we hope to debut at a chalkboard near you soon! But those early days spent languishing in the British Forces Broadcasting Service radio station in Singapore linger long in my consciousness! So my other as yet unexplored musical tendril is reaching towards the poetry of Hank Williams, the raw earthiness of Johnny Cash and the simple, feminine strength of Loretta's early years. And I'd toss in some of my originals into this category too. Somewhere, sometime soon I'm going to pull all of this together as solo act of some kind.
Mia O'Brien