[ HOME ]


Profile
(Note: javascript must be enabled to view and enable email links.)
---
MICHAEL HOLMES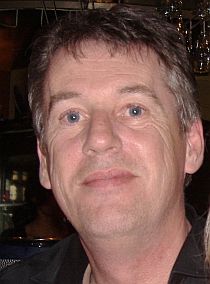 Growing up in Dublin in the Sixties and Seventies would seem an ideal breeding ground for getting involved in folk and trad music, but when I was a kid I really loved singing in choirs. Of course, being an alter boy in the local church helped a bit. Having older sisters and a brother meant there was always some kind of music in the house and parents who listened to a wide range of music, from country and western to high opera meant a broad exposure to all kinds of music.
It wasn't until I joined the local theatre group that I got involved more specifically in the folk scene. I played in the band for the musical shows and met a number of people who got me interested in performing. A friend of mine was the dance master for a Folk Dance group and I got on board to play a variety of European Folk music to suit them. We also had a folk band and this led me to the old songs and tunes. We did a lot of travelling in Ireland and Europe with shows and festivals, even meeting some of the great bands like the Chieftains.
Coming to Australia in 1987, I met up with some of the old crowd from home and we were asked to play for a memorial in the Irish Club for a chap who died. We got the old band back together and played there. Afterwards we were invited to play at the new Dooleys Hotel that was just about to open in the Valley. We ended up doing Friday nights for about two years.
At that time the folk scene had exploded after the huge success of the Irish pub at Expo '88 at Southbank. There were no end of venues to play and a lot of really good bands and musicians were playing. During that time I met Manny and Ken from Blackthorne. They had an opening and asked me to step in for a time to help out. In the end I stayed for about seven years. At that time we got a number of great gigs, doing support for bands like the Furey's and Foster and Allen.
I was also doing the odd solo gig around Brisbane and met a terrific guy called Nic Phillips. Nic is a great local singer songwriter and all around nice guy. He allows me to poach a song of his and I play it often.
During that time Ken left the band and we had a change in direction. We got a fiddle player and a great keyboard player and singer called Helen. We changed the name of the band to Raglan Street and continued on our merry way until I left to go back to Ireland for a time.
I gave up playing on a regular basis at that time but continued to do a few solo gigs around the pubs in Dublin, and a few other towns. Gradually I went away from performing altogether and rarely played, even at home.
During that time I started listening to bands like Altan, and The Wailing Jennys,
Luka Bloom, Kate Rusby and Dougie McLean while also re visiting The Dubliners, Jim McCann, Johnny McEvoy and Danny Doyle, among others.
When I came back to Australia in 1995, I caught up with Manny and the band, now called Súnas and doing very well thank you very much, and after numerous sessions and a lot of alcohol, I thought I'd try my hand again. I started practising in earnest and even learned a few new songs. I played occasionally when Súnas were doing a gig and gradually got some confidence back. Now I try my hand at some blackboard spots at The Bug and Redland Folk Club.
I'm playing a wide variety of music, mainly the type of songs I find I like the sound of on a personal level. If it sounds good , I try to play it. Lately I've also started to look at some of the older songs, which I think may have a place again. If I can play it a bit differently, or try to make it a bit relevant, I'll give it a go. Some times it works, sometimes not.
For the future, I think I'd like to perform with a band. I got used to that dynamic, and sometimes find solo work a bit lonely. It's great to have total control in a performance, but equally it's nice to have someone to play off against on stage.
Writing songs for me is a difficult process, but I have managed a couple. It's not something that comes naturally, but now and again I get an idea that works its way through the system and comes out the other end as something singable. I guess it's just a question of paying attention to things.
I'm looking forward to getting more involved in the scene, and hopefully getting to know more of the good people involved too. The next stage is getting along to some festivals and seeing what transpires.
I hope to meet lots of you on the journey too.
Michael Holmes