[ HOME ]


Profile
(Note: javascript must be enabled to view and enable email links.)
---
MICHAEL PETERSON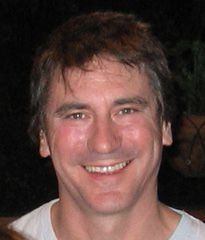 I was born in Ipswich in 1964, but the family quickly moved to Petrie (I'm pretty sure that wasn't to do with me), where I lived till I left school. My earliest musical memories were Church hymn singing (I think Petrie parish had some of the worst singers in all Christendom amongst its pews, including my family, and I do remember a period in the early 70s when the folk guitar thing hit the churches, much of it ungodly let's say), and early school choir. Choir Director Sister Mary was to tell me I had a special voice and I should never stop singing! I later figured out that she'd told all the kids that. So I think Sister Mary, wherever she is now, may well be responsible for a lot of musical criminality over the last 30 odd years.
My other early, and most rewarding, music memories are of my father singing Frank Sinatra, whenever in the car. Never did I understand exactly why the Lady is a Tramp, but have since learned it's better not to ask the lady. Bing Crosby was his other favourite: in fact all the crooners held high place in his repertoire. My older sister's Suzie Quatro collection was a profound influence (though I'm not so sure on what), and Explosive Hits 74 remains one of my all-time favourite albums.
My first 45rpm was Paul McCartney's 'My Love', which I still love to this day, and my brother's hand-me-down Don McLean's American Pie remains etched, for good or for bad, in my brain forever. My first live concert was Split Enz at Cloudland, and perhaps one of the most influential was seeing troubadour Rory McLeod, as a support act at a Uni gig, in the mid-eighties.
I was a late starter to the actual performance of music. It wasn't formally offered in my 12 years of schooling. I "played" bass guitar in an experimental-post-gothic-looking-for-our-next-direction trio for some time, though thankfully my dear friend Jevan Cole bought me the first musical instrument I owned, a ten-hole diatonic harmonica. I remember practising Sonny Terry all night working at the 24-hour servo, and later joined friends to form local blues band, The Worms. I seem to remember bourbon being a larger part of that music, though Country Joe and the Fish, The Grateful Dead, John Mayall, Taj Mahal, and Sonny Boy Williamson were also, somehow, involved.
The folkier stuff came a little later, when Jevan, Willow Fey, my now wife Annie Deller, Steven Stanley and I together formed an acoustic ensemble called One Straw, named after the book: The One Straw Revolution, around 1990. And so began an obsessive addiction to the purchase of strange acoustic instruments, through the Trading Post and elsewhere… nothing was out of consideration to the One Straw sound. Though later we realised what a pain in the *@# we would become sound guys, and trimmed down.
Though committed to performing our own material, we all brought a broad selection of influences to the group: from Jethro Tull, Kornog, Gwendel, Pentangle, through to Lori Andersen and The Beatles (what folk rag profile would be complete without their mention?) and shared a fascination for the rich tapestry of music from so many different cultures (as Pete Seeger taught us so long ago: what a great way to learn about a people by singing their songs). Somehow out of all this we found our voice, and recorded a couple of cassettes and two original CDs, Spinner's Dance and PseudoGnome.
One Straw had some of the weirdest gigs early on: Mediaeval Banquets, weddings, Opeings, fashion parades, film festival openings, Anarchists' Balls, and new age festivals (where we sold out of tapes if we told them our music was being channelled). We cut our teeth busking, as resident band at the beginning of the Valley Markets, and at the North Pine Country markets.
We then decided to start our own folk club, if only to meet like-minded people, at our Brisbane home base: the Sitting Duck Café in West End. With owner Colleen Mullins' encouragement, The Freekin Folk Club ran for several years in the early nineties, and introduced us to the amazingly supportive networks of the Brisbane and Southeast Queensland Folk Scene. We had some truly memorable gigs there.
Over the course of the next few years we played many special places, like The Zoo when it first started, Cabarlah Folk Festival, Mudjimba Folk Festivals, Pangola, Hervey Bay Whale Festival, Brisbane Fringe Festival, BEMAC gigs, Helidon Folk Festival, Maleny and Woodford Folk Festivals, Brisbane Solstice Festivals, National Folk Festivals and Port Fairy, through to about 1997.
Though the members rotated, including the addition of Seamus Kirkpatrick and Andrew Veivers, the One Straw family has lived on through its members working together in various combinations since.
Annie became more involved with the Queensland Folk Federation about 1993, as did I by default. I fell in love early with the Maleny Folk Festival and since then Woodford. Over the years I've been fortunate to be a punter, once in 1989, and each year since have been even more fortunate to be involved as performer, stallholder, volunteer, organising group member, programmer and staff member.
Like many others, the festival has had a profound affect on my life. I left behind a Science and Education career to pursue Social and Political Philosophy first, then a Masters in Australian Studies, focussing on folklore studies. I then began a PhD on festival culture at UQ, until… three beautiful children arrived in 16 months: Stella, now 3, and twins Henry and Oscar, 2.
Annie stopped working at this time and a scholarship and part time lecturing just wasn't feeding 5 mouths. So there I was thinking I had to go look for a full-time job, and instead was offered so much more. I started as Woodford's Programme Manager, working for Bill Hauritz: a man who continues to be an inspiration to me.
The advantages of this role are far too many to mention. Not only do I work with and around some of the most amazingly committed and generous people I've ever met, I've had the wonderful opportunity to meet people I've long admired, like Bill Scott, Ron Edwards, Jack Kevans, Ted Egan, and have access each year to the most wonderful selection of music, film, dance, circus, poetry and spoken word, and traditional culture imaginable. Not to mention some of the most inspiring artists and performers in the country.
I don't get the chance to play much music these days, (unless you can count Play School favourites and occasionally the odd tune too late at night with Bill), and even though it's been far too long since sharing a drink, a chat, or a tune with so many people I miss, I wouldn't trade this rich life for the world. I think the answer is to live till I'm 140: hopefully the kids would have left home by then!
Michael Peterson