[ HOME ]


Profile
(Note: javascript must be enabled to view and enable email links.)
---
MICHAEL TULLY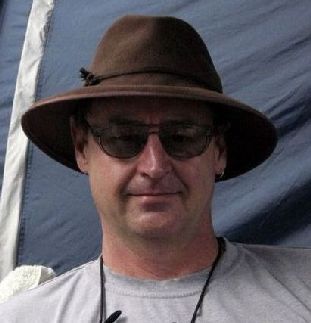 Born in Adelaide in 1957 my musical journey began at seven years of age in my local church choir. Most of the music I was exposed to in my childhood was hymns though my father did have a collection of 78's, mostly Gilbert and Sullivan and Mario Lanza which he would try to emulate, in the shower.
Shortly after his death in 1966 we acquired my Aunt Margaret's ancient piano. I must have had some curiosity and an ear for music back then because I would often try and pick out tunes on it with one finger. My mother suggested that I have lessons and I cautiously agreed not really knowing what I was in for. I studied for two years with our church organist before she passed me on to her teacher, a stern old Bulgarian man who for some unknown reason thought I may have some talent. As the dots on the stave increased my interest decreased and my piano studies ceased about a year later.
Shortly afterwards the LP records my elder brother and sister brought home introduced me to a whole new world of music. I discovered The Beatles, Simon and Garfunkle, Joan Baez, The Seekers, Janis Joplin, The Rolling Stones, The Yardbirds, John Mayal and many others. The first record I bought was Eagle Rock by Daddy Cool.
I bought my first guitar (a Bolero classical) for $30 at fifteen years of age and my friend Dale taught me a few chords. We would hang out at the local youth group in Glenelg jamming with whoever came along. We finally worked up the courage to perform at a coffee house folk club. We thought we were pretty cool but I'm sure we sounded terrible. The audience however failed to point this out to us and their generous applause spurred us on to learn more songs. We went on to perform at a few parties before falling out over a girl and my brief musical career looked like ending there. I bought a steel string acoustic (Fender) at seventeen, had some lessons and continued practising in my bedroom but by this time I had discovered girls and beer and the guitar stayed in the corner for a while.
Aged nineteen I became a roadie for Adelaide funk band Fullhouse and toured Australia with them for nearly a year. During that time I developed an interest in sound mixing and finished the tour as the band's sound engineer. I subsequently studied sound engineering which led me to a job at the Channel Nine TV station in Adelaide. The station was full of frustrated musicians and of course we formed a band with me on electric guitar. I played in a number of TV garage bands and also mixed sound for many other local bands before joining the Flying Yetis, awful name but not a bad band. With the departure of the bass player I put down the guitar and took up the bass and have been playing it off and on ever since.
In December 1989 I quit my job as a Technical Director at Channel Seven and hit the road to find myself. I stopped driving a few months later in Townsville and there I stayed for three years. It was there I discovered the Townsville Folk and Acoustic Music Club and became a regular punter. I shared a house with a musician, Frank Marino and he invited me to join a covers band called Safe Sex. I never did join, mostly because of the pink hotpants, but it did start me playing again. I had met guitarist Nigel Oliver though the folk club and he invited me down to the Shamrock Hotel to jam with himself, Matt Moline and Uthal Plantener and on that night the Johnson Stompers were born. We played all around Townsville including many appearances at the folk club. It was during this time that I got to know Ryk and Gaye Rostron, Tommy and Elsie Montgomery, Don Jarmie, Angie Kitzellman, Martin Pearson, Marina Hurley, John Thompson, Nicole Murray and many more Folk Club luminaries. The Stompers moved to Cairns in mid 1994 and in October of that year we moved to the big smoke, Brisbane. We auditioned for the Qld Arts Council and toured throughout Queensland for them twice a year for three years. In between, we were often playing six gigs a week in and around Brisbane. We stayed together for nearly five years playing everywhere in Qld from Mungindi in the south to Weipa in the far north, all along the east coast and appearing at many festivals including the National, Woodford, Yungaburra and Townsville folk festivals. We split in 1998 though we have reformed to play at Woodford a couple of times since.
Within a week of the Stompers split I joined Martini and the Band O Blues and played every weekend with them and in between attended lectures at The University of Queensland. In 2000 while playing a Paddy's Day gig with Tom Montgomery and The Deep Tinkers I met Mick Tunney, Adrian Jeffries and Rose Broe which led me to join Shebeen. After two years of adventure, misadventure, excessive drinking and great music I returned to television work as a Technical Director on reality show Big Brother. Four years later, I am still there but actively planning my escape.
I have been involved with many other great music projects during this period including Baldrick and the Cunning Plans, The Abba Sing-along, The Hazy Day Band, and State Secret. Other projects include recording with Andrea Baldwin, Mark Cryle and Mark Davidson.
Currently I am playing double bass with The Pirate Brides and writing and recording and playing guitar and bass with Little Secrets.
I am very happy to be part of the folk music family in Brisbane. It has provided a nurturing community in which I can continue to develop as a musician.
My plans for the future are to play more gigs and record with both my current bands and hopefully sell lots of Little Secrets latest album Peace In the Valley and become immensely rich and then retire to the country where I will sit under a banana tree and strum my guitar. If that doesn't happen I will just have to keep playing and recording.
Michael Tully