[ HOME ]


Profile
(Note: javascript must be enabled to view and enable email links.)
---
MICHAEL O'HALLORAN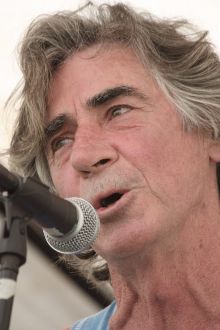 Born at Coledale Hospital I grew up in Thirroul, a seaside town in the Illawarra. My house was around the corner from the beach and that's where I spent a lot of my time. I loved sport and played cricket and 'league for school and the town but the beach and surfing were my great loves. I was to be the second of three children with older sister, Maureen and a younger brother, Brett.
All my early music was from the radio and our radiogram and just singing along. There were also many family get-togethers and all the Irish and Scottish favourites would come out. Dad was a known crooner about town but he needed the courage. When I was 14, Maureen took me to the Stadium to see Johnny O'Keefe and Johnny Mathis. That was the beginning of many trips to the Stadium and the Horden Pavilion to see all the overseas acts from Chubby Checker to the Stones.
I won a scholarship to Wollongong Teachers College and there the folk culture was the in thing and that was my first real taste, sitting around a camp-fire at parties, singing Kumbiyah, as you did. The first record I bought with my scholarship money was Like a Rolling Stone. I ended up as a relief teacher, based in Broken Hill and I flatted with Ron Hankin who taught me the basic guitar chords. I bought a guitar and we jammed all year. I began working out some of the songs I had written. I covered the area from White Cliffs down to Wentworth if any teacher took sick. I was sent to Menindee for a month and I met Jim Haynes and we played together for a bit and I sang him some of my songs. He went and sang one of them on the radio and that was my first little success.
I missed the surf out there so I resigned from teaching and spent the next eighteen months in South Africa, spending lots of time in Durban and Jeffries Bay, learning to play and writing songs. Then I went on to London where I saw lots of great acts like John Mayall, The Moody Blues, Cat Stevens, and Joan Baez. I spent the next three years surfing in the summer in Biarritz, Spain and Morocco and the winters skiing in Switzerland, working on the ski-lifts and jamming with whoever.
While working on a kibbutz in Israel, I met Marilyn, a gorgeous lady from Greenwich Village and she came back to Australia with me. With another two friends, we started a successful coffee shop, The Loft, with live music and wholesome food. Alan Musgrove and his band, Lizard Dust, were regular performers. I was also working at Coalcliff colliery, one kilometre down and 6 kilometres in.
When our first daughter Emily was one year old we left the Illawarra in an old Kombi Camper and bought a share in a 560 acre property in Larnook, on the Northern Rivers and thus began our community life, building a house, planting up a garden and establishing an orchard. It was a great life with lots of parties and music. Our second daughter, Tajette, was born, the house was half-finished and the fruit was coming on and I wrote a stack of kids songs which I put on a tape, The Moonlight Fair, with my two girls. With some friends from the community, we formed the Diddley-Dits and we played at bush dances around the place and I was also playing with my nephew, Corey O'Connell in the Weary Bridgestones as well as finding time to work as the casual teacher fro all the small schools in the area.
One Sunday afternoon, Ross Roache came-over with his wife, Kate, and asked if I wanted to play some music. That day, the duo named The Slimey Brothers was born. Ross sang and played so well, it lifted me up a few gears. We started out playing all the great old songs but slowly added our own material and we played regularly all over the Northern Rivers. I was also writing books at this time and ended up self-publishing seven books, the most notable being Stories from Gillespie Street, based on my time in Africa and The Know-Alls which gained me no friends whatsoever.
Ross and Corey were singing my songs around Brisbane and then The Jar recorded The flood. I came up and Ross and I played at the The Kookaburra. The following night, we had a walk-up at the Mad-Ass. I was overwhelmed at the welcome and the friendliness and I've been coming back ever since. Terry and Rose Jacob team up with us sometimes and we want to just get out there and do it. I'm still writing a lot of songs, more than I can ever get out and play and one of my next projects is to have my songs put into musical notation by somebody more clever than I.
Music and singing has always been tops in our family. Both my daughters are involved in the music scene, Emily as a singer-songwriter and making video clips. I'm still living in my hand-built house on top of the mountain, looking forward to the next gig.
The Slimey Brothers have recorded a third album with Mark Smith at Real Productions.
Michael O'Halloran