[ HOME ]


Profile
(Note: javascript must be enabled to view and enable email links.)
NADIA SUNDE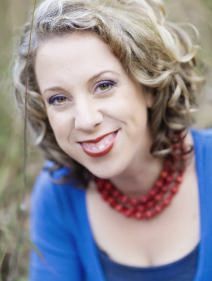 I've always loved to entertain. As a very little girl I would sit unsuspecting visitors on our brown settee and dazzle them with pint-sized renditions of Fred and Ginger numbers. When I was eight, I spent an entire term convincing one primary teacher that he should let me sing in front of the class. He finally caved in and I performed one of my Uncle Rudy's folk songs with unbridled enthusiasm! I won't say it was a standing ovation. Most of the kids just sat there with their mouths hanging open. But I didn't care, I just wanted to sing for them. Nothing much has changed since then.
I was born into a loving family. The youngest of three, my brother and sister were much older than me so I was constantly in the company of the kids next door. We made mud pies, built cubby houses, played TV inspired imaginary games (embarrassingly, Night Rider featured prominently in these), we drove ride-on mowers and ate fruit picked straight from the tree. Sounds ridiculously idyllic, because it was. My family owned and operated a 24 acre apple and plum orchard in the Western Suburbs of Auckland. Having that kind of freedom as a child grows something wonderful inside you. I think it's why I have developed some superhuman abilities - like eating the whole apple, core and all!
Mum never really recovered from losing my Dad. He died from Hodgkins disease when I was 4. She found it hard to take me places where she saw other families enjoying themselves. So we stayed home...a lot. I was great at entertaining myself and music was a huge part of my creative expression. I sang loudly from tree branches, fences and swing sets. I danced wildly to ABBA in my bedroom and recorded my own radio show on a hand-me-down ghetto-blaster. When I was nine I started my campaign for a piano. Nagging was my weapon of mass distraction. It didn't take long. Dad had been a musician, a double bass player in a band called Le Combo, and Mum was a strong supporter of the arts. An upright, mahogany Kessels with a squeaky left peddle came to live with us and I loved her.
My first music teacher was Mrs Cummings. She looked exactly like the Queen, but instead of Corgis she had Bichon Fris. She was wonderful, even though she did scare me just a little bit. But NOTHING on this gorgeous green earth has ever frightened me more than... piano exams! For crying out loud! Is there anything more terrifying than walking into a room with a dog-eared music book, hands trembling, teeth sweating and being expected to play JS Bach while a complete stranger JUDGES your performance?! I say NO! There is NOT!
Mum made the decision to move us to the Gold Coast when I was 13. It would suffice to say that as an awkward kiwi teenager - with a penchant for laughing loudly at my own jokes, bad skin, a worse haircut (damn the late 80's) and not possessed of the ability to blend in quietly - I did NOT fit in. I was ridiculed daily from the age of 13 until the age of 16, when I sang in front of the school for the first time. I knew I loved to sing and that it made me feel good to do it. But, I hadn't really considered how my singing would make other people feel. That is, until the fateful PBC High School Talent Quest of 1990. That was the day my peers started referring to me as The American Pie Girl and, overall, treating me much nicer.
I met the love of my life at University. He sat next to me in our first lecture on day one. I was seventeen and so nervous I didn't look at him properly. All I can remember is a blur of curly hair and a flash of white teeth. He still remembers the dress I was wearing - I'd chosen very carefully that day. We did A Bachelor of Arts in Humanities - which translates to A Fat Chance of Gainful Employment Using This Degree - majoring in Film and Media. Jeff and I shared the same group of friends and hung out in the Humanities common room drinking bad coffee, eating iced vo-vos and trying to work out what the heck David Lynch was on, and where to get some. I remember the first time I noticed him look at me differently. A group of us had gone to see the ABBA movie (yep, still a fan) and Jeff was the taxi. He dropped me home and grinned like a cheshire cat as I walked up the stairs to my front door... the fact I was dressed as Agnetha may have played a part.
Having found my Bjorn, and well on the way to marrying him, Jeff and I finished Uni and were on the path to goodness knows what next, when I came across the flier. It was hanging on Rocking Horse Record's noticeboard and read Folk Band Seeks Female Singer. Relieved that it didn't list Metallica or White Snake under its influences I stuffed the flier into my jeans pocket and went home. I rang the number that night and Mark Cryle answered the phone. The band was Spot The Dog and I could not believe my luck! I'd just been bopping to this folk supergroup, with my friend Paul Brandon, under the Woodford Big Top...wishing I had Ros's hair and Cathy's hat!
Mark's house was one of those gorgeous Highgate Hill Queenslanders. Wrap around verandahs, hallway down the middle (crammed with books and CDs) and the comforting chatter of children doing homework. Mark met me at the door with a warm welcome. I sooooooo wanted this gig. Ushering me into his living room I was greeted by the gang. Cathy smiled and the whole room lit up. Richard smiled too, but I was distracted by his tune it or die t-shirt, and Keith stood to shake my hand over his snare drum, sticks and wallet resting on the skin. We had tea and played music. They must have liked my singing, because we continued to do that every Wednesday night for four years, with a couple of CDs, festivals, a wedding gig or two (mine included), much laughter and some memorable road trips thrown in to the mix. Incidentally, if you're ever on tour with Mark he doesn't think it's funny if you hide the lightbulb from his Motel bedside lamp (just ask Silas).
I was 26 when Jeff and I made our move to the Gold Coast. Our little house, tucked into the forest, inspired the songwriter in me and I began to write. Having left Spot the Dog I felt anxious about losing my musical momentum and it wasn't long before my album The Spark was ignited with the help of Bob Peele and Mike Beachie Wild. The album was a joyful experience and offered me the confidence I needed in my ability as a songwriter. It also initiated my journey as a presenter/producer for ABC Coast FM, a job I still enjoy. However, shortly after its release my Mum was diagnosed with terminal cancer and my focus was pulled sharply into a clearer picture. My sister, brother and I spent the next five months caring for her full-time in her home. I'm eternally grateful that we were able to do that for her... and for us.
As a musical person, the first place I go when difficult things happen is to the song inside. So, when Mum died, that's where I went. But I couldn't find it. I'd pick up my guitar and try to sing, but only sobs came out. So I took long walks beside the ocean, I drove endless country roads with the windows wound down, I listened to `other voices', in particular Nanci Griffith, Alison Krauss, Rose Bygrave and Michael Fix. I rediscovered friendships and I looked for home. It was during this time Jeff and I found The Honeypot. Seven acres of rainforest in the Currumbin Valley. We spent the next seven years building two beautiful children and a house. Gradually, the song returned, louder and more joyful than ever.
Late last year I realised my long held ambition to record an album with Michael Fix. I'd first met Michael 15 years ago at the Mt Isa Folk Festival. His amazing talent, warmth and joy for music left an indelible impression on me. I approached him with my big idea - I wanted to craft an album for children that made adults want to listen over and over again. I'd been inspired by the music of Dan Zanes and Elizabeth Mitchell - American children's performers who've captured listeners of all ages in a web of creative, fun and intelligent songs. I knew my songs were good. After all, my family and friends loved them! Michael's approach as a producer and virtuoso musician helped bring my budding compositions into full bloom. Homespun is a little like my `family album', inspired by my children, full of playful, honest and heartfelt moments - I can't help but love it.
Excited by my new found musical direction, I contacted my dear friend Kerryanne Farrer. She was inspired by the songs on Homespun and within three months we had created a musical theatre production called Nadia's Wish, with support from the State Library of Queensland. Nadia's Wish ran a three week season at the SLQ auditorium and it was thrilling! Talk about your wishes coming true! I got to play the part of a musical gypsy with a magic oven and my own GYPSY CARAVAN!!! The performance featured music from Homespun, stunning sets and costumes by Josh McIntosh, and the best supporting cast a girl could wish for: Michael Fix on guitars and banjo, Silas Palmer on fiddle and keys, Andrew Shaw on double bass and Suzanne Hibbs on drums and percussion. Due to their world class performances, both in character and as themselves, and our delight in playing together, we've formed Nadia & The Best Band In The World!
I was thrilled to be awarded 3rd place in the children's category of the 2009 International Songwriting Competition for my song, The Goat and The Goose. It was affirmation that I'm in the right place and doing what I'm meant to do. Feeling confident after my win, I sent Homespun to ABC Kids TV and was added to their stable of songwriters! Keep watching Giggle and Hoot for future installments.
I find myself at the start of a new chapter in my journey as a musician and I've never felt more prepared or excited by the opportunities that lie ahead. This is a beautiful time in my life. I'm grateful for the love, nurturing and inspiration of my musical friends and family. No one more so than Jenny, Chris and my chai house family at the Wintermoon Festival in Mackay. Thank you for your love and faith in me - I love you too.
Nadia