[ HOME ]


Profile
(Note: javascript must be enabled to view and enable email links.)
---
PAMELA FAY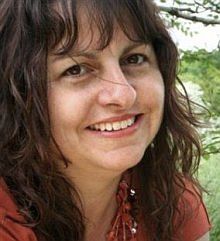 People probably wouldn't guess that I was a bit of a folkie. That's what I like about folk music. It's a club that anyone can join!
I was born in Canberra as the youngest of eight children. It was a large, and noisy family. I participated and performed in family music sessions from an early age. As a result, my home resounded to all our singing. My father would sing out of key but with passion. He loved Danny Boy and would do a great lullaby. My mother had a beautiful soprano voice and would sing Judy Garland's Somewhere Over a Rainbow and songs from one of the popular musicals.
I spent a lot of time in the car with my two sisters just older than me. To pass the time we would sing rounds and harmonies. Sometimes we would rehearse and put on a show for the others.
When I was in primary school we had a headmaster who was a passionate classical music fan. He taught his little choir Greig's song which I just remember by the first words Winter is over the snow melts away. It was a challenging and beautiful song.
When I was at high school I joined the school choir, a madrigal choir and I also auditioned and was accepted in to the Woden Valley Youth Choir. With the WVYC I got to tour internationally. We performed at the Commonwealth Games in 1982, Expo 84 in Japan, and had appearances on television. It was fabulous experience. At that time I was also discovering barn dancing and used to spend many fun evenings at the Yarralumla Woolshed bouncing around to traditional tunes.
Later I enrolled in singing lessons but ultimately I realised that I had to strike out on my own. I literally needed to find my own voice but it would take another twenty years for that to happen.
After school I started a design degree at university then moved to Cairns and on to Sydney, where I found a career in IT. Although I no longer performed in public, music remained a focal point of my world. I have to admit that when I'm happy I provide a little soundtrack to my own life, as I sing everywhere I go. On one occasion I was singing as I cycled around my local area but when I was quiet for a moment, a complete stranger called out: "Don't stop!" I still sing wandering down the street or doing chores around the house.
In 1993 I travelled the world. I visited about 40 countries over 17 years and still have so many more to see. Ultimately I needed to put down roots so I settled in London for most of that time.
I worked hard in IT and I would have to describe this period as a musical void. But a trip home to Australia in 2002 brought me back in touch with my former choirmaster who asked me what I was doing with my "beautiful voice". I had to tell him I wasn't doing anything with it. I felt guilty, after all the time and effort he put in to helping me develop my musicality.
On my return to England I began doing some acoustic sessions at a local folk club – Ruskin House in Croydon. It was such a supportive environment even though it started so badly. My first performance was the Band Played Waltzing Matilda by Eric Bogle but up in front of people my hands seized and I couldn't play. Luckily a person, who later became a good friend, answered my plea for someone to play guitar and I was able to sing the whole song. Once I got more confidence, my renditions of folk and blues covers were well received and one day a work colleague, who was also a songwriter, suggested I try my hand at writing my own material. When I asked her what I should write she said Whatever you feel strongly about. And so the songs began to flow.
My songwriting technique is musical doodling. I start playing with melodies and refrains, just humming as I do other things. I build on the 'hook' and over time the song comes. Sometimes I dream a song and need a voice recorder by the bed or it is forgotten by the time I fully wake up.
My lyrics are a bit emotive and some listeners think they are sad but many are tinged with irony, humour and an upbeat perspective, even on life's more challenging moments.
My musical influences include Carole King, Joni Mitchell and Carly Simon. I wasn't brought up on folk music as such. All music was there to be enjoyed. I also love the blues and one day I hope I'll be reincarnated as a great gutsy blues singer!
I proudly released my own first album – Delicious Decisions – during the summer of 2007. It was my first album and the first time I'd ever produced and I learnt so much from it. I can honestly say it was the some of the most fun I've had in my life!. For the album I brought together a group of talented professional musicians including Martin Black (from Ireland's famous Black family), Les Davidson (played with Joan Armatrading, Leo Sayer), Pravin Mukhi and Jim Smith.
I still continue with my live performances at folk clubs. When I'm new to a venue I'm always very nervous and it affects my guitar playing but with all things folk, I gratefully receive a warm and appreciative welcome.
Pamela Fay