[ HOME ]


Profile
(Note: javascript must be enabled to view and enable email links.)
---
PAM TAYLOR & JIM HANAN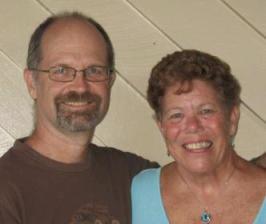 Pam was born and raised in South Africa, and after traveling the world, moved to Canada where she met Jim. Jim was born in England but was raised in Canada from the age of two. We are neither musicians nor vocalists but lovers of music and dance.
Pam's first real involvement in the folk arts scene was when she had the opportunity to tour with a grassroots cultural organisation called Communicart, with a mission to bring creative arts to rural schools in Saskatchewan, Canada. The group consisted of musicians, potters, storytellers and Pam went as the modern dance teacher. She found it amazing to be able to teach dance with a live band accompaniment. The group toured in a big white school bus, through the freezing, blizzardy prairie winter.
Jim's early musical interests were with the blues, which thrived in prairie winters. Fine examples of folk music at the Winnipeg Folk Festival also lead to an eclectic interest in music.
After meeting in Regina, Jim and Pam got involved in the local Folk Music scene attending folk club evening concerts, and volunteering at the Regina Folk Festival, one of the longest running Folk Festivals in Canada. One of our fondest memories is dancing in the rain and mud to the songs of Patsy Cline as interpreted by KD Lang before she was really well known. We billeted many artists for the Folk Festival over the years, which yielded wonderful memories, such as the sounds of the hammered dulcimer drifting up from the basement as Meadowlark practiced.
Our involvement with the Regina Folk Festival included a stint as members of the board of directors, with portfolios ranging from security to children's stage. One of the most interesting controversies was when the festival gradually shifted to include other genres than just traditional acoustic folk music. The director of the day was pushing to move back to folk roots, but was out voted, as the committee wanted to be as inclusive of different music as they could.
We took up an annual trek to the Winnipeg Folk Festival, one of North America's largest at the time. We loved the weekend of fine music, frivolity and fun. The only hassle was police checks on the highway, since they knew that those dreaded hippies frequented such events. We listened to wonderful musicians like Stan Rogers, Odetta, Heather Bishop and James Keelaghan just to name a few, with brilliant sunsets, and skies full of stars. Since this was situated in the prairie, evening concerts were held at one huge stage, with the far end of the crowd so far away that they had speaker stacks with delayed sound to match that coming from the stage.
In 1992 we moved to Brisbane. Walking down Boundary Street, West End we saw a small notice about a new Folk Club starting up at the Sitting Duck Café, this was exactly what we were looking for, having just moved to a new city. It was a wonderful venue with great music and food. The first muso we heard was Noel Gardner who we really enjoyed and still do.
We met Rose Broe, through Jim working at the same research centre, and became roadies for Marmalade Swing, as we went to almost every gig, and hung out until the end, when of course we had to help pack up the gear. We have enjoyed the evolution of Rose and her fellow musicians through various incarnations, including Pirate Brides and Fallen Angels.
There have been many connections back to our musical roots in Regina here in Brisbane. When a notice was put up about Heather Bishop coming to town, Pam was really excited as she has a number of her vinyls and has heard her at both the Regina and Winnipeg Folk Festivals. She called all her friends and it was a great evening. Pam was also able to request Did Jesus have a baby sister? Heather then came over to chat as she hadn't thought there would be anyone in the audience who knew her earlier works. We also had the opportunity to talk to James Keelaghan when he played at the Paddo Workers Club, as well as Ellen McIlwaine, performing at the Judy with Margret RoadKnight. This brought back memories of many evenings listening to the blues in the Plains Hotel in Regina. Best of all, we had the advantage of having a country connection with these performers, it seems to give the right to at least say hi!
Our first Aussie folk festival was the Mudjimba Folk Festival where we were introduced to the Poets Breakfast. This is really unique and we loved the Australian yarns. We then went to the final two years of Maleny and then on to Woodford. We have both volunteered at Woodford, being parking attendants and admin volunteers. One of our favourite events is the tree-planting weekend. It's brilliant being able to go back year after year and check on the progress of trees you have planted. Over the years, Women in Voice has been a wonderful event, and now one of our favourite weekends is the Neurum Creek Music Festival. It is a laid back affair, great music and a lot of fun.
Pam also has a music connection through her work, which is as a self-employed travel consultant. Arranging travel around the world for musicians, from music sessions around the pubs of Ireland, to festivals through the UK, and music events in North America, Pam is always happy to help people reach their dreams in the travel realm. If you're one of those dreamers you can reach Pam on 0407633212 or by email at ptaylor@mtatravel.com.au
Closer to home, Madass * has been our stomping ground for a long time and we are sorry to see it closing down. It is a wonderful venue to be able to go on a Thursday night and listen to great music. We feel we are part of the family and loved catching up with friends.
We're sure the Brisbane folk music scene will continue to captivate and entertain us!
Pam Taylor & Jim Hanan
* ed: there is a replacement event similar in format with a new name, Brisbane Unplugged, or the "BUg" (May 2009).