[ HOME ]


Profile
(Note: javascript must be enabled to view and enable email links.)
---
PASSIONFRUIT FOOLS
Wendy Jackson & Peter Hisco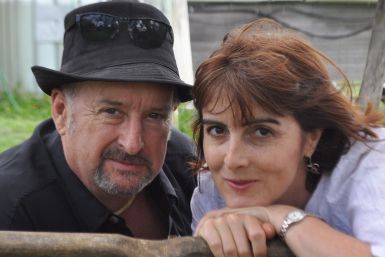 Peter and Wendy have been skirting around the edges of the Brisbane Folk scene for the last two years or so, having had the pleasure of slowly making musical acquaintances through attending Imbil and Neurum Creek festivals. We've been on a 'sea change' having left Melbourne 3 years ago to 'travel and play music wherever we can'! We're extremely fortunate to have the opportunity to do this and meet the many wonderful people that cross our path.
Wendy is originally from Sydney and Peter from Adelaide but they became acquainted in the Victorian Bluegrass/Old Timey scene. For Wendy, there was blues and rock and west coast American acoustic music long before bluegrass and swing which tends to take the focus these days. My musical tastes are very broad and I try to stay open to lots of different styles and influences. My mother played the piano but only very rarely, being a bit busy with 6 children. I used to beg her to play and when she did, she played boogie woogie style and it was infectious - she obviously loved it. I loved singing from a young age and determined that playing guitar was the way to go for me to enable me to accompany myself and be mobile – must have known I was going to have the travel bug. These days I play a little mandolin and double bass too.
Peter's been involved in the bluegrass scene for some time, having had a bluegrass radio show in Adelaide and been involved in the first 10 years of running the Harrietville Bluegrass Convention (which has been going for around 25 years). He is probably most well known in Victoria for his 8 piece ukulele based jug band - the Blue Grass Souls (string that together quickly and you get the idea…..they didn't play a note of bluegrass but attended all the bluegrass events) which held long time residencies in Melbourne venues. At festivals, Peter could always be found slipping from one camp to another; playing bluegrass mandolin or old time fiddle, or 20s swing on the ukulele or holding fort somewhere on the double bass. He has added clawhammer banjo to his swag in the last year or so and is also a great percussionist (having had tabla lessons in India) - though he's usually too busy playing something with strings for people to know that. And of course, he is a fabulous singer with a great ear for harmony. Singing harmony with Peter and blending our voices is just pure pleasure.
Our Australian travels have been a bit disjointed as we voluntarily run the Kelly Country Pick in beautiful historic Beechworth, in regional Victoria. It happens in August each year (this will be our 5th year and the festival's 14th) and so we keep having to head back south again! This is a small intimate Bluegrass/Old Timey festival with performances in various pubs around town and workshops and jamming around cosy open fires all weekend. www.kellycountrypick.org The last 2 years we also decided to run a music camp prior to the festival, offering tuition in all the related instruments of the genres. That was an amazing experience in itself, bringing together folk from all over the country, living in together for a few days and really focusing on skill development. It is extremely gratifying to see the various people who attended the camp in our travels and witness their continued enthusiasm and musical progression. We are all on this musical journey and we are here to help each other along.
Part of the idea for running a music camp came from the desire to attend one - and last year we finally got that ball rolling and attended the Steve Kaufman Bluegrass Camp in Tennessee (along with 400 other enthusiasts). We had a month in the States -flew into Washington D.C., hired a van and a double bass and headed down the Crooked Road through the beautiful Appalachian Mountains. The previous year we had 3 months in Canada, performing in ski resorts and travelling round Alberta and British Columbia with a $1000 car and a hired double bass. Of course, when we travel we take a uke, a guitar, a mandolin and a fiddle, a few mics, leads and preamps - and hardly any clothes. Peter actually arrived in Vancouver in thongs and we realised that we had forgotten to pack him any shoes! The Canadians at the airport train station thought this was very amusing in below freezing temperatures!
We're planning a winter sojourn in the Whitsundays, Wendy's played up there before but the Adelaide boy has never ventured in those parts so we are hoping to enjoy the winter playing some gigs and running workshops and doing the odd bit of sailing! Wendy also teaches music in primary schools and has just bought a 3 and ½ octave marimba, so that is going to be an interesting addition to the roof racks!
In September we are heading to the States again - this time hoping to take in some of Texas - the home of Western Swing; attend the Walnut Valley Festival in Winfield Kansas, where the National Flatpicking championships are held and then head to Nashville for the International Bluegrass Music Association Convention for 5 days of jamming and gawking at the best players in the world. Exciting and inspiring!
I haven't told you too much about our back-grounds but you can find out a bit more if you like at www.passionfruitfools.com We haven't had too much time in Brisbane, we've tended to skirt the edges from the Tweed and Gold Coast to the Sunshine Coast but we hope to drop in there a bit more in the future. It is a beautiful river city with a big heart and some great music and musicians - we'd like to get to know it a little better. So hopefully we might meet up somewhere at a gig or a jam in the future…. Be sure to make our acquaintance and say hi!
Wendy & Peter