[ HOME ]


Profile
(Note: javascript must be enabled to view and enable email links.)
---
PETER ROBINSON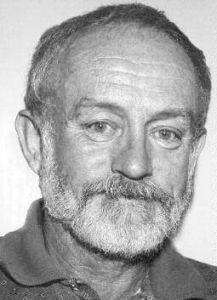 The year is 1946, the dogs of war have finally been chained and put back in their boxes and at Southport Hospital I burst into the world much to the disbelief and bewilderment of parents, both of whom were in their forties, and at that stage of their lives the last thing needed was another child.
With the exception of my older brother who played brass for some time, my family displayed little or no interest in music which possibly explains my lack of expertise in that area so I had to rely on persistence.
This lack of interest turned to disbelief when I got hold of a cheap guitar and, in conjunction with some high school friends, started a band and I seem to recall that all efforts were made to discourage such foolishness.
The band progressed for a couple of years and we became somewhat proficient at what we were doing, so much so that the boys had an offer to go to Sydney and turn professional, I thought on this for a while and decided that you couldn't be playing rock music when you got old like 30 or 40 so I sold all my gear and with the proceeds invested in a top of the range Maton 12 string and decided to get into this folk music (the type of stuff you can play when you are old).
I got into the Child Ballads with help from a friend who worked at Astor Records and could get me any amount of Joan Baez LPs at the "right price", so thus armed I hit the Folk Centre in Ann Street and bored them shitless with songs like The House Carpenter and John Reilly – all 75 verses each!
So, there I was, happily buggerising around on the fringes of the "folk scene" when I found, at the age of 20, I was about to embark into an un-holy state of matrimony and that's where "the music died" to coin a phrase. The Maton 12 was taken to a second hand shop and the bloke who operated it must have been some kind of magician as he managed to convert my pride and joy into an old second hand 'fridge before my very eyes.
After an innings of about ten years I was finally dismissed with a score of three children and a not inconsiderable maintenance order, so, with little else but time on my hands I purchased another guitar and went in search of the "music".
I discovered places like the Red Brick Hotel with the Red Brick Bush Band and finally found the Barley Mow Folk Club where I met Alan and Robyn Craig and, after some time, the Rantan Bush Band appeared.
It was, while a member of this band, I had the privilege of meeting Dave Dryland, Dale Riddle and my enduring mate Keith Barrett. We had some good times in the band, especially the Saturday night gigs during winter at the Farmers Arms , Cabarlah. Dave would pick me up on the morning of the job and we'd head off, arriving at Cabarlah early afternoon, we'd set up the PA and be sitting on stools at the bar in front of the fire by 2 pm. We'd sing songs and the locals would keep the Famous Grouse coming, I'm still not sure if it was in appreciation of our efforts or in the hope that we'd stop the noise and drink in order that they could enjoy a little peace and quiet. The rest of the band sometimes had difficulty coming to terms with that when they arrived at around 6 pm, stony cold sober, Dave and I would be some what socially confused.
After our stint with Rantan, Dave and I did a bit of duo work under the name of The Twa Corbies until he shot through to greener pastures in the Isa.
I had met Julie McGonigal at Dave 's wedding and with her, Terry Mosler, Margaret Shaw and a couple of others, formed the Bunyips Bush Band. We operated around the Ipswich/Beaudesert area for some time with the line up changing ultimately to be myself, Margaret Shaw, Julie McGonigal, Keith Barrett and Jim Law . We enjoyed quite a bit of success in the field and the work came thick and fast, possibly because people found that we would turn up on the correct night and didn't get pissed or stoned during the job (only before the jobs! Hey Pete. Ed.) (a virtue that sometimes escaped some of the other bands at that time).
I think the highlights that spring to mind are, appearing at the Cultural Centre with the Tokyo Philharmonic Orchestra and as support act for an Eric Bogle concert at the Rialto Theatre in West End.
All things come to an end, especially where music is concerned. The Band broke up and we went our separate ways, I ended up going a bit "feral", living on a mountain, building a house out of stone and working draught horses. It was there that I met my wife Leslie and we moved to a small property near Grandchester where I attempted to run cattle and the draught-horses. The music took a slightly different direction with me doing 60/70s soft rock and country, solo or as a duo in the pubs and RSL Clubs. Sometimes I almost made wages but not very often. The drought finally got the better of us and we sold the place and moved into town.
It was soon after that, that Don Nichols contacted me and asked if I was interested in stepping in as guitarist with The Champion Moreton Bay Band at Morningside, I jumped at the chance to get back into good music again and fortunately have been with them ever since.
Looking back, I suppose one is supposed to have some regrets, none really come leaping out at me except that I must be the only male folk singer of my age group who has "never been a Wayfarer ", a point which Brian Whitlow takes great enjoyment reminding me of whenever we get together for a reminiscing music session.
Peter Robinson 09-04-01
---
(In the last eight months Peter has played at two of our Folkies Old & New Concerts, the first with Jim Law and at our most recent May concert with the Re-union of the Bunyips Bush Band. He plays regularly with The Champion Moreton Bay Band at the monthly Morningside Bush Dances. Ed. June Nichols)