[ HOME ]


Profile
(Note: javascript must be enabled to view and enable email links.)
---
REBECCA WRIGHT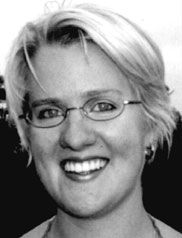 I was born in Brisbane in March 1981, the youngest of four kids to parents who weren't outwardly musical, but who did have a deep dark folkie past…
My first meaningful musical experiences came through school. At the age of eight I began playing cello, after my perceptive Year 3 teacher noticed my natural gravitation towards music. At much the same time, mum taught me a few simple pieces on the recorder and gave me a few books remnant from her teacher's college days and I was off. For the next ten years I could be found in all sorts of school orchestras, choirs and ensembles.
Being a child of the 80's, I would often sing along to my sisters' records - Madonna, Belinda Carlisle, Genesis - and my very own Kylie Minogue double LP. Folk music began to creep back into the house after mum and dad, Joan and Chris Wright, had taken themselves to the 1989 National Folk Festival in Maleny. They seemed renewed from the experience, having been reconnected with their folkie roots. Tales began emerging of the 'good ol' Folk Centre days', the Moreton Bay Folk Festival of 1972 and the Danny Spooner workshop on Songs of Work and Leisure dad had recorded on reel-to-reel. Mum started listening to Judy Small regularly and I too found myself connecting with her music. I listened to her album Ladies and Gems daily and knew all the words off-by-heart. Her songs of real people and issues of social justice rang true for me, even at the age of 10. I admired Judy's strength and presence and something inside me said 'I want to do that too'. It was through her music that I began to find my voice and develop a self-assurance that allowed me to perform her songs unaccompanied.
Mum and Dad took my sisters and me to our first Maleny Folk Festival in 1990/1991, just for the day. I remember being entranced by some women playing hammered dulcimers and being awed by all the sights, sounds and smells, but the real highlight was standing in a toilet queue behind Noni Hazelhurst from Playschool! The following year we stayed for the whole festival and we haven't missed one since. It has become such an important part of each year and has played a powerful role in my own journey from a child into adulthood. I have been inspired and influenced by so many musicians I've seen over the years at Maleny/Woodford, including Arramaeida, Sister Moon Ensemble, One Step Forward, Bernard Carney, Peter Grayling, Kristina Olsen, Tangled Web, The Waifs, The Fagans, Penelope Swales, James Keelaghan and too many others to mention…
For my 15th birthday I bought myself a guitar, having been inspired to play after seeing the Indigo Girls in concert. From where I was sitting, I'd had a perfect view of their rack of guitars, complete with a tech retuning between every song. I was blown away by their skill and energy, their harmonies and songwriting. I was also a big fan of Penelope Swales at the time (as I still am!) so I taught myself guitar using her Between Light and Dark Songbook as a guide, and soon began writing my own songs.
When the Pod Folk Club was established, 'The Wrights' became a regular audience unit, happy to be able to get a folkie fix more than just once a year at Maleny/Woodford. It was on a special Women's Performance Night that I decided to make my public debut in front of a very supportive audience. I loved it, they loved it and I was soon a regular on the blackboard nights, and even landed a support gig for Roy Bailey. ( I also have a sneaking suspicion that I was invited to play a few gigs to boost audience numbers - in the early days, if I was on the bill, it was guaranteed that at least another 10 people would come along, with my extended family and friends always eager to come and hear me play!)
After finishing school at the end of '98, my involvement with the Brisbane folk scene grew. I frequented the Saturday afternoon Story Bridge sessions, which were often the prelude to a Logan party. I continued to play at the Pod Folk Club in its various incarnations and had the pleasure of sharing the bill with many fabulous fellow folkies including Corey O'Connell, Brendan James, John and Roisin Logan and Cloudstreet. A few years later I loved going to singing sessions at O'Malleys with Don and Ryk of The Rogues - cheers, fellas!
In celebration of my 18th birthday, I took myself to the National Folk Festival. I put myself down on a few blackboards and much to my surprise and excitement, was honoured with the Declan Affley Award. I came back to Brisbane so energised about my music, that I made the decision to defer the Arts/Law degree I had only just started, to pursue a real-life educational experience away from the world of academia.
With the support and encouragement of my dear friend Maree Robertson, I sent off a bunch of applications and in 2000 had the privilege of playing at some of Australia's most prestigious festivals, including Woodford, Port Fairy and The National. Another highlight of that year was touring with Penelope Swales down the east coast and recording my debut eponymous ep with the wonderful Siiri Metsar at the end of the tour.
In 2002, I played at the Wintermoon and Palm Creek Festivals where I met a group of lovely musicians from the Sunshine Coast. I fell in love with one of them, Erin Sulman from The Houseprouds, and decided to relocate to sunnier climes. The original music scene here is thriving, thanks to the dedication of my dear friends Jay Bishoff (formerly of The Houseprouds) and Alan Kelly (The Barleyshakes), both of whom I admire greatly for their songwriting and musical skills. I have also recently joined the production Barking Mad - The Musical and am enjoying the challenges that has presented. I'm hoping to record a full-length album this year and do more travelling and touring.
So, at the grand old age of 23, I'm still writing, performing and enjoying this life with which I have been blessed.
Rebecca Wright