[ HOME ]


Profile
(Note: javascript must be enabled to view and enable email links.)
---
RICHENDA BRIDGE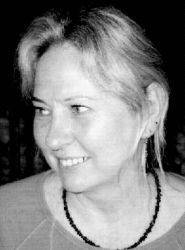 Born Perth, WA, - August 31st, 1951 - this incarnation!
Music was always important : mostly the ever-present radio, plus Mum's singing: O Tannembaum, Die Lorelei (she learnt German), Song of the Volga Boatmen (she later learnt Russian). Ancestry proudly includes two convicts AND a Spanish gypsy on the distaff side!
Mastered the Triangle in School Infants Band, having failed at the Clappers (I'm still shite at percussion - what happened to my Gypsy background, fercrissakes?!). Piano lessons at age 7, sadly terminating with Nan's death - apparently I showed great promise (... sigh ...) No instrument-learning at my schools, just The Surrey With the Fringe on Top . Hmmm ...
This was 1965 though - the upside being that the music teacher was a FOLK FAN - she brought Peter, Paul and Mary records to play - after class!! I was passionate about pop music (Animals, Beach Boys, Cliff, Spencer Davis, Lovin' Spoonful ...) - if only it had been a curriculum subject, I was guaranteed a distinction!! Homework always done to radio; Top 40, followed by late night JAZZ, which I loved. My Brother's friend lent stack of FOLK LPs : I knew every word of Gary Shearston's The Springtime It Brings on the Shearing (still have my own copy!!). My earliest Folk LP: The Twilighters in Concert (also still have).
In 1969, I worked as Government Drafter (mapping), Friday nights frequenting dark, basement dives, sneaking Rum into coffee and listening to folksingers. Amazingly, A.L. Lloyd came to town for one concert. To this day, I could kick myself for not wagging night school!!!
WA Folk Federation was being birthed - I soon joined - turned up early for everything!! Did folk dancing; tried guitar lessons ... Geoff Morgan ( now of Araluen FF), started Governor Broome FC - Friday nights now happily spent with performances by Margaret Morgan (great influence), Ken Kenny, John Watson, Jeff Corfield, The MacMahon Brothers, Francis Gill, Lionel Cranfield, Geoff Iliff, Hastings family, Bill Smith (Ranting Lads - still have EP!), Ken Fergusson (Blackthorn), Steve Ellis + numerous others. Became buddies with Jan Hendry who knew of a stable loft at Mount Hotel. We spent hours cleaning it to become The Stables FC, but as Jan became "more than buddies" with Colin Dryden, she passed FC running to Stan Hastings!!
Life then left Folkdom awhile (but listened to Scott Wise (Duck Soup) at pub; James Taylor LPs; saw Wings, John Denver, Queen). 1976, with new partner, I set off backpacking overland to England, via SEAsia, India, Afghanistan, Iran etc. Spent three years away, mainly in Bristol on a boat; saw Frankie Armstrong perform at Hat & Feather FC, Bath; sailed yacht to Greece (but that's another story); ended back in Perth in Bro's Gold Prospecting business. Saw Ewan MacColl & Peggy Seeger, Cleo Laine, The Dubliners (where WA's Settlers, outshone them!!!) - went gold prospecting and learnt to scuba dive!
1983, headed north to Queensland via mobile home; arrived in Darwin for "The Wet" - and stayed for 10 of The Best years!!! (my then partner is still there!). Wonderful place, wonderful people, vibrant Arts scene. Went back drafting for government; joined Top End FC. (founded 1971: one of longest-running in Oz) Friendly, supportive bunch meeting weekly at WWII Gun Turret overlooking Arafura Sea.
With new Folk Family, sang choruses lustily; danced (also in 1st Morris side!!!); became Club Secretary / Editor, Sound Mixer's Roadie. Late 84, found courage to sing solo! Visited Perth 85 National, pleaded with Frankie Armstrong to visit Darwin. After her inaugural Voice Workshop, was founding member of 5-women a cappella harmony group Mna (cassette 1987, Meeting). We sang much Eastern European/Sweet Honey material, performing Alice Springs National 1987. Then Star Piquettes, then Soundscape Singers Co-Operative, morphing into No Strings Attached with wide-ranging repertoire, performing Kuranda National 1990.(TEFC CD 1991 Roll Back the Years has solo/Mna/NSA tracks). Sweet Mermaids (from Hell) followed. 1987, I became attached to legendary Top End folkie, Paul Lawler; some of us performed in his quirky Music Should Not Only Sound Good, It Should Taste Good Maleny National 1989: Ann Bermingham was our Minder!! (this is a nice town, we thought!!!). Most groups included singers known to Quoinslanders: Paul Lawler, Tony Suttor, Jane Carpenter, Jenny Fitzgibbon, Alex Bridge, Sarah Hopkins.
Must also thank Darwin's legendary music guru, Paul Stewart: wonderful bloke, long history of knowledge sharing, incredible recording collection, famous festival workshops - he continues to give so much to so many! Darwin was Opportunities-ville, with fewer established cliques - due perhaps to regular supplies of new blood. We Folkies sang in shows at the alternative theatre, Brown's Mart: Yerma, Emma, Disenchantment; plus annual Mayday spectaculars like Strong with the Women; Neil Cameron's Line of Fire; Bronwyn Calcutt's Bella Lingua & Big & Little Voice choirs.
Meanwhile, Paul was running away to join Neil Cameron's circus. In 1993, we moved to Maleny, our working life then spent around Eastern Seaboard creating Fire Events. Compiled songbook Take in Your Slack for QFF. Organised Maleny Voice Workshops, resulting in The Grils, morphing into SERAfINA, world music devotees. Also indulged my passion for Jazz and 1920-1950s ballads, via the Swing Jazz Trio, with Carmel Givens, Danny Rose. Performed in Melodical Benefits and Andy Oxidant & the Free Radical Gospeleers.
Once Jenny Fitz emigrated from Darwin, Raw Silk was born, with Carmel. Encouraged by Tommy Leonard and Ruth Donnelly, Paul and I started A Bit Of Folk On The Side monthly folk nights at Maleny's Up Front Co-Op Club. Paul then started making concept CD with Jenny, Carmel and myself singing as The Just Desserts (all will be revealed next year!). Fitzy moved to BrisVegus; we dragged Paul kicking-and-screaming into Work-in-Progress; sister Alex became a Malenyite; now we're all "affectionately" known as C.R.A.P.!!! - and - ABOFOTS has just made TWO years ~ THANKS ALL for your support!! Now, if only Tony Suttor would leave Darwin and sing with us again!!!
Music tastes are eclectic : from Benjamino Gigli & Miliza Korjus to 1920s/30s "down home" rootsy gospel - but emotion's important. Have large music and book collection. Not aware of any songwriting skills within, so I console myself that perhaps I can learn to interpret the work of others!!!
However, this overwhelming urge to sing out, is only slightly more powerful than the absolute terror felt when actually doing it!! Ros Roche alluded to it in her profile. I have to force myself to sing solo a cappella - it still scares the living daylights outa me - but I love to sing in small groups of friends : that's just The Best!!
Richenda Bridge