[ HOME ]


Profile
(Note: javascript must be enabled to view and enable email links.)
---
ROEY FITZPATRICK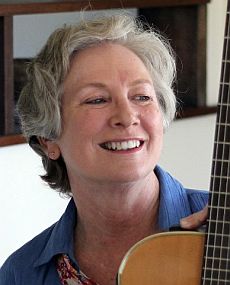 a.k.a. Rosemary Allen
When I was four I was given a toy guitar. If you cranked the handle it played Red River Valley. If you cranked counter-clockwise, it played Red River Valley backwards. My mother had a good voice and while she washed dishes and I dried, she taught me the songs she'd learned from her father. I never had music lessons, but from an early age I was allowed to go next door and play the neighbour's piano. My first real guitar was a plywood, steel stringed no-name. I bought a pitch-pipe and a book of Lionel Long songs and learned three chords...
I was fourteen when I discovered the Folk Centre in Ann Street. This was my first encounter with live folk music. It was heady stuff to someone who had grown up in a very conventional family in Toowong with Harry Belafonte at Carnegie Hall the sole folk album in my parents' collection. I went to the Folk Centre regularly for the next few years, but didn't perform there until I was in my twenties. By this time I was moonlighting as a ballad singer at the Courtyard Restaurant in Herston, and saving up to travel. A friend invited me to share his Folk Centre bracket one Friday night and Stan invited me back the following Friday. After that I rarely missed a weekend at the Folk Centre. At my day job as an illustrator at the Jacaranda Press, I came in contact with Bill Scott. Bill encouraged me and lent me records and song books, I was learning new songs every week and began trying out my own material at the restaurant.
I made good friends but I never really felt part of the Brisbane folk scene. I wasn't ideological, I had never suffered for my art, I had never smoked anything (not even tobacco) and didn't much like booze. I grew my hair and wore cheesecloth, beads and sandals, but everyone did back then. To be honest, I felt like a bit of a misfit, but I could sing. Once I was inside a song, everything else faded away. It was a wonderful sense of release. It was all about the songs. I loved anything with a good, sad story and a haunting melody. My heroes were Joan Baez, Tommy Makem and Liam Clancy, Belafonte, Gordon Bok, The Wayfarers in all their incarnations, Sue Wighton, Anne Infante, Tony Miles and Mike Clark - you'll remember the era.
I left Brisbane to see the world. I traveled through the United States and Europe, but my ultimate destination was Ireland. I had a crack-brained idea of buying a gypsy caravan and a horse, but instead, rented a former school house in Co. Leitrim for three pounds a fortnight. The old place had quite a history. An elderly neighbour told me of the morning when the hated Black and Tans had held the children at gunpoint in their schoolroom so that no-one could slip out and give warning of the ambush in which members of their families were about to be killed.
The Murphys owned the farm across the road from me. Leaving gifts on my doorstep of fresh milk and vegetables and turf from the bog, they were wonderfully generous people, embarrassingly so, until I found that I had something I could give back - music. I remember nights in Murphy's huge kitchen when I'd sing with my guitar, and in ones and twos, the locals would come in out of the rain for songs, stories and hot whiskey punch. There are two other things I should mention about the schoolhouse: it was built on a plot of land where Turlough O'Carolan's cottage had stood; and it had a magnificent, stone, outside lavatory with names incised over the two entrances 'Boys' and 'Girls'.
After two magical years in Ireland, I reluctantly started to think about the future and went to Oxford where I took a degree in Publishing Studies. Back in Brisbane, I returned to Jacaranda Press and became art director. It seemed that folk music had become a distant echo until out of the blue came a phone call from Stan Arthur. He was rounding up the old Folk Centre regulars for a reunion. That was quite a night. I kept seeing people I thought I recognised, but everyone looked so middle-aged and respectable! Thanks to Stan's efforts, we continued on for several years and it was at the Workers' Club, opposite Boggo Road Jail, that I met my fate. Jim had seen me perform six weeks before, but hadn't approached me. For the next seven weeks I didn't show, and he tried to get information about me from the regulars. No one would co-operate. Many of them had known me since I was fourteen, but nobody knew him. Besides, he was American! Fortunately, Jim persevered until the seventh week, by which time he had been on stage trying out some of his own songs. We clicked - love at first sight, seven weeks apart.
Jim and I spent the next twelve years in Arizona before returning home to live in Kilcoy, where we both started performing at the local folk club, Kilcoy Unplugged. It was here that we met Scotsman, Rob Storrie and Welshman, Glyn Cocking. Rob, Glyn and I are now The Wishful Thinkers, a folk trio specialising in Scottish and Irish music, but beginning to add some Australian and original material. Rob sings tenor lead, Glyn does baritone harmonies and plays guitar and banjo, and I play guitar, mandolin and recorder and contribute soprano descants and upper harmonies. Each of us also does solo spots. We're being offered gigs and gathering an enthusiastic following of grey groupies. After less than twelve months together, we're producing a nice blended sound, and having a lot of fun. Our first album, will be available shortly.
Find us at www.thewishfulthinkers.com
Roey Fitzpatrick