[ HOME ]


Profile
(Note: javascript must be enabled to view and enable email links.)
---
ROGER HOLMES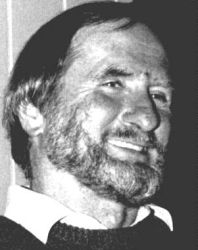 I was born at Sherwood, in Brisbane. Our home was on three and a bit acres at Richlands, we had a cow and some chooks, and enough scrub around to have adventures in without getting lost.
My first memory of folk music was my mother singing around the house, and the first folk song that I can remember is "I Know Where I'm Going" .
I started school during the boom in Australian folk music engendered by the visit of Burl Ives, who discovered and promoted Australian songs more effectively than any Australians had been able to before. Classically trained singers were also singing these songs, and, best of all, the musical "Reedy River" was produced in Sydney. At school some Australian songs began to be taught - in expurgated forms in many cases! I never learned the last two verses of "Click Go The Shears" from the Sisters of Mercy. Much to my regret now, I never learned any music at school - that was a girls' subject.
We had a strong admixture of Irish to the Australian - every Catholic school had a Saint Patrick's Night concert, with little goodies like "Molly Malone" and "Danny Boy" getting a flogging, though 80% of my class at school were Polish kids whose parents had emigrated. The Irish influence continued into high school with the Christian Brothers, but I never appreciated this influence in Australian Catholic education until I saw the Irish programme "Faith of Our Fathers" I knew pretty well every hymn they sang.
I left school just as the great folk revival of the 60's was taking off, and in 1964 fell into very bad company and started going to The Folk Centre in Brisbane. There I met notables such as Stan Arthur, Bill Scott, Bob Michell, Dave de Hugard, Harry Robertson, Bill Berry, Michael O'Rourke, Anne Infante, and Evan Mathieson. Think of The Wayfarers then as a cross between The Weavers and The Clancy Brothers, with a very strong Australian accent. Much of the material invited audience participation in choruses and I developed a facility for learning the words. It's a shame I didn't develop a better facility for singing them!
As the 60's went on there was a leaning towards other material, such as the work of people like Ewan MacColl, who had just finished his Radio Ballads. The particular exponent of his work in Brisbane as far as I remember was Michael O'Rourke.
In 1968 I went to Papua New Guinea followed by two years based in London, where, much to my retrospective regret, I was more involved in Rugby than folk clubs and festivals. I don't regret the Rugby, but I could have organised the off-seasons better!
I returned to Brisbane and The Folk Centre at Christmas/New Year 1972. By then the folk scene had been augmented by the presence of Don and June Nichols, Ken Evans, Lid Thompson, Mike Clarke, Mary Brettell, Dave Alexander and Jan Davies. Eric Bogle moved to Brisbane around then and Tony Miles also turned up. I learned more songs from all of them. At the time, Anne Infante was also running The Barley Mow Folk Club at the Cecil Hotel in George St.
In 1974 I attended my first National Folk Festival (the Eighth) in Brisbane, and met people I would later be better acquainted with such as Declan Affley, Derrick Chetwyn, Tony Suttor, and Lyn Stone. I learned more songs from them, too. I haven't missed a National since .
At the beginning of 1975 I was transferred to Sydney in time for the 1975 National. I started going to The Liz and The Edinburgh Castle Folk Clubs, run by Eric Davies and Len Neary respectively. Regular performers were Bernard Bolan, John Dengate, Declan Affley, Gerry Hallom, Derrick Chetwyn, Gordon McIntyre, Robin Connaughton, and Maureen Cummuskey. Other singers to appear over the next few years were Cilla Kinross, Jennifer Horne (now Jennifer Lees), and Judy Small. I kept learning more songs.
I also attended festivals such as Numeralla, Wagga, and Nariel, and later, Hill End and Carcoar, and The Celtic music competitions at Kapunda .
Bush dances were becoming very popular, largely as a result of the efforts of The Bushwackers Band, and I started going to dances around Sydney and Canberra. Canberra boasted the best callers around in Mick Fogarty and Beryl Pedvin, and musos like Bob McInnes and the late, much-lamented Mick Heaney.
After the 1975 National in Sydney I became involved in folkie politics for the first time, as Secretary of The NSW Folk Federation which was suffering from the reaction and burnout common at the time in places that had hosted a National, and membership was down to about fifty. Over the next few years we built it up to nearly 600, mostly thanks to the work of people like Margaret Walters, Len Neary, and John Ramshaw. I took over as Chairman and Treasurer from 1976 to 1979, and had the distinction of getting the first unqualified auditors' report up to that time.
The Australian Folk Trust was born in the late 1970s, and I became the NSW delegate to the meetings that thrashed out its constitution, and later, was one of the NSW trustees. I remember missing most of the 1978 National Folk Festival in Fremantle while attending the first formal meeting of the AFT. One decision of that meeting was a grant to Chris Buch for a project that resulted in his writing "Johnny Stewart, Drover." I still think that was the best $200 the AFT ever spent.
I returned to Brisbane at the end of 1979, by which time The Folk Centre had closed, and the main centres of folk music were The Red Brick Hotel and The Barley Mow Folk Club, which was operating out of Saint Paul's church hall in East Brisbane.
From the mid - 1980 the focus was on preparations for the 1981 National, the 15th, which was to be held in Brisbane. There were raffles, dances (the notorious Moreton Bay Band had its origin in this activity), and Gawd, were there meetings!. I don't remember much about the festival itself, except that I presented a workshop on "Cockies" with Russell Mackay, Helen Brett (Rowe), Heather Sharpe, and the late Phil Brown. I learned a lot about doing workshops from that experience, which was why I didn't try to do another one for a decade.
Around that time Rantan were running well attended dances every Sunday at The Hub Club at Herston, with the excellent calling of Robyn Craig, and several of the people who went to them are still involved in The Queensland Colonial Dancers.
After the 1981 National I became President of the Queensland Folk Federation, once again faced with the problem of people having been used up by organising the National. I also became one of the Queensland delegates to the AFT.
This led to my running The Barley Mow Folk Club, which had been taken over by the QFF. After I had been running it for only a few weeks, we had the stress of having to find new premises, and after a few weeks we moved to the old Australian Pensioners' League hall at Red Hill.
Though we didn't realise it at the time, the folk club scene was dying, and the only notable times at the new venue were two concerts we had within two weeks of each other. The first one starred Eric Bogle , who did the gig at a very concessional rate to help us to get out of debt. The hall was designed to seat about 120-150 people, and we had 250 in there on the night. There was standing room only, and that was on top of other people. It was certainly the best concert I ever ran, and probably the best I ever attended. The second concert was part of Vin Garbutt 's 1982 tour, and it was nearly as good as the Bogle one, with only slightly fewer people and a magnificent atmosphere.
After two years as president of the QFF I stood down, and the organisation died down for a couple of years, to be reconstituted in 1986 under Bill Hauritz and a large group of workers who built it, via the Maleny and Woodford folk festivals, into the organisation it is now. At the same time I was heavily involved in playing, coaching, and managing rugby, as well fund-raising activities, on top of doing a degree (twenty years too l ate!) at QUT. However, I kept in touch with the songs through the sessions at The Stock Exchange, The Jubilee and The New Chum Folk Club which led a peripatetic existence around the pubs of Brisbane, moving every time a pub changed its marketing strategy (or was pulled down).
There were also The Morningside Bush Dances, with Kitchener's Privates This led to my involvement with The Queensland Colonial Dancers and I danced with them up to 1998, when other pressures interfered.
Through the nineties I have followed Stan Arthur's efforts to keep folk songs going through The Folk Centre, which has settled at The Kookaburra Café in Paddington for the last five years.
The things I have most enjoyed in the last few years have been The National Folk Festival workshops I have been involved in, starting with "Songs of the American Civil War" in 1992 We had a really good group of singers and musicians - Ann Bermingham, Joyce Simpson, Dale Riddle, Ian Drynan, Terry Jacob, Julie McGonigal, and Phil Wilson - whose complementary talents made it a wonderful occasion. The thing I particularly remember from that one is that it opened my eyes to the ability of Terry Jacob as a guitarist and Julie McGonigal as a singer. We repeated it at Maleny at the end of the year, but somehow it wasn't as good.
In 1994, with many of the same personnel, we did "Songs of the American Cowboys" which was better in some ways, but did not get the same audience reaction.
Since 1995, I have also been running a hymn singing session on Easter Sunday at the National. It is especially enjoyable because one of the ground rules is that everybody has to sing. It has been increasingly noticeable over the last few years that people are going to folk festivals to be entertained, not to take part, and this, in my opinion, is a BAD THING. So, roll on the hymns. Some people do seem to take the religious side of it a little bit seriously, which is a worry.
In 1998 Marina Hurley put together a group to sing some contemporary songs which they felt were being adopted into the singing tradition. The group was "Living Tradition" - gee, we had fun. I will regret to my dying day not being able to obtain a tape of any of our gigs, especially the one on the Sunday when "Rosa's Lovely Daughters" took on a life of its own so that we sang the chorus five times in a row at the end.
Most of the same people got together again for the 1999 National to do a workshop/theme concert on the songs of Ewan MacColl, which was also a lot of fun, even though all up it cost me about six bottles of Jameson's. Having to do a gig at 9.30 in the morning at a National is not everybody's idea of prime time, but the punters loved it, at least.
Roger Holmes
---
Editor's Note:
Unfortunately (or fortunately) Roger's profile has been edited to half its original size - mainly by culling many witty comments (for which Roger is famous) I should add that for many years Roger's house was always available for collating the "Rag" and for numerous singing sessions. Thanks a lot Roger!!! (June Nichols)