[ HOME ]


Profile
(Note: javascript must be enabled to view and enable email links.)
---
ROSE JACOB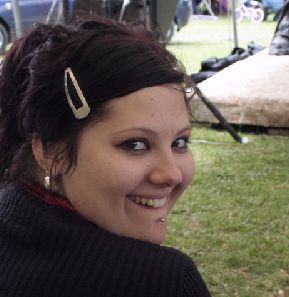 I was born on the 1st of January 1985 as a planned homebirth at 12 Clara St in Wynnum. As mum was in labour my father and two brothers, Sam and Tom, were slaving away in the kitchen baking a chocolate Birth Day cake, and so begins my life and a love of all things chocolate.
There was never really much choice when it came to my being involved in music. My earliest musical memories are of sleeping at the back of stages as my mum, Jennifer Neal and my dad, Terry Jacob performed at bush dances or of me sleeping under tables in pubs while dad played tunes with Dan Holmes into the early morning. It never seemed strange at the time; it was just the norm, except for when you turn 18 and they tend to kick you out of bars for sleeping under the tables…
I went to Dances of Universal Peace before I started school with mum's Brisbane troop and was given (and still have) a little 30cm long yellow Casio, (which sounds great plugged into an amplifier). So as you can see music and rhythm was thrust upon me at a young age.
I played the flute in primary school and was also in the choir and learnt Irish dancing for 3 years until I decided my hair would never hold the perfect curl. I was very much into sport and being cool back then so that by High School I wasn't into learning music through the school system, or much into the school system at all for whatever reason.
At age 12 I began learning the fiddle. My friend and I were chasing boys at the National Folk Festival when we happened to follow them into a room where Nancy Kerr and Eliza Carthy were performing. I had never seen any act that drew me in like them. I knew from that moment on I wanted to sing on stage and play the fiddle just like that. Afterwards I told dad I wanted to learn the fiddle but both of us knowing I wouldn't do it without encouragement, he drew up The Deal. You see I had also mentioned in passing that I wanted a pair of Doc Martin boots, hey, I'm a material girl, it's the Capricorn in me. So I was to learn 20 tunes on the fiddle on a list which dad had typed up. I signed, dad signed and mum signed as a witness. And the rest as they say is history…
Nah, just joking. So I learnt the tunes, got the boots and carried on playing and loving the fiddle. Around this time Rachel Witney started hanging out at our place and took me under her wing, teaching me how to pluck my eyebrows and exactly what facial cleanser was right for my skin type. Oh, and there was the occasional fiddle lesson. Somewhere in all of this I also started learning the guitar but as I still don't really see myself as a guitarist that's all I'm gonna say about that!
I ended up leaving school at the end of grade 10 and moved out of home. That experience ended pretty badly and so I returned to the loving bosom of my family, and so being a little-broken spirited, I stayed in my room and did nothing but listen to music for 8 months. Janis Joplin, Bob Dylan, The Beatles, Jimi Hendrix, The Woodstock soundtrack, some tunes (as I was living under my father's roof) and many more though no one made more sense to me than Joni Mitchell. Even still today if something bad is happening to me Joni's already written a song about it letting me know that it will work out fine. Now at this point I know what your thinking, you're thinking, wow, she's got a great taste in music, right? But I'll let you know the first album I ever bought was The Spice Girls. Ah, ah-ah, just wait, I was young and foolish, and oh, who am I trying to kid, I love the Spice Girls.
Anyway, as I was rebuilding my emotional strength in my Joni haze, David Logan returned from Scotland and swept me off my feet. The next 4 years can only be described as rock 'n' roll heaven. David expanded my mind well beyond Joni but I'm pretty sure I expand his with a tune or two, or maybe just some deep down lovin! The Kytes were formed and housed such talents as Roisin Logan, Rachel Witney, Jesse Witney (we were actually hoping for all Witney's) Jamie Corfield, Caroline Hammond, Glen Donald, Zak Burvill, Toshi Burvil, Becky Lucas, myself and David. Shit I really hope I haven't forgotten anyone, I'm sure there was a twelfth member. If there was, I'm sorry but you were awesome too!
As you can imagine trying to rotate 11 maybe 12 people can become quite a mission and so we quietly disbanded after our final gig on New Years Eve at Woodford Folk Festival 05/06. As last gigs go that was pretty sweet!
At the musical moment, I am just playing sessions with the usual suspects like Camille Doyle and Mandy DeVivo (I knew they'd be shat if I didn't put there names in here somewhere), having the occasional gig with Mic Travers at the coast and am in a duo with Miss Rachel Witney-Lacey known as the Red Betty's where the set lists are almost as important as our outfits! Haha!
I can honestly say I live for music, it's not always the Irish but it's always something. Oh, and clothes, I love clothes! I am a little unsure as to what this wild world will throw at me next but I await it with baited breath, open arms and hopefully a tuned fiddle!!!
Rose Jacob