[ HOME ]


Profile
(Note: javascript must be enabled to view and enable email links.)
---
ROY SONNENBURG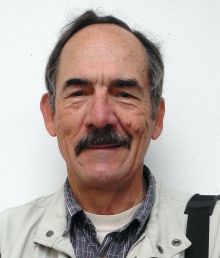 I was born just before the middle of the last century in Maryborough, Queensland, and spent my early years in the nearby small town of Tiaro on the Mary River. I am the second eldest of five and attended the Tiaro State School. As children we roamed far and wide through the local bush and this fostered my love of the natural environment.
Music was not a big part of my early life although my father sometimes played his banjo mandolin and also the mouth organ. My paternal grandmother (who was of Irish heritage) loved to sing and played a button accordion. The main entertainment in town was the regular old time dance with a local orchestra of piano, sax and drums. This was occasionally augmented by a guitar, which I enjoyed. Electricity came to town in 1957 and the school acquired an electric record player along with some Slim Dusty 78's. I particularly liked listening to When the Currawongs Come Down. I briefly had piano lessons, but one too many whacks on the knuckles by my elderly teacher ended my career as a pianist. I was a big Col Joye fan around this era. Our family moved to the big smoke (Maryborough) after I started at the Maryborough Boys High School in 1961 and I became very interested in sport, Top 40 music and some occasional study. I was in the school choir in my Senior years. Around that time I also discovered girls and even more sport. After I finished High School in late 1964, I left for the big 'big smoke' of Brisbane.
At the beginning of 1965 I began work in the Tax Office and studied accountancy at night. The accountancy study was mothballed after about a year but work at the Tax Office continued. From the mid to late 60's I continued with sport, beer, and listening to the music of the day. In 1970 things changed significantly when I became romantically involved with Helen who was also from Maryborough and I found out what love could do to a young man. We were married in early 1971 and took leave from our jobs and headed for England (as one did in those days). We were away for seven months and travelled extensively in Europe in a small panel van. We returned home in late 1971. In early 1973, we bought a new house at Bracken Ridge on the north-side of Brisbane.
During this era I decided that folk was the music genre that I most enjoyed and we attended some folk club events and concerts. I was particularly keen on singer/song writers such as Eric Bogle, Doug Ashdown, Mike McLellan and Kevin Johnson. I really liked bush bands such as the Bushwackers and Bullamakanka and also a big Bee Gees fan from the early 60's and still enjoy their music, particularly their big ballads. Around this time I bought a guitar and quickly learned to play a G chord.
The arrival of our children Karen (1975) and Gregg (1977) were very significant milestones, but they did not tie us down. As well as regular trips along the eastern coast of Australia, we took Karen to Europe for three months in 1976 and both children to NZ for three weeks in 1982. In 1985 I took seven months long service leave from the Tax Office and, with their school's blessing, we took our children 'looking for Australia'. This changed my life in that I went from being a casual birdwatcher to an 'over the top' one (as Helen put it). We travelled around OZ and saw many wonderful places and things and met many interesting people. I became seriously involved in conservation issues involving birds and wetlands on our return home. Meanwhile my career in the Tax Office continued as I worked my way up the ladder. Through my conservation and ornithological interests I ended up chairing a Biodiversity Advisory Committee for Brisbane City Council for seven years up until 2006 and also worked for Birds Australia for three years as the Queensland co-ordinator for the Atlas of Australian Birds.
A friend who attended the first Maleny Folk Festival (1987) told us about it and we made sure we did not miss the 1988 event. This was significant and I have attended every Maleny/Woodford Festival since and this always involved our family. In 1989 I gave a talk about birds at Maleny and the following year started leading early morning bird walks which have continued at every Festival. I also lead walks at The Planting. I became more and more involved with the Festival particularly with bird/environmental issues (and some tax related) and this led to my joining the QFF Management Committee in 2012.
In 1997 I decided it was time for a change and left the Tax Office after 33 years. I completed some graduate study in ornithology and became a wandering ornithologist doing consulting work while Helen and I ran bird watching tours as a family business. We even turned our home into a 'birdwatchers' B&B for seven years. Between 2000 and 2007 we visited the UK most years to attend the British Bird Watching Fair to promote our business, Birding Services Brisbane, and other Australian businesses also. I also visited Costa Rica, Thailand, far eastern Russia, Mauritius and much of Europe through bird related issues. We retired in 2011, but I am still involved with matters ornithological. In early 2010 our first grandchild was born and we now have four with the youngest having just turned one. The two three year olds are already experienced Woodfordians and all four will have attended the 2013/14 festival. The arrival of our grandchildren prompted me to get my guitar out of its case and learn a few more chords so I could sing Little Stranger (Davies/Ilott) to them.
I have an amazing journey so far and I am still kept very busy with my wonderful family, Woodford, bird stuff, road cycling and travel.
Roy Sonnenburg