[ HOME ]


Profile
(Note: javascript must be enabled to view and enable email links.)
---
ROZ PAPPALARDO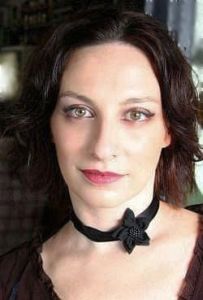 I grew up on a canefarm, in Mena Creek, near Innisfail. We were reasonably isolated where we lived, which in hindsight was a good thing, because most of my youth consisted of my Dad's rock band practising underneath our 2 storey Queenslander and later on, my rock band practising underneath the house. It was a fairly loud house in more ways than one. John Denver, Neil Diamond, Simon and Garfunkel, anything that had a harmony and a half decent melody line was staple musical fare in our house.
I started playing music in pubs about 2 months after I learned my first 3 chords on the guitar (truthfully I haven't progressed much beyond those 3 chords, but I do know how to quick-change a string nowadays). I was a painfully shy teenager, and barely opened my mouth to ask a question in class, let alone stand up in front of crowd and sing! I used to sneak downstairs to my Dad's music room when he was out gigging and teach myself chords from a book, playing the old man's prize Tommy Emmanuel Series Maton acoustic guitar. One day I thought I'd try and sing along with my practising and was extremely surprised to find that it felt good when I did and that it came relatively easily to me.
A set of 80's covers was quickly learnt, my next-door neighbour, Andrew Dineen, tuned his yellow Peavey electric guitar, we borrowed "Animal", Dad's old drum machine, and played our first gig at the Mena Creek Hotel. Our second gig occurred at the Mena Creek Folk Festival on the tennis courts of my old primary school, Mena Creek State School. I have a feeling that's where I first connected with Don Jarmey and Angela Kitzelman. This relationship has led to many musical and personal endeavours. We are a similar mix of dreamer and doer. That first meeting was a long, long time ago. Well, not that long.
After high school, I moved to Townsville – yep, the bright lights and big city called. I was to be high school teacher. Which, truthfully, has been my saviour during the years that I've been working in the music industry. I would have been thin and hungry for many years if it hadn't been for the teaching. Thin…not such a bad thing.
This is where I met the wonderfully talented singer / songwriter, musician and entertainer, Chanel Lucas. We lived around the corner from each other and we tell people we met at the pub. I think it's true. We decided to start an all-girls rock band (Viridian) with our friend Megan O'Brien (O'Gorman). Megan was (is still) hot, so all the boys came in their droves to see us rock out at the James Cook University Refectory, the James Cook Tavern in Flinders St, Townsville and other savoury venues across Nth Qld. We were happy. We thought we were popular, when really, Megan was the popular one.
I took my guitar and my teaching qualifications to London and taught, drank and played my way around Irish bars, sitting in on jams, gaining an appreciation of musical theatre – seeing everything I could get tickets to in the West End and learning about myself.
Two years later, I returned to Townsville and, with Chanel Lucas, started women in docs. WiD was a vehicle to sing, harmonise, song-write, see Australia whilst performing and also to compete with the other female musical duo in Townsville at the time who wore skates during their gigs and played tennis rackets as guitars. Thanks to Tom Aubrey, Townsville music industry legend, for our first gig. See what you've created?? We released our first EP, sold 300 in one gig, bought a van and sped off to Woodford Folk Festival (1999, I believe). We barged in, played blackboard stages (thanks to Bob and Laurel Wilson), outsold most other artists in the festival CD shop even though we weren't booked and I was personally inspired by The Waifs. 5 records later, a growing band including the amazing Silas Palmer, drummer extraordinaire, Geoff Green, sound engineer, Heath Storrie, countless tours in the old van around the country, collapsing tents, great new and inspirational friends made on the road, (Those Bloody McKenna's, Junior, Greg Arnold, The Ploughboys, John Bedggood, Merri May Gill, Totally Gourdgeous, Never the Twain, Cloudstreet, Jigger, this list goes on and on..) many trips overseas, great festivals, great gigs, sleeping in random houses… the adventure continues. Phew.
I'm a damn lucky girl. Mum and Dad think I'm crazy.
The last couple of years have seen me add a few more paths to the road well travelled in the form of minority community arts work, which has lent a whole new perspective to my life, and a companion / side project band to my work with women in docs, an alt country rock out act, The Wayward Gentlemen.
My work songwriting, collecting and archiving traditional songs with minority communities started with a prompt from good friend and almost family, Deb Suckling (QMusic). With a, Hey Roz, I think you'd be great at this! I packed a small bag of clothes, a large bag of leads and cords to make my brand new Mac and PA work and of course, my guitar, I headed for the Gulf of Carpentaria for two weeks with film maker, David Jackson (Qld Arts Council) and actor, Sam Foster (Zeal Theatre). I know it sounds schmaltzy, but my life was forever changed as I was welcomed into lives of people in Pormpurraaw and Kowanyama, recording their stories, helping them write their incredible stories and just listening.
Further work has seen me collaborate with people like Rob Hirst on a BEMAC run project, working with teenage Sudanese refugees, and I'm soon out to Arnhem Land (NT) to write with kids and elders up there. The things I worry about in day - to - day life are quickly put into perspective when I work with the incredibly resilient and loving people in these remote communities.
The Wayward Gentlemen started as a fun Sunday arvo session, drinking beer and wine whilst jamming on my back deck - then all the lads stopped drinking (seriously), and I thought, "Well, we better get some gigs now - we're sounding pretty good." A few fun gigs lead to the genius idea, "Let's record!" .So Silas Palmer, Rob Sherwood, Aaron Millard, Lincoln Retallack and I ran into luminary production legend, Magoo, (Kate Miller Heidke, Powderfinger) somewhere in Fortitude Valley one afternoon and he was on board. Magic!! 3 years later, a debut solo album is born, assistance from an independent record label, Plus One Records (Simon Homer and Denise Foley), a filmclip produced by dear friend, Kristin Pyott (Dark River Films) and a whole big bunch of fun continues to be the captain that steers this Wayward ship. It's a nice record too. This Lifeboat. Check it out.
The life of a full time musician is long, exasperating, tiresome, exhausting, confusing, invigorating, jubilant, full of love and excitement. It's a roller coaster. The biggest one you've ever seen or heard about. Thanks to my best friend Simon Suckling for grabbing a cart on the roller coaster. Fun isn't it?
See you at a gig sometime, whether you're playing, listening, drinking, driving - we, the musicians, appreciate you being there and hope you'll come back! xxx
Roz Pappalardo