[ HOME ]


Profile
(Note: javascript must be enabled to view and enable email links.)
---
SIMON WELLS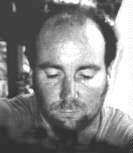 Simon has been on the local folk scene since 1992, when he wandered in one wintry Sunday arvo, to the Barry St. Celtic Club. "It was mayhem, the bumrots ruled - but I had a great time." But let's go back a bit....
To primary school piano classes in Cowra NSW. After that all music making stopped until first year uni in Canberra. One day Simon heard someone practising the Moonlight Sonata, was inspired, went out and bought the music and learnt the first movement. " I never got much further on the ivories, but that experience switched on something musical inside me." Then lots of bush dances, and Numeralla Folk Festivals in the Snowy Mountains, (still his favourite festival).
After moving to Adelaide in 1982, he was surprisingly snapped up by SA folk doyen Dave Clarke for his new band Tanami . "We were to be The Dave Clarke Five but somehow it just didn't take on." Tanami was hailed on national radio by ABC's David Mulhallen as `the new Redgum', and ....... well, of course within six months it had split up - due to pregnancies, marital problems etc. So Simon jumped ship to the tragically named Old Gum Trio, thankfully only briefly.
Then perhaps his most important formative experience, with close-harmony folk band Three Corner Jack . This was a great time, which really schooled Simon in arranging, harmonizing, and was also his first time making his living as a muso. However, this group split in 1985 after a sellout country tour of seventeen gigs in four days (mainly primary school shows) on the Eyre Peninsula. Just too much show biz.
Whilst in Adelaide Simon learnt a lot about his main instrument - flute - from Tim Whelan (now dec'd) of Tipperary, and was a regular at the slightly neurotic sessions. 1986 took him to Darwin to start a legal career (since jettisoned. and why ? - "Well, name me one person who likes lawyers. Oh, ...errr, sorry John ... oops.. sorry Ian"...). In Darwin Simon played in a medieval recorder ensemble and formed a folk-rock band, The Ceiling Fans , with an unlikely bunch of mates. It was great fun but he did miss those southern sessions and festivals. Then another year in Europe in 1991, teaching English, weeding strawberries, and winning fifty quid (second prize) in a busking competition in Tuam, Galway. "Despite the fact that there were only three contestants (third place-getter played the spoons) I counted it a high point in my musical journey ."
Then in 1992 Simon returned to Oz and shifted to Briz. Musically he started off with the Amazwi African choir. Since then he's sung with Canto Coro productions in 1997, both in Briz and Melbourne. And now with the largely gospel choir Qwired , which he says have an inspired sound and will probably do a CD in 1999.
Meanwhile he co-formed the dynamic, but short-lived world music band Urban Dervish in 1994 . As it folded he was picked up by the highly-organised Jolly Green Druids . Simon says he learnt heaps from playing with Danny Holmes and Claire Fitzpatrick , during their two years residency at Dooleys .
Simon has since formed a satisfying partnership, first with sessionists Martin Reese, Terry Jacob , and later percussionist Gavin Mackinney , in Malarky (formerly Herbal Tunes....). Although it's a "pink-hot" Celtic outfit ("somewhere between white hot and red-hot"). Malarky also includes other influences such as Yiddish and German songs, Klezmer instrumentals, and jazz/swing influenced versions of trad. standards. Maybe a CD coming in 1999. "Martin always says, next year is going to be Malarky's year, so hopefully........".
Meantime Simon has had a weekly pub residency with The Wrenboys (with Martin Reese, Sebastian Flynn, Ken Littleboy) at O'Malley's Irish bar.
Simon has had a lot of encouragement teaching flute/ whistle on Sunday arvos at Yungaba. He hopes to have a lot more students this year after the first courses steadily garnered more takers in 1998. In his opinion there's far too little communication and swapping of ideas and techniques between players in Australia. He sees these classes as an opportunity to share what took him seventeen years of haphazard, largely untutored learning to acquire.
Last but not least he's joined a new Jewish band `Kosher Klassix' . "I'm really not a Yid, but it does mean I get to play plenty of clarinet" Simon said.
Simon is a very talented multi-instrumentalist, and if you have the chance to see him perform then take it, you won't regret it.