[ HOME ]


Profile
(Note: javascript must be enabled to view and enable email links.)
---
SAMANTHA PAGE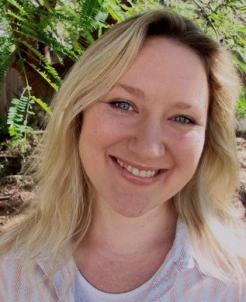 What Michael, you want me to write about myself? And 1000 words at that! I didn't think when I sat down to write I'd have to edit so much out that I wouldn't have enough space to give more than a sketch of the last 2 decades of my life without much comment, detail or humour. The worst of it is I seem to be the only one surprised.
My family always had a large variety of music in the house to listen to, but didn't play or sing. I have vivid memories of my mum telling me to be quiet whenever I started singing along to a record.
My first experience of a folk festival was a small weekend festival held each year at Numeralla. My mum took me along when I was 16 to see a family friend, Carole Stefan, play. There was such a sense of involvement - of sharing with everyone in the room. I loved it.
I joined the local amateur theatre group, The Cooma Little Theatre, that year and had a great deal of fun, learning as I went during rehearsals (mainly learning the art of mucking about rather than anything relevant like acting). I spent two years being a part of any and every production I could, it was very addictive and they were a very supportive group of people.
I started developing the idea that I should learn the flute and mum and dad saved up and bought me one for Christmas when I was 17. This coincided with my move to Brisbane and away from my immediate family. Learning flute also proved to be the best way to meet people and make new friends, starting with my flute teacher Bernard Houston. Bernard introduced me to a heap of interests and people I would never have known otherwise, starting with Friday night excursions to the Aussie National Hotel to see Spot the Dog perform. I have very fond memories of going to The Zoo to see bands like Tulipan and The Toothfairies. Bernard also introduced me to my first flatmate, Alton Twine, who along with Bernard started the band Hot Toddy in our lounge room.
Bernard and his sister Fiona, along with some of their friends started a band called Mythica at that time too. I did all I could to help out in the background and encourage them. I still miss their music and wish they'd had the opportunity to record much more of their vast repertoire. Mythica introduced me to the Woodford Folk Festival the first year on its current site and I have performed at it almost every year since.
I started doing Renaissance dance lessons with some friends Bernard introduced me to with the Capriol Dance Troupe and their band The Genuine Renaissance Rubber Band. Peter Kraat and I later started performing the gigs that Capriol didn't want to do, on our own as The Tempella Dance Consort, which included performances and workshops at Woodford - where I then met Morris Rampant. The Morris Rampant boys encouraged me (or should I say kidnapped me) into Morris as well, firstly with the Moreton Bay Morris who were learning a new border style repertoire for the first time, then Belswagger who were dancing mainly cotswold style and later Morris Rampant who of course had their own style.
While all this was happening I was also developing friendships with people like Nicole Murray and John Thompson who introduced me to a great number of delightful people in the Brisbane folk scene. John and Nic also became involved in a project Bernard and I put together called The Cappuccino Cowgirl.
After Bernard moved out and I started looking for a new flatmate, I was introduced by both Peter Kraat and Glen Donald to Ann Hutton. Ann and her wonderful sense of humour moved in for about a year. I would often come home late and fall asleep to the sound of Ann playing her lovely Celtic Harp in the next room. John & Nic along with Ann, Jevan Cole & Seamus Fitzpatrick all played at my wedding to Geoff Brown (also a Morris dancer).
I made a couple of sparkling jackets for John Thompson to wear on stage at Woodford, and later Violet Sarah & Muckle John costumes for Cloudstreet, which led to Martin Pearson commissioning a wizard costume from me for his Lost Spelling Errors of Bolkien production for the Melbourne Comedy Festival. I was also commissioned to make a costume for an exhibition on computer gaming at The Barbican in London.
I dabbled with some singing lessons with Anne Bermingham for a short while, but didn't really get serious about it until I first became pregnant with my son Hunter. I took lessons with Jenny Polley at that time, in the knowledge that it would probably be a number of years before I would have the time or money to do any more. It is something I have always wanted to do but never had much confidence in. I later spent some time enjoying the workshops run by The Voices and lessons with opera singer Jenny Dawson. Geoff's mum Cheryl Brown also encouraged me by suggesting we learn some traditional songs together. She performs mainly with Toowoomba Repertory and The Toowoomba International Women's Choir and took me along to a few rehearsals with the choir as well. Heaps of fun! Most of those lessons and rehearsals went towards practising for the new year's eve 80's Sing-along put together by Ange Kitzelman. I had a great time pretending to be Cyndi Lauper for a couple of evenings.
Other projects over the last decade have included some all singing, all dancing and definitely silly street theatre with Nicole Murray, Marina Yakimov and Sarah Callinan in The Solstice Magick Troupe. Pretending I looked tough enough to wield a sword for a year with The Malenyax (no, no-one else was convinced either). And also taking part in some Viking re-enactment with a group of friends known as Raefan (the Norse word for raven) at events such is The Brisbane Medieval Tournament, Queensland History Alive and Abbey Museum Medieval Fayre.
At the moment I am working on a small visual arts project with Nicole Murray we are hoping to exhibit in September. It will combine her photographic skills, and a (very melodramatic) poem I wrote called Crave. Andrea Baldwin has commissioned me to make her a medieval costume and I also made something special for Lonnie Martin to wear at her CD launch at The Clovely Cellar Door in June.
Recently I've been enjoying corrupting the young by attending the Singing and Tune sessions at The Muddy Farmer Hotel on Saturday afternoons in the company of Sam Krauser (being young and corruptible, well, possibly corruptible).
At present I have also been appointed official transcriber for the Brisbane Folk History Project and am thrilled to be combining work with something I enjoy so much.
Samantha Page