[ HOME ]


Profile
(Note: javascript must be enabled to view and enable email links.)
---
MARK & MARIA (Zann) SCHUSTER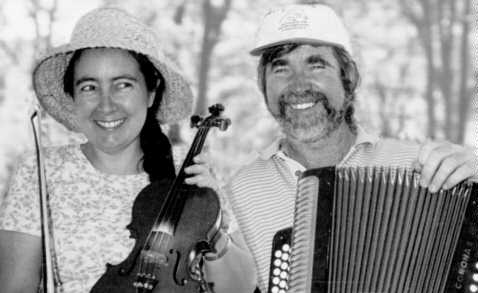 Mark was born in Oxley, when Brisbane was a real country town; he was always musically inclined as a child. Mark 's Uncle, who now resides outside Munich, used to play accordian and zither in north Queensland and Grandma used to play "honkytonk" ragtime piano in the pubs around Fortitude Valley during the war, so, really, music was in his blood. Although he wanted to learn guitar when younger, his parents thought his sister should learn and he recalls accompanying her to many guitar studios. Mark was an avid fan of The Seekers, Kingston Trio, Peter, Paul & Mary and Lionel Long for many years. He loved many forms of music but couldn't play.
Maria was born in Casino NSW. Her parents enjoyed classical records especially Tchaikovsky . Dad liked Beethoven and Gipsy music, and used to sing with Maria around Grandma's pianola. Maria played xylophones, toy pianos, recorder etc until her parents had her taught piano. She participated in concerts with a neighbour's large theatrical family, who were avid Beatles fans - "We knew all the words, and I was only 8!" says Maria. She taught herself guitar in her teens and always had a girls' group singing inane pop songs.
Nuns force-fed Irish culture in St Patrick's Night Concerts and the kids did the Riverdance thing in little green dresses. The Lismore school/mates gang often attended the Old Time Balls when they were still in their heyday. The gang's favourite hangout was the Lismore Italo-Australian Club which always had a live rock band (quite a few mates were of Italian descent - except for me - apparently 'Zann' was Austrian!)
Mark & Maria met at the Uni of Queensland where they were both studying Zoology, and were later married. Soon their record collections amalgamated, and they moved to Armidale to study PhDs. Mark bought bush band records, so Maria bought a tin whistle. He hated its shrill tone so bought her a concertina. She couldn't play Irish tunes on this, only Old Time favourites, so he bought her a fiddle.
When they moved to Canberra in 1984, they attended the National Folk Festival and Maria went home that night and played Charlie Batchelor 's Lost Jig and the Orataba Waltz on the fiddle (scratchily). They met mentors Greg Smith (button accordian) and Ann McCusker (fiddle) with their fantastic bush band, White Cockatoo , having music sessions in their backyard vegie garden under the grapevines and imbibing too much good, cheap Australian red wine. Mark, by that time, had bought a button accordian and was after easy Australian tunes to play, so they dropped in at the National Library to listen to the Meredith Collection - but there was no Queensland collected material. Mark spent his lunch hours outside the Old Parliament House practising. He recalls: "Once Little Johnny saw me - I can tell you he gave me a VERY STRANGE LOOK. I wanted to play the old tunes I heard when my Mum used to take me into Brisbane CBD as a kid. There were old buskers playing the button accordian as it should be played - fluent cross-row playing on double and triple row instruments. Many of these older fellows were old Germans - or people of German descent and my real wish was to play like them."
Mark also visited the Riverina and South Australia to collect from their German-descended players. They used to drop in on Mark Rummery and Cathy Ovenden at Booroowa to learn old Australian fiddle tunes. "One very memorable day Mark and Cathy brought Stan Treacy to our place in Canberra for a whole day and there were four fiddlers playing Australiana Real Old Time - fantastic!" Maria recalls. "NSW tablelands fiddle music with its hint of Celtic influence deserves to be played much more than it is!"
The many ethnic clubs and visiting foreign musicians presented a fascinating smorgasbord of international music for them to enjoy. They began to play Scandinavian (Mark played for the Scandinavian Club and Finnish Dance groups) and Germanic music, even meeting Slovenian, Macedonian and Italian players.
For the last fifteen years or so Maria and Mark have spent many, many hours collecting the old tunes for the National Library. Every holiday Mark has tried to get back to the Fassifern, Downs and Burnett areas to hear the old farmers play their dance tunes.
They returned to Brisbane in 1989-90, playing for the Norwegian Club and the International Dance group, and held Australiana sessions at home. Maria began collecting dances too, under Shirley Andrews ' influence. At The National (Maleny) that year, they were involved in dance workshops and concerts and met Les Moreland , wonderful dancer/MC and raconteur regarding all things German.
After moving up to Toowoomba in 1990 they were in the thick of it - many hours were spent recording the old tunes, yarns, learning snippets of old German and "trinking d' vine!!". Mark became totally immersed in the southern Queensland old German rural culture - where the button accordian was king. Many tunes have come from great old players like Alf Radunz, Bill Fechner, Paddy Pokarier, Norm Boughen and Ron Kerle . Since then Mark has been trying to work out whose style he's emulated - but maybe it's a mix of everyone.
Their interests were a bit peripheral to those of the Toowoomba folkscene (in fact, to Queensland in general), so they went collecting and met other players. Maria collected many versions of the old quadrilles and couples dances from old dance MCs and for a while had her own dance group. These versions, alas, are still sitting in a large book.
Mark says: "The good musical times Maria and I have had cannot be emphasised enough. At times our kids must have thought their parents were crazy. Now that many of the old tunes and players have gone it is our responsibility to keep the old tunes alive.
Over the years we received funding from the Australian Folk Trust to bring out booklets, articles, tapes and CDs of this unique regional folk music. We currently still play for old time dances and concerts with our friends the Vonhoff and Reinke families.
We were featured on ABC's Australian Story and also perform very regularly on ABC regional radio - people on the Downs and in the Lockyer cannot hear enough of this old-time music and we are frequently pestered at home by our many fans."
In the last year or two Maria has diverged from this course, indulging her fetish for eastern European music and learning a little bit more about her (Zaninovic) Dalmatian roots by learning to speak/sing Croatian. Along with with Bosnian singer and accordian player, Salko Mesic , she plays tamburica and fiddle for Bosnian and Croatian parties with lots of kolo dancing, cevapcici and slivovic.
Unfortunately, Australian Old-Time music has not had a large exposure in the folk scene. "We have a tremendous resource and we'd dearly love people in the folk scene to play more of this music. Why play recently imported Pommie and Irish tunes when we let our own folk music die out!! Surely we are the only country where our past is treated with such contempt. Perhaps if we come on very strong at times it is because we owe a great debt to the musicians who came before us to keep the music as a living culture." says Mark.
They intend to continue playing and their aim in the next decade is to produce archival CDs of many of the Australiana musicians from southern Queensland.
Mark is very keen to keep preserving the large hidden and neglected culture of our Queensland German rural communities. In fact, many areas of the Downs are still 100% German origin. Mark's work centres around pigs and these people love pigs and music - not necessarily in this order. "So my work and music often mix!" says Mark.
PLEASE KEEP AUSTRALIAN FOLK MUSIC ALIVE BY PLAYING IT!
You can hear some Queensland tunes on their CD 'Scrub, Schottisches and German Wagons' (phone Mark on 07 4639 3138 for a copy at $15 + postage $3.50).