[ HOME ]


Profile
(Note: javascript must be enabled to view and enable email links.)
---
SHARON JACKSON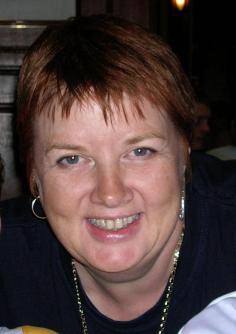 Wow, I've really arrived now, I'm thinking as Michael asks me to be a profile for the Folk Rag. I joined this merry band of sessioners quite by mistake one April Saturday about 4 years ago. A friend and a couple of his mates were hell bent trying to put together a Brisbane Folk Festival to show Brisbane that there was more to Irish music than the yearly St. Pat's shenanigans. Meeting him in our local, he says to get up support it, after all it's on the 12th (for those in the know). I'm intrigued and say I'll go down and if I can help, I will. But he sent me to the wrong place which I quickly sussed out, was the right place after all. A rare thing, fellow cider drinkers abounded, drink in general was the order of the day and most importantly, everyone was smiling. This is a good start thinks I, the singing can come later, cheers. And that's exactly what happened.
Born in Liverpool in the sixties, Dad was English and Mam was Irish so ours it was a fairly lively household. But, aware I'm a part of both and belong to neither, I'm a Scouse. My earliest memories are of football (the only kind) the Beatles and the scouse sense of humour.. Mam's family were often over from Belfast and I can clearly recall my uncles sitting by the old parlophone, guitars in hand, playing the 45s over and over to get the lyrics and work out the chords. Once worked out, the beers appeared and the best parties would break out. Everyone had to join in and work out a party piece or else. But it was my Granda who came over and played Tommy Makem, The Clancy Brothers and Irish drinking songs that had my feet tapping and heart won. This was to set the pattern to come over the years and there is no doubt, it is the best fun you can have with your clothes on. It's my firm belief that there's nothing brings people together so much as music and sport.
The bright sixties and seventies music stood me in good stead as Dad got promoted up to Middlesbrough, Yorkshire and I needed it. Thatcher arrived along with the Yorkshire gales and the world became a grim place. Growing up in the punk era was fitting on industrial Teesside where the days were grey and nights were lit by a thousand lights on the 15 square mile chemical complex. We spent our time and hard won pay on travelling to see Blondie, Elvis Costello, The Police and Dire Straits at big venue concerts around the UK. Thee must av more brass than brains the old boys would say.. But we loved it and anyway, who wants to see brass bands? If you've ever Heard Elvis's shipbuilding that about sums it up. I was lucky though, I had a bolt hole to Northern Ireland and I would nip over for a fix at least once a year. As well, Scousers weren't welcome with the Boro boys though one took an interest and Jon arrived on the scene. Akin to the Geoff Boycott mould of dour Yorkshiremen, Jon puts wrongs to right in my world with a wry sense of humour and a love of the Boro, poor deluded fool.
Diving was my sport of choice for many years and it's because of this and Maggie that I'm here. The Great Barrier Reef is a Diving Mecca and something that most divers are going to do next year. As that never happens, I didn't wait and dragged Jon, a non-swimmer, across the world for a shark dive off Cairns. Arriving in Sydney on a sunny Tuesday afternoon in November, we were looking for a hotel when we found one bursting at the seams. People were spilling out laughing and drinking in a riot of colour. On a Tuesday afternoon? This is the place for us! I didn't work out for years it was Melbourne Cup day.
The diving was just as colourful and it took one wet weekend back in cloth cap land and I was heading down under.
The first thing that happened was I saw Blackthorn at the Aussie Nash and I don't think I've been seeing straight ever since. It was unbelievable! We'd now landed in this place where you could get live music on a weekly basis, at the local. Incredible stuff. Despite being thousands of miles from the Emerald Isle, I could still get my fix and off I went to see Spalpeen, Hot Toddy, Popproperly, Sunas and Fairly Lively.
Very happy little vegemite I was and I still call Australia, Ireland in the sun. Joining the session has capped it and is something unique that the originators can be very proud of. On leaving the UK, I promised my Uncle that the next time I saw him I would be able to play the guitar and to sing along with him. Thanks to the sessioners and the great people at The Voices, I was able to do that last year after having been on a trip to see the Socceroos at the World Cup. This year, with a few fellow sessioners, Ian, Vince and Mick we were able to play at the St. Pat's shenanigans at Kitty's supporting Ger Fenelly who is a great guy and Brisbane's answer to Christy Moore. At this stage, we have been asked back for a few follow up sessions and it's a new and exciting place for us.
In 2009, the famous Kop is to be demolished to make way for a new super stadium . So, my purpose for 2008 is clear. I'm off to Liverpool to sing You'll never walk Alone in the Kop while I still can.. Jon is quietly getting drunk in the corner. If there's a better way to have fun, I don't want to know about it. This is it for me.
Sharon Jackson