[ HOME ]


Profile
(Note: javascript must be enabled to view and enable email links.)
---
SHEZ WRIGHT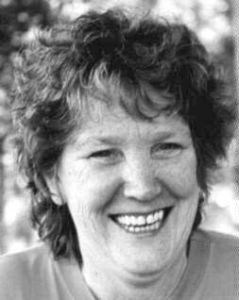 Where did it all start....that is an interesting question....I can't remember, but that's OK, they say if you can remember the 60's you weren't there, and I claim the same exemption for the 80's! I guess it all began in Darwin, as a quiet audience person, then Cairns for 8 years, as not so quiet an audience person, but still only a listener, although a frustrated performer.....a critical remark at about age sixteen had silenced my singing, and it took twenty-four years to find my voice again...(and now you can't shut me up!!) Cairns had a vibrant folk scene during the early 80's, and many late nights (or rather early mornings) of chorus singing with the local working class bush band, Mangrove Jack , plus many talented musos established my 'life' as a folkie, never to return to anything 'normal', in fact I don't really know what people do except go to lots of parties and sing lots of songs....is there another life?
After arriving in Brisbane I spent the first year quite quietly, studying, dancing with The Queensland Colonial Dancers . Dancing with them at Expo was a highlight for me. I was known to spend many evenings at the wonderful Manila Street folkie home, then came the fateful day when I walked into the hub of the Maleny Festival , and asked Bill Hauritz if I could do 'anything'!!! "Yes" , came the reply, "find me four caravans", promptly leaving to solve another crisis elsewhere, leaving me rather ...stunned, I think would be a good description.....and five days and numerous crises later I crawled out of the 'office', baptism of fire complete; and that was the start of a intense period of association with both the QFF and the Maleny Festival - in those days we ran on hugs and Guinness, and not always in that order!!
During the next year a call from Peter Auty placed me further in the melee when he asked me to stand for secretary. Now, I may be able to cope well with 'crises', but dotting 'I's' and crossing 'T's' is not one of my strengths, so that period of secretarialship of the QFF is probably better forgotten - but it was such an exciting time of wonderful festivals and growth for the organisation that I feel privileged to have been part of it.
Then came a year in New Zealand, where the shift began from audience to performer. The meeting of an 'Irish lad', harmony singing on long car trips, and questions like 'why don't you sing' started the journey of discovery. I have much for which to thank the NZ folk scene, where their emphasis is on participation of all, thus very nurturing for a beginner. Not to mention accompanying said 'Irish lad' on guitar, and singing harmonies for audiences of ten to eight hundred, again a baptism of fire!!
Then came the great adventure of three years in England, where I went to a house near Birmingham for just five days, to help 'steward' (Pommie for volunteer!) on a festival, and stayed for over two years (plus housed a few other 'Aussies' during this time - the Earl's Court of the Midlands as it was better known) From this house we ran a festival, folk club, folk opera, recorded CDs, and that was just in our spare time, and there always seemed to be some small detail that I could help with! During this time, as stage manager on a folk opera, I was immersed (dunked maybe) in the creme da la creme of the unaccompanied traditional singers of England, from which I don't think I will ever recover. This involvement gave me a great love for English song, and also as the 'Aussie Sheila' there was always a call for Aussie songs... again, immersion in the deep end, and many sessions and festivals later, I was nearly able to say I was a musician.
I guess the shift for me came the day on the narrow boat tour, called Folk Afloat, where ten of us had the most idyllic cruise up the canals for six days, playing and singing every day on the boat, and then every night at a different pub along the way (it wasn't all work in England). As a number of the folks on board were semi-professional musicians, an idle comment to one of the Lancashire lads commenting on the pleasure of being surrounded by 'all you musicians' for six days was like 'dying and going to heaven', to which he responded 'well, what do you think you are lass?' Again, a folk scene where the emphasis is on participation of all, the respect of total silence given to all performers, small festivals that encourage participation rather than passive consumerism, all of which, for me, is what folk music is about.
On my return to Brisbane, I was very fired up to share some of this style of 'participation and encouragement' and with the POD Folk Club presently in my 'keeping' I am endeavouring to do just this. Trouble is, after all those small details needed to organise the show, I'm usually too tired to sing.... So I am seen regularly, with another well known local singer, (nameless of course) entertaining the oldies as The Spice Grannies, and let it be on record that we have a wonderful time.
Unlike some of the other stories in this spot, I guess it was not the music on the radio, or high profile performers that have inspired me to sing, rather the grass roots folk and their love of the music.
Shez Wright