[ HOME ]


Profile
(Note: javascript must be enabled to view and enable email links.)
---
STEVE COOK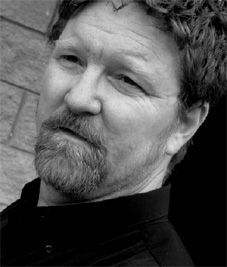 I was born in 1956 and grew up in Cabramatta on the southwestern outskirts of Sydney. My school friends were mostly Yugoslavs, English, Scots, Irish and Italians which gave me an early view into cultures other than my own. My Grandfather was a comedian who worked in vaudeville and around the NSW club scene from the 1920s up to his death in the mid eighties. His name was Billy Kearns and had a reputation for being the cleanest comic in town. My mother would perform musical comedy acts with him when she was in her late teens/early twenties. I still have my grandfather's banjo mandolin which I am currently repairing.
One of my earliest memories is of listening to an old itinerant farm worker playing a fiddle at an aunt's dairy farm. The first songs I learned as a kid were all from my Dad's 78 record collection.
At the age of sixteen I moved with my family north to Brisbane and went to school at The Gap High. It was there that I first met people involved with playing music. I started playing the guitar at about 18 with one of my first influences, Peter Chapman, who introduced me to Steeleye, Fairport, Jansch, Pentangle, among others. He was a great fingerpicker and pointed things out in music that I had never noticed before. During that time I frequented the Folk Centre in Anne Street and the Red Brick Hotel with that great band of the same name.
After a few years I met Ned Corbin, who played the fiddle and banjo with a bush band called Bale-Em-Up. What a revelation! I went out and bought a cricket bat (cunningly disguised as a banjo) and learnt, by ear, all the tunes the band knew. I thought I was doing pretty well until one evening at a folkie party one Dale Riddle came up to me and said (Dale Riddle voice) "How've you got that thing tooned?" Woops! I learned banjos aren't tuned like guitars. Bale-Em-Up was a large collective of people from very different ends of town.
Circumstances led me to move to the Sunshine Coast where I met with Robyn Foley, Bob Grant, Geoff Welsh, Bob Wittholz, Gary Williamson, Jim Bannister and later, Ken Green. We got together for a fundraiser gig at a school and, bingo! - instant band. The band was called Red Ned and ran from 1979 through to about 1984. Robyn was a great fiddle and piano player and eventually we got together and married in 1985. We have a daughter Jasmine and a son Liam.
It was in about 1980 that we met someone who would become a driving force behind the regeneration of the Queensland folk scene - Bill Hauritz. After many gigs as Red Ned's promoter, sound guy and eventually manager, Bill and Ingrid moved to Nambour and began the long process of reuniting the folk movement in Brisbane as well as sowing the seeds for the Maleny Folk Festival.
After Red Ned finished, Robyn and I felt we had to move on to other musical styles to try and maintain the living to which we had become accustomed so we acquired some electronic musical gear and started performing at RSL clubs and the like as a duo. After a couple of years of that we realised what a soulless way of playing music it was. During that period I also began playing in Country bands and a cabaret band called the Windies which included Sam Saunders.
By the early nineties Rob decided she wanted a break from playing music to pursue other interests (she is now a practising psychologist and homoeopath). At about the same time Bill introduced me to a young (21) fiddle player from Cairns named Fred Graham, who had recently moved to the coast to further his musical career. Instead he got stuck with me! We started doing a few gigs together as a duo and quickly built a rapport between us that exists to this day. Fred was a musical sponge and would absorb whatever came his way – country, bluegrass, jazz, Celtic, blues – anything. We also worked with people like Dave Burrows, Gary Vann, Gary Ward, Matt Zarb and Andy Tainsh. Maleny/Woodford was the anchor around which we would pivot, that December panic to put everything together still happens today!
In 1996 I was involved in a car accident which left me in a bit of a mess. Fortunately for me my wife Robyn, the folk scene at large and specifically close friends like Fred and Adri Graham, Bill and Ingrid Hauritz and Geoff and Maggie Adeney helped in many ways – Fred with encouragement and new CDs to listen to, Bill organised for Fairport Convention to visit me in Nambour Hospital, Maggie organised a fundraiser gig. There were many other amazing people who helped in my recovery in many ways, for which I am eternally grateful.
Out of hospital I was invited to play with Ceri McCoy's Celtic band Jack the Lad at the QFF annual dinner. The ovation I received from the assembled folkies that night still rings in my ears! Our old friend Dave Burrows gave me a bouzouki he had made and I took to it eagerly, partly because I couldn't play guitar any more. I've been playing bouzoukis ever since.
Fred and I travelled through Ireland in 2000, playing with many great musicians virtually every night, for a month.
I have recently dabbled in Brazillian choro, an instrumental music style from Rio de Janeiro with an enormous repertoire of music written especially for mandolin. A band was formed with Sam Saunders and Jason Allen called Simbora which performed at Woodford in 2002, 2003. Simbora performed some gigs at the Powerhouse in 2003 with Kim and Angie from A View From Madelaine's Couch and Doug de Vries and Diana Clark.
These days I play bouzouki with Fred Graham, Andrew Heath, Claire Fitzpatrick and Jenny Fitzgibbon in Tulca mór. We have great fun travelling around the country playing at Festivals. In the last two years I've been back into playing the banjo again and relearning the Irish repertoire. I play a session every month in Noosa with Allan and Kristen Kelly and Belinda Forde. Jenny and I performed as a duo at Woodford and at this year's National. Tulca mór as well as Jenny and I are planning new CDs this year.
My goal for the next couple of years is to go back to Ireland and see the bits I didn't see last time and learn more tunes!
Steve Cook