[ HOME ]


Profile
(Note: javascript must be enabled to view and enable email links.)
---
TERRY JACOB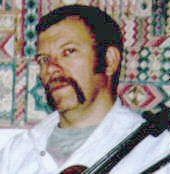 Terry was born in the English county of Norfolk, the home of many fine traditional singers - Peter Bellamy, Walter Pardon and Harry Cox, to name but three. His large extended family all had strong voices and would often get together in the local pub to sing up the dawn. Terry's first memory of folk music was listening to the Gypsies, Irish tinkers and itinerant labourers who came to work in the fields at the bottom of his parents' house. His mother forbade him to go to the camp fires in the evening, but Terry found them irresistible. One Gypsy drew a crayon picture of seven year old Terry holding an accordion, a picture he has always treasured.
Terry discovered commercial Folk music in the mid sixties from groups such as The Spinners, The Dubliners and local musicians. After leaving school and part time jobs of working on the local fishing fleets and farms, he moved to the vineyards of France where the locals were keen to teach him their tunes when he produced his constant companion, the fiddle. After working several years in Berlin and singing in the German folk clubs, Terry returned to England where he joined the King's Morris and met his Australian wife, Jennifer (but not in that order).
Terry and Jennifer were married in Germany and moved to Qld in the early 80s' where he was quickly snapped up by the Moreton Bay Morris as a stand in musician for Ian Drynan. The nucleus of the legendary Champion Moreton Bay Band developed at this time and Terry found himself playing bush music in small country towns all around Qld and Northern NSW. After the revival of the QFF in the mid 80s, Terry became a regular feature at Folk clubs and particularly at sessions, where his love of the Irish music he had heard at those early camp fire sessions in Norfolk was evident.
Recently he has been playing with Gerry Farrell and Jan Davis and at local Hotels, and with the new band "Herbal Tunes and other Remedies". His greatest pleasure now however, is to hear and help the new generation of Folkies emerging, including his own kids Sam, Tom and Rose.
Terry Jacob