[ HOME ]


Profile
(Note: javascript must be enabled to view and enable email links.)
---
TOMMY LEONARD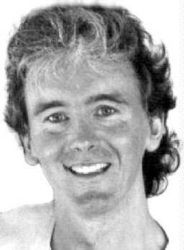 Tommy Leonard - singer, interpreter, songwriter, guitarist - has built up a warm and appreciative following in his adopted Queensland home. Since migrating from the UK in 1993, he has thrown himself into the local folk scene, performing at successive Woodford Festivals, reviving the Maleny Folk Club, recording a CD of Don Henderson ballads and performing at numerous folk clubs, festivals and community events.
Born in London, within the sound of Bow Bells, Tommy is a cockney by birth. The fifth of six children of Scottish parents, the family moved to Manchester when he was three and then to Liverpool when he was fifteen.
His early musical influences were the records bought by his parents and his brothers and sisters. These included the music of Jim Reeves, Nana Mouskouri, Leonard Cohen, Simon & Garfunkel, Al Stewart and Neil Diamond.
Tommy learned to play violin from the age of six, moving on to guitar when he was ten. At around the same time he was offered the chance to complete his schooling at Chetham's Music School in Manchester - an academy for young musicians - but declined because he thought that he wouldn't fit in.
While still at school he briefly joined a heavy metal band called Mad Dogs . Their repertoire included Smoke on the Water which he inadvertently started playing in the wrong key. Nobody noticed until they got to the chorus. Not surprisingly, the band only ever played one gig.
In 1981, while studying at Nottingham University, he teamed up with John Kettley and Steve Holtz to perform sixties pop classics and originals to fellow students. While living in Liverpool during the eighties he held regular unofficial 'folk club' nights at his home, though he didn't know what a folk club was at the time. "It was just a few friends getting together to sing and play music, Bob Marley songs, Elvis Costello, Billy Bragg, Beatles with some occasional Irish dancing." A particularly influential band at that time was The Men They Couldn't Hang. It was their version of No Man's Land , together with Billy Bragg 's version of My Youngest Son , which introduced Tommy to the work of Eric Bogle.
In 1990, he set off on a backpacking tour with his partner Ruth Donnelly, which brought them to Australia. After a few months of travelling, Tommy was missing his guitar, so he bought a second-hand one from a pawnshop in Adelaide. In the Australian backpackers hostels, he found an audience.
It was while staying at a backpackers in Albany, WA, that Tommy first performed to a real folk audience. Greg Hastings organised an impromptu folk club at the hostel. Tommy was given a floor spot and so the transformation to folk performer had begun.
Returning to England, he actively sought out this new folk music he had been introduced to in Australia. To his surprise it seemed to be everywhere!
A favourite venue was The Three Stags Heads Folk Club on the bleak moors of Derbyshire. There he heard others sing songs made popular by Roy Bailey , who became a huge influence. By the time Tommy migrated to Australia the following year, he had become a dedicated contemporary folkie.
When Tommy and Ruth stepped off the plane in Brisbane in 1993, one of the first things they did was to go looking for folk music. It didn't take them long to find it. "We were surprised by how much was going on in South East Queensland. There was the Waterside Club , the Sitting Duck , the Celtic Club , Cooroy Folk Club , Toowoomba Folk Club and the Yandina Club was just starting up", Tommy remembers. "Our original plan was to go to Western Australia, but everyone kept telling us to stay around until the Maleny Festival at the end of the year. So we stayed around! Ruth got a job at the Credit Union in Maleny and, encouraged by Jenny and Noel Law , I revived the Maleny Folk Club ."
But it was at the Waterside Club that Tommy met Sally Henderson and was introduced to the late Don Henderson 's songs. This led to Tommy recording in 1997 his CD A Gentle Breeze , featuring eighteen of Don 's ballads. It was also at the Waterside that Tommy met Griff Bignell , with whom he spent many evenings singing Bee Gees songs into the early hours while drinking endless cups of tea.
Noel Gardner has also been a major influence, as a friend, writer and performer. Tommy always enjoys the opportunity to add a harmony to a beautiful song, and Noel 's music provided that opportunity, both on stage and on Noel 's CD's Justice and Pride and Fraser.
Over the last seven years, Tommy 's influences have ranged from political songs, to environmental issues. He has travelled extensively around Australia playing at folk clubs and festivals. Included in his repertoire are songs by Shane Howard, Enda Kenny, Kavisha Mazzella and Robb Johnson.
During that period he has also written a number of songs which have tracked his experiences since migrating to Australia. These are due to be released in a forthcoming CD. His song about the Maleny Credit Union has been included on the Credit Union's web site and his song Licensed To Shop has been included on a Maleny Community Fair video. Also his song Enough is En ough was used as the title music to an ABC documentary A Life - R. M. Williams.
Now firmly based in the Maleny area, Tommy owes a lot to the S.E. Queensland music scene and feels privileged to have been a part of the Woodford Festival for so many years. "The highlight has been playing in the Boxing Day concerts, at Andrew Pattison 's Wine Bar," he says.
Having just celebrated his 40th birthday, Tommy can look back on a decade of music that has certainly altered his life's course. Appropriately then, the working title for his new CD is Spiral of Change.
No doubt there will be a lot more change to come in the future.