[ HOME ]


Profile
(Note: javascript must be enabled to view and enable email links.)
---
TONI WOOD
Photograph by Lyn Mathieson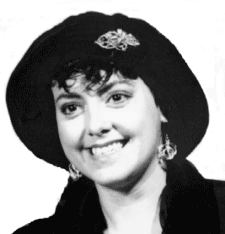 Toni Wood was born in Brisbane on the 11th of December 1959. Even as a wee tot she was heard warbling songs like "Michael row the boat ashore" about the house but it wasn't until about year 8 or 9 that she joined a folk club at school. She was a late comer to the Brisbane folk scene and was introduced to it via Dale Jacobsen who she met through a mutual friend in 1991. When asked if anyone influenced her interest in folk music she was heard to say: " My eldest brother Mahesh takes the credit for that! He got my dad to buy The Clancy Brothers & Tommy Makem "Live at Carnegie Hall" record when I was just seven. I still know most of the songs off by heart. Mahesh and my other brother David were into the folk rock of the sixties so I heard a lot of Melanie, Simon & Garfunkel etc. which was a great influence."
Toni is best known as the soprano of Brisbane's six piece folk group 'Tangled Web' , however she has plans to move on to greater heights by trying to make a living out of singing in the British Folk Scene whilst experiencing a new & fresh folk circle. She left Australia in June to visit the United Kingdom, but she is not alone as good friends David Logan & Jan Davis (another member of Tangled Web ) left about the same time.
Toni is not just involved with `Tangled Web' but has been part of a number of bands throughout her musical history. Over the years she has been a member of `Royal Bounty Bush Band' , for a short time, `Rosehill Fayre' with Dale Jacobsen, Lonnie Martin and Danny Raymond, `Cannibal Maid & Hottentot Blade' with Evan Mathieson, `Cruel Sister' with Ian Thompson, Willow Fey, Ros Roche , and `Bidngi' with Kaelene Hunter , and Gel Heinrich . She was a member of `Hell's Bells' with Ros Roche , `Rampant Harlotry' with Keith Urquhart and Nicole Murray , and the renowned `Tangled Web' who has now disbanded.
Toni loves performing and says: "I have this compulsion - I need to be the centre of attention!" She is equally as good at singing as performing and surprises audiences with her talent on the bodhran when she accompanies a tune set played with all the other Webbies. Although Bodhran playing is more of a hobby for Toni, she can often be seen playing it at sessions for her own enjoyment and when asked why she started this instrument her answer was: "It makes tune sessions less boring, and it means that I can be the brunt of a lot of bad jokes."
Toni has been overseas for a few months and has met up with Jan Davis and David Logan on occasions at festivals around the UK.