[ HOME ]


Profile
(Note: javascript must be enabled to view and enable email links.)
---
WENDY HOLMAN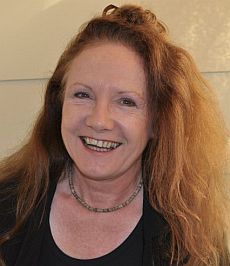 Where we end up as adults can be shaped by what we couldn't do. Because the pump organ at my grandmother's farm was broken I got weekly piano lessons. The theory was useful, but the most valuable music lesson was Mum showing how to vamp the chords while noodling out the melody. In the evenings my parents played piano accordion.
After the one-room primary school (15 kids) in the subsistence farming area of the Yorkshire Dales I bussed to Grammar School in the city. One of 600 other uniformed kids, I stubbed my toe on middle-class snobbery and establishment rules every day. I entertained classmates with my versions of signature tunes to television programs.
Disappointed that I couldn't pass the school test to learn flute (blow, don't spit!) I was later accepted into a daring new initiative; classical guitar. After a year or so I adapted the concepts of finger-picking into patterns as song accompaniment. Folk music was huge during the '60's - every village pub had a folk club. My dad enjoyed driving me round and talking about who we'd heard and how they'd played the songs of Ewan McColl, Tom Paxton, Pete Seeger, and Ralph McTell, sprinkled with traditional songs by arran-sweatered, pipe smoking, half-pint holding a-capella tenors relating 26 verse epics.
Kids at school had LPs by Simon & Garfunkel, Bob Dylan, Carol King, Joan Baez, and most influential for me, James Taylor. A couple of hip rebels introduced me to new alternatives Pink Floyd, King Crimson, Jethro Tull, Electric Light Orchestra and Fairport Convention.
Two brothers who lived near my cousins played Delta Blues guitar. My parents would drop me off at their house to go visit the rellies while I knocked, guitar in hand, hoping their girlfriends weren't there. Impatient teachers, they quickly lost interest if I didn't 'get it' right off, and to speed. It made me pay attention and listen hard! They showed how Reverend Gary Davis and Mississippi John Hurt used the thumb as a bass player, while picking out the tune with the other fingers. Exciting stuff and an echo to the piano vamping style Mum had showed me. A big light went on - the foundation of music transcended the differences in instrument technique.
Two years in the Civil Service rubbed me the wrong way against the establishment and gave me a bad case of shingles so I left (on the wrong train!) for an outward bound school in South Wales. I met an Australian there and later joined him in London where we married and saved to come to Australia. He worked as a pool attendant and I got a job as a courier. ("Take this mini and this A to Z and deliver these motor parts and be back here quick smart.") My best friend from work, a Jamaican, played in an all steel band. Each night he'd siphon petrol from his work mini to power the band van to weekend gigs.
Arriving in Canberra felt like I'd come home. The big sky and open spaces and (by comparison) wealthy lifestyle was inspiring. I felt I could do anything! Ian's friends were into Cream, Jeff Beck, or John Mayall and I grew to appreciate the intricate and explosive fusion ideas of Al Di Meola, John McLaughlin, and Billy Cobham.
I scored a residency restaurant gig playing classical and folk instrumentals to such patrons as political journalist Laurie Oakes, Labour mover and shaker, Bob Hawke, and the then Prime Minister, Gough Whitlam. Some months later I got an additional gig and would rush off to the other side of town to entertain end-of-shift bus drivers - very different clientele!
As well as teaching, I played electric guitar for 4 years in a wedding band, and formed or joined several modern covers bands, later writing radio jingles, which gave me experience in studio recording. About the mid '80's I discovered Bluegrass but after 6 months of fiddle lessons my neck gave out so I got a banjo. Talented singer/songwriter Peggy Daroesman and I formed a duo and played two gigs at the National Folk Festival as Tin Lizzies. Influential bluegrass musos around at that time were Donal Baylor, Bruce Packard, Dave O'Neil, and Tony Hunter.
I moved to Brisbane in 1997. From meeting one woman at an open mic session in Wynnum I found some fellow folkies at the Kookaburra. There was a vigorous music scene in Brisbane and always seemed to be a jam going on. When there wasn't, I'd jam at home with singer/songwriter Kym Watling and later, Mark Anderson. I heard and jammed with awesome talent at the Redlands Fiddlers Convention; Copper Kettle, Brendon Radford and Hughie Curtis, Andrew Clermont, Chris Cooke and Graeme Hughes, Jamie and Julie Whitney, Steve Treloar and Gary Vann.
Most weekends I'd throw my sea kayak on the roof rack and take off for Sunshine Coast then up to Gympie for a jam with Graeme Hughes who, along with friends Maggie and Tim West (sorry, can't remember other names) started Imbil Acoustic Festival. Graeme was a prodigious talent with an encyclopedic memory and musically fearless. He is sorely missed.
I started making instructional videos in the spare bedroom. From countless hours sitting with an editor I learned lip-synching, dissolve editing and the frustrations of crashed hard drives. With improved computer technology and experience I have produced 10 banjo DVDs and 2 guitar DVDs. My business is teaching, website sales of mail order accessories and carefully vetted pre-loved instruments. I have a YouTube channel. Two women friends and I formed Cats in Hats and we travel widely to bluegrass and acoustic music festivals where I also run workshops and jam sessions. My goals this year are to improve on clawhammer and to record a roots acoustic CD with Cats. Visit me on YouTube, or at catsinhats.com.au or www.fingerstyle.com.au. There's an Arabic saying I like: tomorrow was made yesterday. To think; it all started with a damp organ!
Wendy Holman