[ HOME ]


Profile
(Note: javascript must be enabled to view and enable email links.)
---
WENDY MUCHE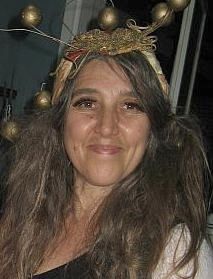 Only small but enthusiastic connections have I had with the folk music scene. If anyone recognises me at all, it will be as a ridiculous audience member dancing boldly, blissfully blocking the view of more respectful patrons.
Growing up as a misfit in the conservative little country town of Cooroy, I was delighted when it made the news for being the first place in Qld found harbouring a marijuana plantation. My world opened up to cool.
My early experience with music was glueing my ear to the wireless and writing down the words of current 60's & 70's pop/rock/ protest songs. When forced in school to sing in front of class, I made an impression on the other 8 & 9 yr olds with my up to date choices like Downtown. By listening to the words so closely, I think I was deeply influenced and confused by the mixture of sentiments as the clash of generations set in. Refreshingly, my girlfriend was largely indifferent to the influence of popular culture and with her Scottish roots, was also a hit in class singing, with renditions of MacNamara's Band. Mind you we got into bopping around to tinny sounds of Hermans Hermits on her portable record player and eventually running record Hops for school fundraisers.
But in my teenage years it was live music which stoked my fires. Local band Barry (Charles) and the Rockets playing at Tinbeerwah hall was my introduction to going wild first hand.
I knew I wanted to get as close to that music as was possible, if not inside it.
I had nothing musical in the family cupboard to draw on. Wouldn't call annually visiting granny who played piano in Forest Hill; gramps on trumpet;or Aunties' country sing around the white grand piano on our rare visits to Esk and Lowood even remotely helpful. Nor was what Mum & dad played on their stereogram, the likes of Johnny Cash, Mario Lanza and god knows what else because I blocked my ears.
My older sister Jenni was quite influential, introducing me to psychadelic, acid rock and Randy Newman which broadened my teenybopper taste. My parents' dislike of our "squawking" music.eg Bob Dylan, Black Sabbath, Jimi Hendrix, Janis Joplin, provided fuel for rebellion, and also help push me towards tolerating some extreme listening.
It was a big step from forced solos and stagefright in front of yr 3/4 class at school, and playing in the fife band, to the next big date with making live music being with the full support of a choir as a 29 yr old. And what filled those years in between was largely soaking in live performances.
My girlfriend & I moved to the big smoke as soon as we finished high school in 1974. Her taste for folk songs took us exploring. We found the Folk Club down under the back of the People's Palace, here in Brisbane. At 17 or 18, we seemed to be the youngest ones there in the dimly lit cubicle seating with cavelike atmosphere. We didn't care about appearing square. We came from Cooroy afterall. Some of that music was not only acceptable but infectious and moving.
I grew attached to local Brisbane folk music alongside my taste for other wilder and popular music genres. That little bit of broadness helped me ignore classifications and avoid judgements. What mattered to me was more universal - humanity, hearfelt passion, authenticity, moments of cool, pure poetry, great tunes, exciting rhythms, unusual voices, mood, listening to what minorities had to say, inner and outer struggles expressed.
Some memories of that folk club which have stayed with me include the Wayfarers spirited sets; Stan Arthur performing Mucky Kid; the man "with dancing fingers" who sang Tom Paxton songs; June Nichols' Sailboat malaki; Don Nichols' voice; Bob Wilson's Red velvet steering wheel cover driver; and a woman doing a german song Die Gedanken Sind Frei about free thinking.
I picked up another folk scene (as well as the punk scene) when I moved to Toowoomba and studied visual art at DDIAE. And a young Kev Carmody played at the local pub, in his early folksie days driving out his versions of Bob Dylan numbers through his thick black bushranger's beard.
Surprisingly, Punk music spilled over into the folk club. Members of Brian & the.... pieces of Mountbatten', (it varied every week) ....electric chickens put on rock against disco nights, as well as attended the folk club, singing thought provoking numbers like Combine Harvester in parody of Kum bay ya and Washing machine you're my wet dream. They were just great. In the Laurel Bank hall thriving folkscene with regulars "Mouldy warp"; newcomers; visitors, maestro performances, and bush dances to beat the cold. And the folk club linked to the protest movement. It being Bjelke Peterson times, a few of us got arrested in a street march for moving in a group of more than 3 people at Anti uranium protests or Land rights marches. 1980. Rotten old days in that staid old town. And music was always there expressing the clashes of sentiments at the time.
No matter where I've moved around Australia: Canberra, Perth, Meekatharra, sourcing out live local music was always an aim. Perth taught me you can make your own music and not rely on having laid on entertainment. In '87 I joined a choir singing folk songs, many in other than English. Those songs are still etched in my memory. As were moments at the Schitzophrenic folk club in Perth which also captured my heart with poetry like We cannot trust, but we must.
Back in Canberra and a real melting pot of musical genres. From the Doug Anthony Allstars busking in the mall; Hunters and Collectors visits; great local bands like the froggy bottom sisters, circus oz members doing topless numbers in the Ainslie School of Arts; African dance music nights; and Yugoslav dances with a friend.
Later I had a daughter and lived in PNG for a short spell, followed by a return to my good old stamping ground of Brisbane.
Here I embraced the early BEMAC days in Yungaba, which were so little known about. Together with several part families we would fill the centre of the audience floor with blankets and pillows and kids and foods and things for them to do and we'd get up and dance and wake them at the end while we experienced often strange and unheard of musical cultural shows. Great fun was had by all until its popularity grew and pushed us first into the corner and then out onto the veranda. Dancing was frowned upon, in exchange for solemn respect and purity, with the great loss of atmosphere and enjoyment.
Once I was introduced to the Woodford Folk Festival, atmosphere and enjoyment were found again. Damn good show all round. As was the smaller Dreaming Festival.
Somewhere back a bit, live music making had finally reached my shores. Out of playgroup days came a group of mothers overexcited by caffeine get togethers. A borrowed guitar and some sheet music from the op shops were all it took to germinate into singalongs while the children played. From its humble beginnings has arisen an institution of singing get togethers to this day. From the children being 2 or 3, we now have 21 year olds who have lived and grown up exposed to a range of musical noise, gossip, gaffaws and farts. Adults who get about as adventurous as occasionally to try an experimental harmony, play drum, tambourine, eggs, clapsticks. On rare occasions we have made up a parody or a farce on a particularly irritating sentiment in a song. Such a repertoire that it has to be wheeled into each others homes in trolleys. Overlapping grouplets have started up, singing lessons and choirs have been joined. And we are hot (NOT).
Why have you not heard of us? The Kitchen Stinks if any name was ever suggested because no stage but that would be fitting. It amazes me how much fun can be had with very little musical ability. You people out there with musical talent should get on with it.
Unless one gets determined these days to keep up with wots on, and has a finger on the pulse,and reliable informants, then many great local and visiting performers come and go and allI am lucky tosee arethe ripples subsiding. This is greatly reduced thanks to the FOLK RAG. (Keep it up Michael).
Some of the most inspiring musical occasionscan look like the most risky ones. But If it turns out disappointing, after spending the time or covercharge,I havefound the tactic of DANCE. Whether it is hard to fathom music, or bloody good, I danceto try harder to appreciate another dimension to the music. But one has to be daring.
These days, musical singalongs, local gigs such as BUG, being in Songlines Choir, and a bit of dancing where I can get it, are my drug. I reckon I'm a singing junkie. Rarely say no to a chance to sing. There's so much to learn when youhave notalent, but I bet I'm catching up to those of you out there with talent who are just sitting under abushel. Looking forward, one dayto learning how to make up harmonies; interpret and alter songs; read music and so learn new songs, or play an instrument. It would be so satisfying to make a good sound.
I'd liketo see my singing companions expand into their hidden talents I've seen eg: songwriting, theatre, satire. And I hope to see damn good musical acts which inspire me to keep going.
Wendy Muche
Addendum: Much as I enjoyed Wendy Muche's account of Toowoomba folk days, I should point out that although I used to sing Red velvet steering wheel cover driver, Jeremy Taylor wrote it. ~ Bob Wilson