[ HOME ]


(Note: javascript must be enabled to view and enable email links.)
---
TUNES 2009
---
---
FIERY CLOCKFACE
A typical 12/8 jig
Click here to play or download midi file
This tune is a typical 12/8 jig, sometimes called a slide. It was written in the early 1800s by the blind Northumberland fiddler 'Bobby' Nunn who made his living by writing tunes and songs. This one was originally written as as song called The Fiery Clock Feyce; it was about a drunk seeing the moon's reflection in the river by St Nicholas Cathedral in Newcastle. The song gradually became a fiddle tune and is also known as the Pin Reel (but it's not).
The difference between 12/8 and 6/8? Well, it's all in the emphasis. In 6/8 (like 2/4), the first beat of the bar is emphasised (strong); the second is not (weak). This gives a pulse like this: S W | S W |, etc. (like a sailor with a wooden leg). In the 12/8 (as in a 4/4) there are four beats per bar, and these are stressed: strong, weak, medium, weak (S W M W | S W M W | etc.). Well, that's the theory.
Happy Playing, Alan Craig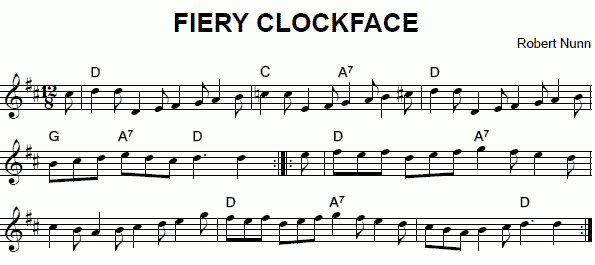 [top]
---
BOVAGLIE'S PLAID
A Plaintive Air
Click here to play or download midi file
This month's tune is a plaintive, slow air from the pen of the legendary J. Scott Skinner, one of Scotland's greatest fiddlers and composers. Skinner originally named the tune for Roualeyn Cumming, a well-known personality in Fort Augustus, Scotland. However, when Queen Victoria described a copse of trees on Bovaglie Farm (Deeside) as looking like a "plaid", Skinner changed the name to Bovaglie's Plaid in honour of Her Majesty. I guess the Queen had a little more pull than Roualeyn, who was a famous nut-case!
Chris Duncan, our own legendary fiddler from Newcastle, NSW, has a wonderful version of it on his Fyvie's Embrace album. This beautiful tune can be played quite slowly (Chris plays it very slowly), so don't be panicked by the fistful of notes in the fourth last bar.
Happy Playing, Alan Craig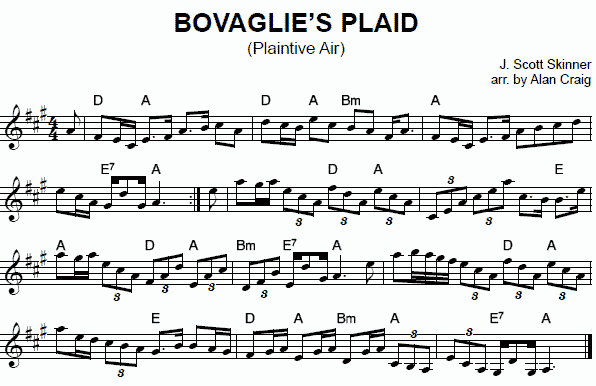 [ top]
---
BLACK BEAR MARCH
Click here to play or download midi file
I've always loved the Black Bear. It's one of those tunes you always hear pipe bands play at the end of the day, and is usually the last tune played at the Edinburgh Tattoo. However, it's origin isn't necessarily Scottish and is a tune often played by military bands throughout the world. The Black Bear can be played as a march (as I have it here) or equally effectively as a hornpipe. But put it together with a few country dance tunes and watch the dancers lift as you rip into it! Fantastic!
Happy Playing, Alan Craig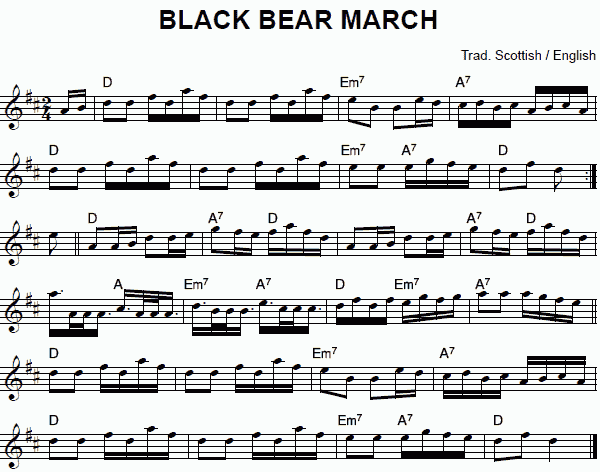 [top]
---
HUMOURS OF WHISKEY
Dever the Dancer / Bridge of Athlone
A 9/8 jig (slip jig)
Click here to play or download midi file
I came across this tune by accident a couple of years ago and thought it had a particularly nice feel about it. The Humours of Whiskey (whisky is spelt with an 'e' in both Ireland and America) goes under a number of names: Dever the Dancer, Bridge of Athlone or The Peeler's Return (peeler meaning policeman). John McKenna, the famous flute player from County Leitrim, made a landmark recording of this tune in 1934 for the Decca label.
Slip jigs give a sense of having no place to stop - the end always leads you right back to the start as the final chord is almost never the tonic. I like to think of them as the groundhog days of traditional tunes - so, take a deep breath before you start!
Happy Playing, Alan Craig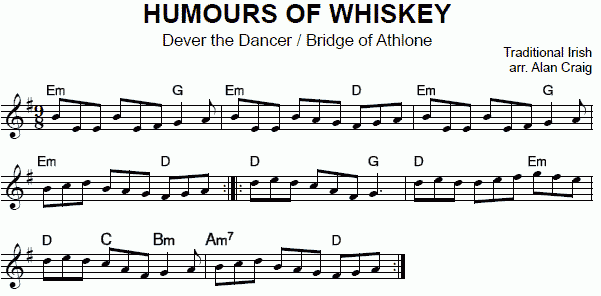 [top]
---
THE STRAND HORNPIPE
first published in Kerr's Caledonian Collection
Click here to play or download midi file
The Strand Hornpipe was published early in Kerr's Caledonian Collection and is known all over the British Isles. Sometimes it is called The Lass on The Strand and is often confused with the Belfast Hornpipe (which it's not).
While hornpipes are not particularly useful for most folk dancing, they are great tunes for listening and playing. They can be played slow or fast, but don't forget to maintain the 'point and cut' nature of the rhythm or it will start sounding like a rant or reel and higher speeds.
This one is suitable for fiddle, whistle, tenor banjo, kaisatsuko or Alaskan nose-flute. :-/
Happy Playing, Alan Craig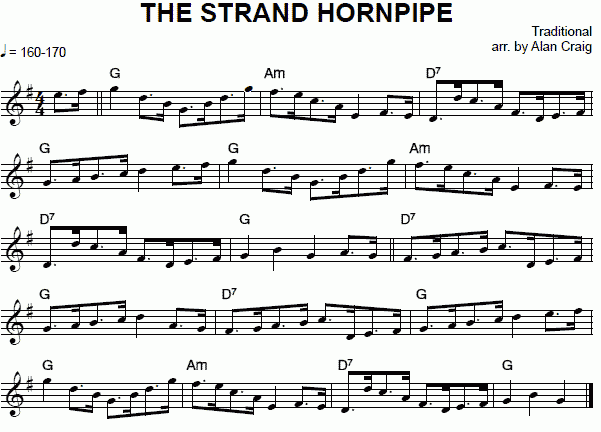 [top]
---
CHESHIRE ROUNDS
An English country dance
Click here to play or download midi file
There's been a flurry of interest in this tune lately, so I thought it might be a good subject for this month's Folk Rag. The Cheshire Rounds was originally a Welsh processional dance (probably with a pre-Christian heritage) and the tune was first published in 1696. It appeared again in John Playford's English Dancing Master of 1703. Interestingly, it also became the earliest recorded dance in Australia when it was mentioned in the Sydney Gazette in 1803.
The tune for the Cheshire Rounds is in the now rare 3/2 time signature, which was the common timing for hornpipes until the early nineteenth century. If you have trouble with the timing, think of it as a very slow 3/4 waltz - that should see you right!
Happy Playing, Alan Craig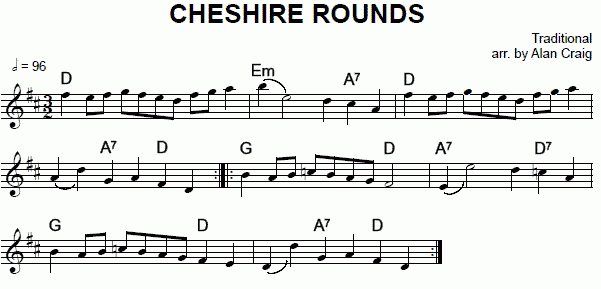 [top]
---
TOM BLACKMAN'S WALTZ
Click here to play or download midi file
I have no idea who Tom Blackman was, but if this waltz is any reflection on him, then he was a pretty good guy. I've been playing this tune at bush dances forever and I know it's popular throughout the country with bush bands. I probably originally learned it from the Bogaduck Out of Tune Book sometime way back when. Dale Riddle requested this tune after recently hearing Rantan play it at the Kookaburra Club. For dances, we always include it in a set with Starry Night for a Ramble and Springtime Brings on the Shearing - great tunes all.
Happy Playing, Alan Craig
[top]
---
CADDAM WOODS
A Scottish tune by Adam Rennie
Click here to play or download midi file
Caddam Woods is a spectacular tune written by the renowned Scottish fiddler Adam Rennie. Adam lost a leg in the First World War, but survived to become a legend in Scotland for his outstanding musicianship. So great was his prowess, that he was awarded Neil Gow's fiddle at the 1932 Perth Music Festival for his contribution to Scottish music. This tune has a couple of challenging parts, but it is well worth the perseverance needed to get it right. Dance bands usually like to play the A# diminished chord, but this can be substituted with an F#7 for easier playing. Transposition to G is also an option (although it is traditionally played in A). Anyone wanting a transposed score and midi file can me.
Happy Playing, Alan Craig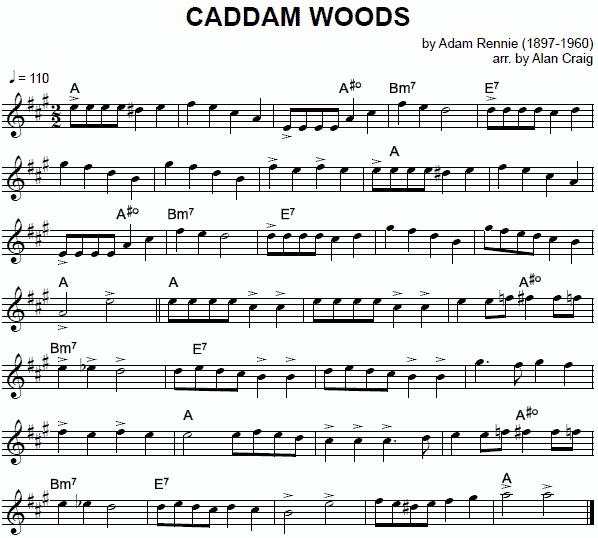 [top]
---
MY MOTHER
Mo Máthair
Click here to play or download midi file
Dale Riddle begged me if I'd do some more Scottish tunes (I think). So, here's an old Gaelic air that was at one stage a Jimmy Shand signature piece. My Mother (Mo Máthair in Gaelic) is a great tune that can be played as a plaintive air or country dance waltz. The midi file provided has it as a strict waltz tune to make it easier to learn.
Happy Playing, Alan Craig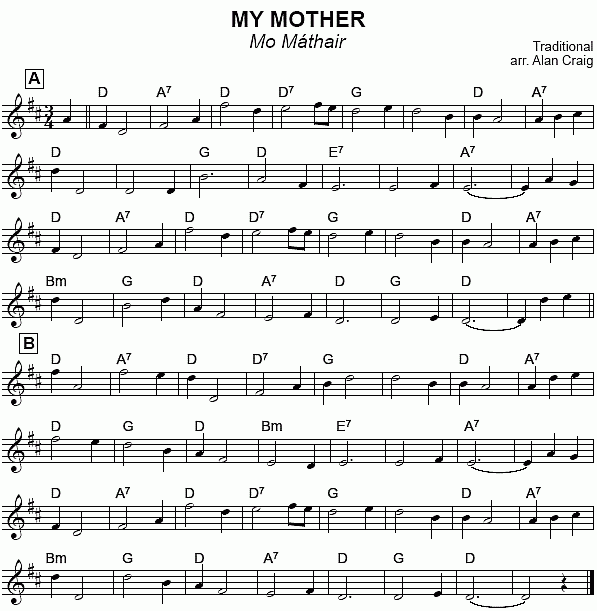 [ top]
---
DILL PICKLE RAG
A ragtime tune
Click here to play or download midi file
I've noticed a few folkies have been showing an interest in ragtime tunes of late, and I've heard some great pieces like Levi Jackson's Rag and Tiny's Rag at sessions. So, to start the year off, here's a good one from the turn of last century: The Dill Pickle Rag. There is a third part to this tune (drops to C) which is sometimes played, so folks wanting the extra bit can contact me and I'll send them the full piece.
Happy Playing, Alan Craig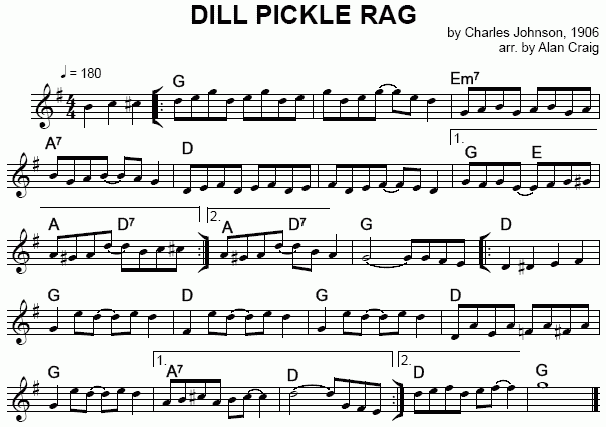 [top]
---
SEVEN JUMPS
A Danish folk tune
Click here to play or download midi file
Seven Jumps is a Danish folk tune and dance - and that's all I know about it. I learnt this from Mike Jackson (Melbourne) many years ago and it's a quiet, simple and sedate little piece. It can be played on any folk instrument.
Happy Playing, Alan Craig

[top]
---