[ HOME ]


(Note: javascript must be enabled to view and enable email links.)
---
TUNES 2010
---
---
WHISH, CAT, FROM UNDER THE TABLE
Click here to play or download midi file
Here's a lovely single jig that is often called Huish the Cat or Wallop the Cat (though I don't like the thought of the last). There is a collected version of this Irish tune from 1802, where it was said to be from the playing of the harpist Charles Byrne Whish, Cat is claimed to be a variant of Jackson's Humours of Panteen, a jig probably written by the piper Walter Jackson in the 18th century. The tune has appeared in both Kerr's and O'Neill's, and was once a song with these opening lines:
Whish, cat, from under the table,
And you shall have milk while ever I'm able ...
Happy Playing, Alan Craig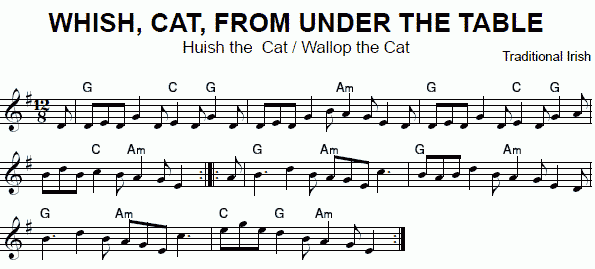 [top]
---
THE SWEETNESS OF MARY
Click here to play or download midi file
This month I'm presenting a beautiful strathspey that I've just decided to include in my upcoming Session Tunebook series. I heard Terry Jacob playing this at a session at the Celtic Corner in Manly. Terry has a lovely touch on the melodeon, and I was immediately taken by the beautiful cadences of this delightful tune. I remembered hearing a recording of The Sweetness of Mary by Alasdair Fraser, the great Scottish fiddler, and I couldn't wait to get home to learn it.
The tune is, in fact, written by a piano player from Prince Edward Island in Canada, and there were recordings of it as far back as the 1960s. It first appeared in print in the Cape Breton Gaelic language newspaper Am Braighe. Mary Brettell, who was at the Celtic Corner session as well, thought that this tune was dedicated to her - but, according the the Fiddler's Companion website, Joan Boes wrote it in honour of St. Mary (sorry MaryB). The Sweetness of Mary was originally in the key of A, but I've presented it here and in my Session Tunebook in G, which will be more comfortable for a larger number of instruments. This is a stately tune that should be played slower than the usual strathspey; indeed, it has been recorded as an air. Thank you Terry for a really good one.
Happy Playing, Alan Craig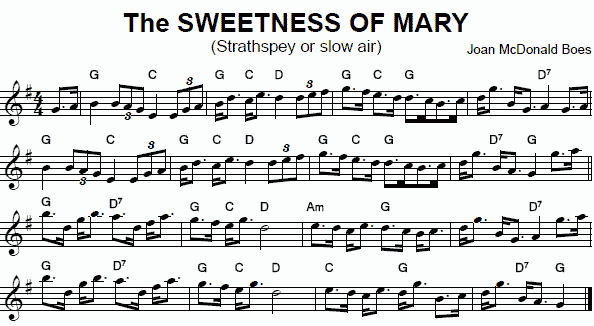 [ top]
---
SCAN TESTER POLKA (No 2)
Click here to play or download midi file
Scan Tester was a renowned anglo concertina player from Sussex. He was born as Lewis Tester in 1886, but had acquired the nickname of scantalope as a boy and was, thereafter, known to everyone as Scan. His dad owned the Green Man pub at Horsted Keynes, and young Scan grew up there doing step dancing and learning the concertina, melodeon and fiddle with his brothers Trayton and Will.
He formed Tester's Imperial Jazz Band after WWI, but mainly played and taught quadrilles, schottisches and polkas. Scan eventually came to the attention of the English Folk Dance and Song Society, and during the '60s was to play at folk clubs and hotels, and even the Royal Festival Hall. Scan's best known tunes are simply called Scan Tester's #1 Polka and Scan Tester's #2 Polka, and these are still favourites with box players today.
Scan died in 1972.
Happy Playing, Alan Craig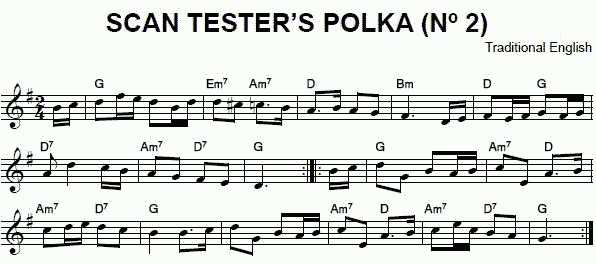 [top]
---
THE MUDGEE SCHOTTISCHE
Click here to play or download midi file
"Schottische" is German for "Scottish dance", but it isn't. Well, it isn't Scottish. The Schottische, as we know it, developed as a 'slow polka' in Bohemia and entered ballroom programmes around 1849. Although it wasn't overly popular to begin with, it wasn't long before the Scots introduced a version known as the Highland Schottische, a dance that combined the polka-like movements with strathspey-styled footwork. This version was an immediate success and appeared in dance programmes all over the world. The Highland Schottische was particularly popular in colonial Australia and survived as a ballroom favourite until at least World War II. The Mudgee Schottische comes from the playing of Fred Holland and was collected by John Meredith in 1957 in Mudgee, New South Wales. I first heard it on a Bushwacker's dance album in the 1970s.
Happy Playing, Alan Craig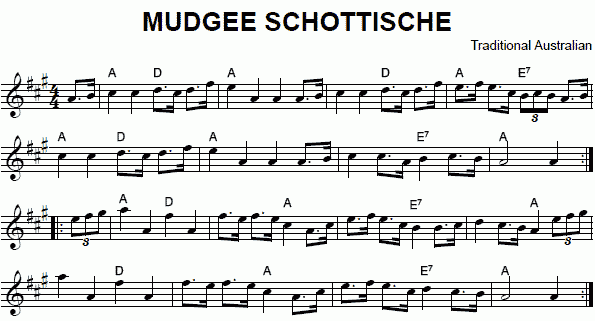 [top]
---
THE STONE COURT
Click here to play or download midi file
The Stone Court originally appeared in a Royal Scottish Country Dance book that was collected and arranged by Margaret T W Rae, a prolific collector, writer and producer of music for country dancing. Although The Stone Court looks like a single jig at first appearance, it is more properly defined as a two-step. Other well-known two-steps include Jimmy Shand's White Heather Club (or Six-Twenty Two-Step), John Philip Sousa's Washington Post March, and the outstanding Boston Two-Step by Luke Everett.
The two-step is a dance form that was particularly popular in the early 1900s, and was somewhat related to the polka. It is largely characterised by movements that include two forward slide steps followed by two faster ones. Although this dance form has now mostly faded from dance repertoires, the tunes are wonderfully rhythmic and can be used for any jig/slide type dance. I learnt The Stone Court from John Colville many years ago and still play it for bush dancing.
Happy Playing, Alan Craig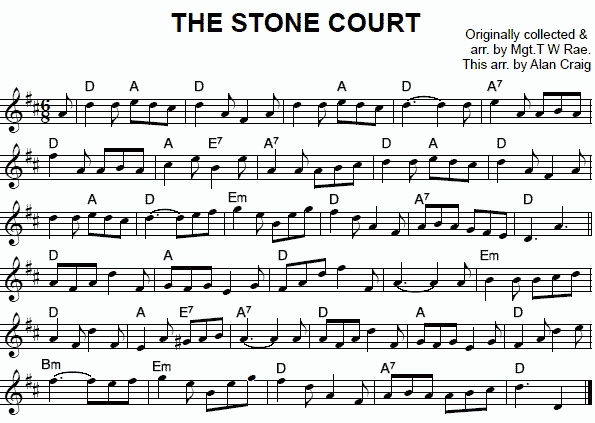 [top]
---
MAGGIE IN THE WOODS
Click here to play or download midi file
Here's a West Kerry polka that was popularised by The Chieftains. It is sometimes known as Maggie in the Corner, but it also bears a strong resemblance to the Scartaglen Polka, otherwise called the Humours of Ballydesmond. There are words to this tune:
If I had Maggie in the woods,
I'd do her all the good I could;
And if I had Maggie in the woods,
I'd keep her there till morning!
Polkas in West Kerry are usually played at breakneck speed, but they are still great at a country dance tempo.
Happy Playing, Alan Craig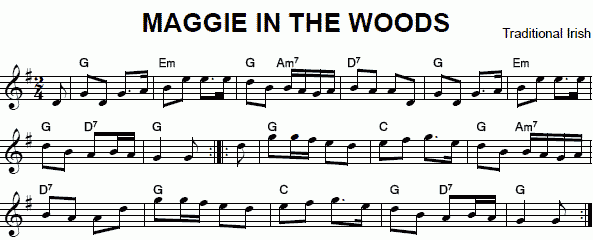 [top]
---
THE MILLER'S MAGGOT
Click here to play or download midi file
This month's tune can be played as a single jig or a slide. Slides are normally written in 12/8 time and are traditionally played quite fast so that there are only two beats to the bar. The slide also has some relationship to the hornpipe. However, these distinctions are disappearing, and most session musicians these days treat single jigs and slides as the same. A single jig is simply a 6/8 tune where most beats are made up of two notes: a crotchet and a quaver. Double jigs are ones where the predominant structure has 3 quavers (like a triplet) for each beat. Of course, most jigs are made up of combinations of both.
The Miller's Maggot is a traditional Irish jig that is quite popular throughout the world, but its title has nothing whatsoever to do with a soft-bodied legless larva. The archaic meaning of maggot is a whimsical fancy and, in the 16th and 17th century, meant a "small or slight tune" (i.e. not a serious one). However, the Irish have yet another meaning that I prefer: "a small liquid measure". Perhaps we should call our tune The Miller's Dram.
Happy Playing, Alan Craig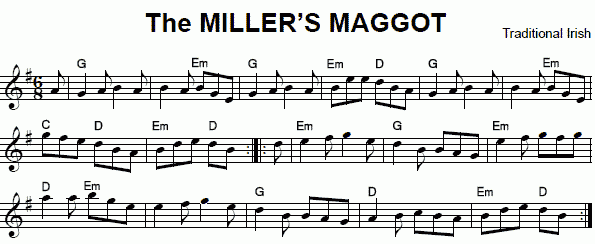 [top]
---
NEIL GOW'S LAMENT
Click here to play or download midi file
Neil (Niel or Neal) Gow (1727-1807) was one of Scotland's legendary fiddlers. He composed or arranged over 80 famous pieces, and his works represent a formidable part of Scottish country dance music to this day. Neil Gow had two wives, both named Margaret, but the title of this tune actually refers to the first.
How so? Well, the tune was originally published as Neil Gow's Lament for His Wife but later publishers inserted the "Second". Now, the 'second' wife here is not meant to be Margaret Urquhart, but a reference to the story that Neil Gow's fiddle was his 'second wife'. So, there's no need to feel sorry for Margaret Wiseman, his first wife and mother of his only children.
This beautiful air (which should be played slowly and with emotion) is normally written in 6/8 time, but it can easily be adapted as a waltz.
Happy Playing, Alan Craig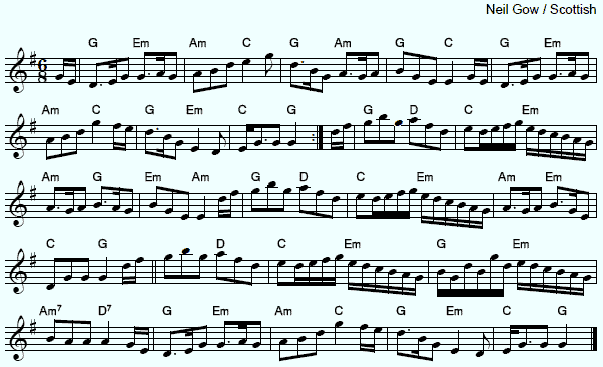 [top]
---
ASTLEY'S RIDE
country dance
Click here to play or download midi file
This country dance, or hornpipe, commemorates a famous clown act from Astley's Circus in the late 1700s. This equestrian performance was known as Billy Button's Ride to Brentford. Our tune was collected from Oxford street musicians in 1789, so Astley's Circus and Billy Button's performances were obviously quite famous by then.
Philip Astley himself was a colourful character who, before creating his famous circus, had served as a cavalry officer, and was noted for having once saved the Duke of Brunswick's life. Astley's Ride is an engaging melody that also became very popular with Scottish country dance bands: they usually call it Drumley's Ride, but I have absolutely no idea why.
The tune can be played as a country dance, galop, polka or hornpipe.
Happy Playing, Alan Craig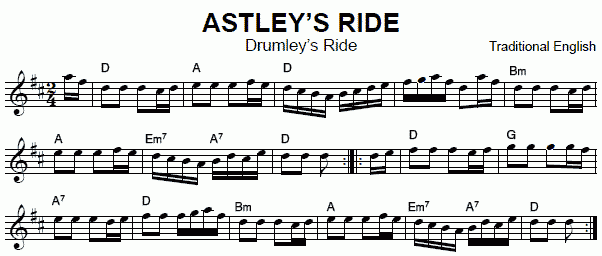 [top]
---
BROCHAN LOM
Orange and Blue
Click here to play or download midi file
This month's tune is a Scottish/Shetlands strathspey that is suitable for any schottische. The Gaelic name is Brochan Lom, which means 'thin porridge', but it has become attached to the East Lothian country dance Orange and Blue. There is also a Welsh variant of the tune called Allt-y-Caethiwed.
The strathspey is a Scottish form that really has no equivalents in other traditions. It is characterised by the the 'pointed' nature of the expression where the brevity of semi-quavers is exaggerated. The rhythm of each beat usually consists of a dotted quaver and a semi-quaver ('cut' note), though often the 'cut' note is the first of the two which gives a particular feel that is immediately identifiable as Scottish. The tunes are also usually interspersed with triplets.
While these tunes are used for the particular strathspey steps of highland dancing, they are also widely used for the schottische, a form of country dance that was widely popular in Australia during the colonial era.
There is also a jig version of Orange and Blue - but I'll keep that for another day!
Happy Playing, Alan Craig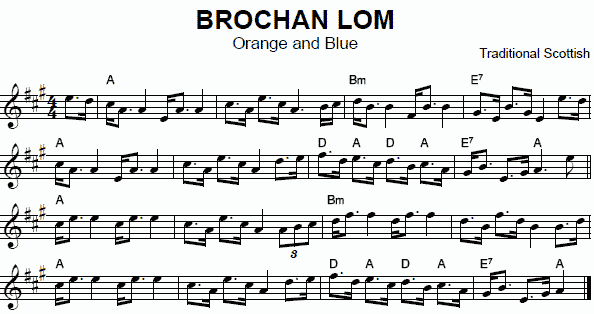 [top]
---
GALWAY BELLES
69th Street Polka / Last Chance Polka
Click here to play or download midi file
The Galway Belles is a very attractive polka from County Kerry. I remember hearing this tune many years ago and only just came across it again recently. The cadences, to my ear, have a very Scottish lilt about them and, indeed, it can be played very effectively as a march; however, there is no evidence of it being earlier than the County Kerry version. This tune seems to be popular in the US where it is usually called the Last Chance Polka.
Happy Playing, Alan Craig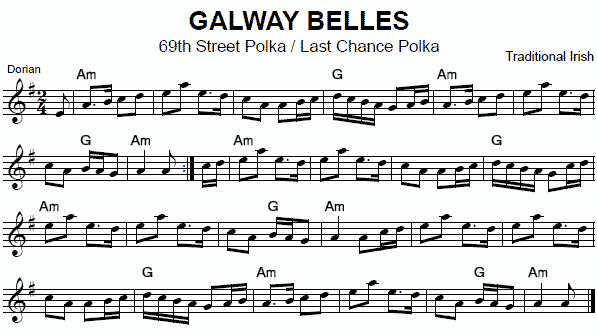 [top]
---