[ HOME ]


(Note: javascript must be enabled to view and enable email links.)
---
TUNES 2011
---
---
MIDNIGHT ON THE WATER
Click here to play or download midi file
Here's another tune I picked up at the Bundanoon DanceFest in June (I know I keep banging on about that festival, but it really was great!). This lovely waltz is generally credited to the great Texas fiddler, Luke Thomasson, although it was his son, Benny, who popularised it. Midnight on the Water seems to have evolved in this form somewhere around 1900, but there is considerable evidence that it is Luke's version of an earlier tune called Old Paint. Indeed, John A. Lomax, the renowned American folklorist, has recorded a version of Old Paint as a song by Jess Morris, a contemporary of Luke Thomasson.
This is a particularly attractive waltz, and is best played a little plaintively; it doesn't resonate so well at country dance tempos. However, it's a great slow waltz and ideal for harmonies.
Happy Playing, Alan Craig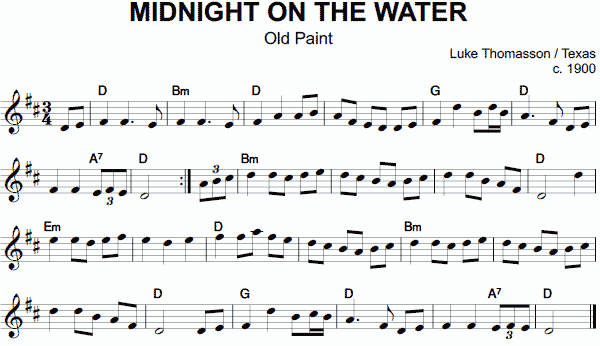 [ top]
---
BRISK YOUNG LADS
Click here to play or download midi file
The Brisk Young Lads is a lovely Irish jig that I learned at the DanceFest weekend in Bundanoon in June. Although it has been credited to Tom Doyle, it is likely of older provenance as it appears in the O'Neill's 1001 Collection. Scottish pipers play this tune as a 6/8 march, and they call it the Big Headed Man or There Came a Young Man. Keep an eye out for a sneaky G# in a couple of places.
Happy Playing, Alan Craig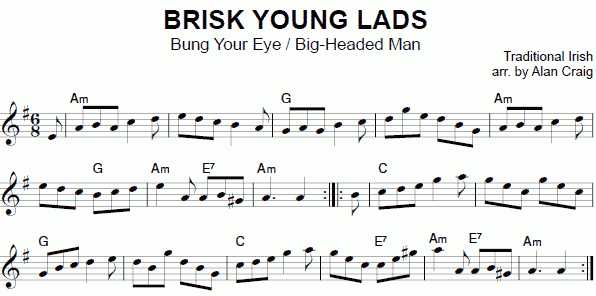 [top]
---
MR BEVERIDGE'S MAGGOT
Click here to play or download midi file
Here's an English country dance that was popular in the early 18th century. Mr Beveridge was a famous dancing master in the 1680s who devised particular longways set dances called 'maggots' (from the Italian maggioletta, a small trifling), and these were done in 3/2 time (an early version of the modern hornpipe). Some months ago, I presented a similar tune called The Cheshire Rounds, a perfect companion to Mr Beveridge's Maggot.
Our 'maggot' hit the big time in 1995 when it was used for a dance sequence in the BBC's mini series of Jane Austen's Pride and Prejudice. This scene has the dark and dour Mr Darcy forced to dance with the coquettish Lizzie, and you can view it on YouTube at www.youtube.com/watch?v=JUC4hmCyxZ0
In the clip, the music is quite slow; however, I've presented it at more the 'peasant' hornpipe speed rather than the 'courtly' tempo that was popular in the dance assembles of Austen's era. I've also given alternative notes (in both the midi file and the music) for the 'D' tin whistle - this avoids notes that are out of range or require half-holing.
Happy Playing, Alan Craig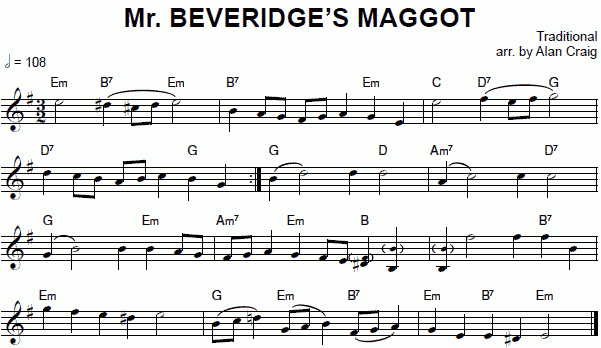 [top]
---
DOON THE BROOM
Click here to play or download midi file
Following up on my 'contra' theme from last month, I'd like to offer a tune that is said to be a big favourite with American contra dancers. Doon the Broom is noted as a traditional Scottish march, but it's not one I'd heard before and I have no information on its history, except that The Fiddler's Companion website gives it the alternative titles of The Clans and The Old Crossroads.
I played Doon the Broom with the band at the Bundanoon DanceFest in June, and thought it was a ripper little tune. It was part of a contra dance set that included Rally 'Round the Flag and The Year of Jubilo, two famous American marches. The only hitch is that the first bar-and-a-half seems almost identical to the Rights of Man hornpipe -- but you'll get over it!
Happy Playing, Alan Craig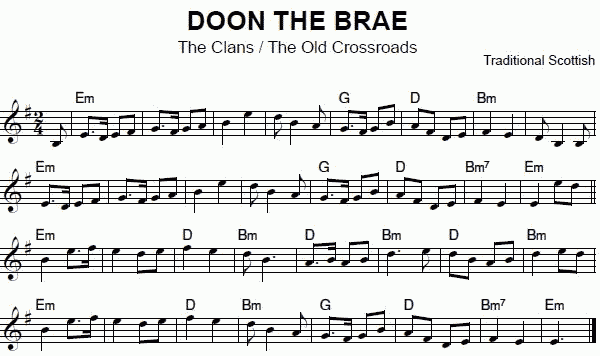 [top]
---
THE GRUMBLING OLD MAN and
the GROWLING OLD WOMAN
Click here to play or download midi file
In recent months I seem to keep bumping into contra / French Canadian tunes. Everywhere I go, someone is asking for or playing these delightful tunes, and I'm very pleased to say that I've managed to learn a few of late. I first heard The Growling Old Man and the Grumbling Old Woman at this year's Port Fairy Folk Festival when it was played by the very exciting guest band Les Chauffeurs à Pieds, and I thought it was just great. So, I was really delighted when it turned up in the workshop music for the Bundanoon DanceFest in June (one of the best festivals I've ever been to).
These Québécois tunes are really exciting, and often quite simple to play. The GOM&GOW (the name is so long, it's best to use the acronym!) is also called La Chicaneuse (meaning "quarrelsome woman") or La Disputeuse. One part grumbles, the other growls, and I'm sure you'll work out which is which!
As a footnote, I've been to two excellent festivals this month. The first, at Bundanoon (in the Southern Highlands on the Canberra-Sydney road), is primarily a dance workshop festival, but musicians get in at the ridiculously low price of $10 and get to play from 9:30am to midnight for 3 days. It's a small, friendly and intimate festival and all the music is made available on the festival website before the weekend starts. I had a complete ball (literally) and wouldn't miss it for chips. Information can be found at the Bush Traditions website: www.bushtraditions.org/bunders.htm
I also managed to get to one day of the Maleny Celtic Winter School. It also was a buzz with great workshops for all levels for many instruments. I'll definitely be going for the full weekend next year! Information at: www.malenyceltic.org
And the good news is that there is another workshop weekend happening at Alexandra Headlands in September. You'll find information about this in the Folk Rag or from: www.fiddlesticks.co.nz/sunshinefiddlecamp - I hope to see you there!
Happy Playing, Alan Craig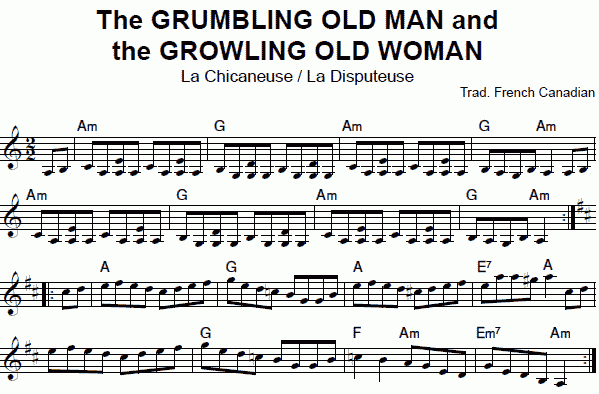 [top]
---
INISHEER
Click here to play or download midi file
This month's tune is lovely air that has become quite popular with session musicians here in Brisbane. Inisheer was written by Thomas Walsh, the son of a noted dance bandleader in Dublin. He formed the band "An Beal Bocht" in 1980, a band that had a sound and style in the "Planxty" tradition. Thomas himself had a sound musical training at the College of Music and plays tin whistle, accordion, clarinet and saxophone. Nowadays, he performs with his band Turlough, which appears all around Ireland.
Inisheer (Gaelic: Inis Oirr) means 'east island', and is the smallest of the Aran Islands in Galway Bay. This was the ancient home of the O'Briens, and can only be reached by ferry or plane. The cargo ship Plassey was wrecked on its rocky shores in 1960, but the 11-man crew was rescued by the islanders. The wreck was later washed ashore and is now a tourist attraction.
Thomas's original version of Inisheer was the opening track of his 2004 album Ethnic Tears. He later put lyrics to the tune, and the song version can be found on his 2007 album The Plassey on the Rocks. Turlough have also recently released an album called Canyon Moonrise. All of these CDs can be obtained from Crashed Music at their website: www.irishmusicshop.ie
My thanks to Thomas and Crashed Music for their permission to reproduce this beautiful and moving air here in the Folk Rag.
Happy Playing, Alan Craig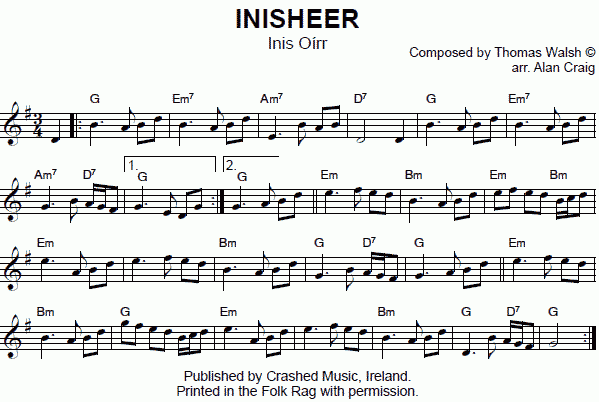 [top]
---
STARRY NIGHT FOR A RAMBLE
Click here to play or download midi file
This old waltz is still popular with bush bands today, but originated in England in the 1850s as a music hall song in 6/8 time. No doubt the song came to Australia with the gold rushes, but Ron Edwards (Aussie folklorist) located this 3/4 version in 1985 during his research into broadsides in the UK. Although I've only ever played it as a tune, it does have words, and these ones were collected by John Meredith in Orange, NSW, in 1955:
It's a starry night for a ramble, through the flowery dell;
Over bush and bramble - kiss, but never tell.
Of all the games that I love best, it fills me with delight;
I like to take a ramble, upon a starry night.
Happy Playing, Alan Craig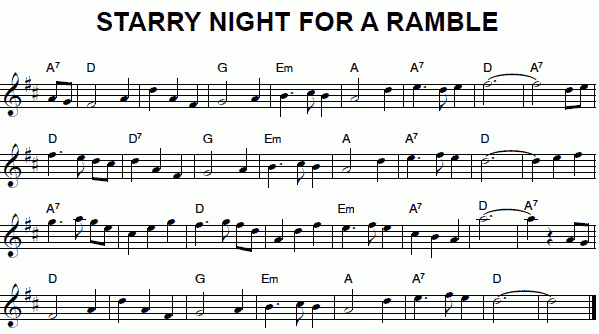 [top]
---
OFF SHE GOES
Click here to play or download midi file
This tune is almost certainly of English origin, although it did appear in an Irish collection in 1790 and a Scottish collection in 1799. Off She Goes, however, is popular throughout the British Isles and has a French-Canadian version called La Danse des Sutins. Tradition has it that it was the tune played by the fiddler as the ship left harbour, but it is also well recorded as a country dance tune throughout the 19th century. I have given it here as a 12/8 slide, the way it is popularly played in West Kerry. The tune is also known as Peel the Willow, which has a decidedly country dance sound about it.
I would like to thank all the subscribers who bought a copy of my Session Tunebook Collection last month, and for all the kind words of support regarding our Tune of the Month here in the Folk Rag. It is really heartening to know that there are so many people interested in traditional tunes. The Session Tunebook Collection will remain on sale at $25 until the end of Easter, and I'd love to see any Folk Rag readers who are going to the National Folk Festival at our Session Tunebook launch during the festival (don't forget to bring your instruments).
Happy Playing, Alan Craig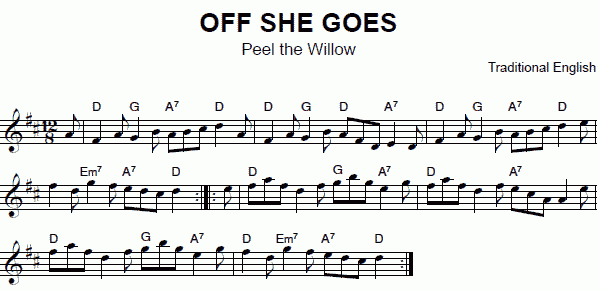 [top]
---
MOYA'S POLKA
Click here to play or download midi file
This month's tune comes from the pen of one of our local artists, Mark Davidson. Mark has just recorded an album with a mixture of country, blues and Celtic music (keep an eye out for details in the Folk Rag. One of the tracks is this really bright polka, which Mark wrote for his sister, Moya.
I've presented Moya's Polka in the format Mark recorded it on his album. It is actually a tune in 3 parts, but played AB-AB-AC-AB, the third part appearing only the once. This is an unusual structure for traditional tunes, but works very well. As Mark observed himself, it is possible that diddley-eye players may re-structure the tune, and I can see it played AB-AC-AB, or ABC-ABC-AB, or even ABC-ABC! However it ends up, it's still a really nice dance polka. Well done, Mark!
Happy Playing, Alan Craig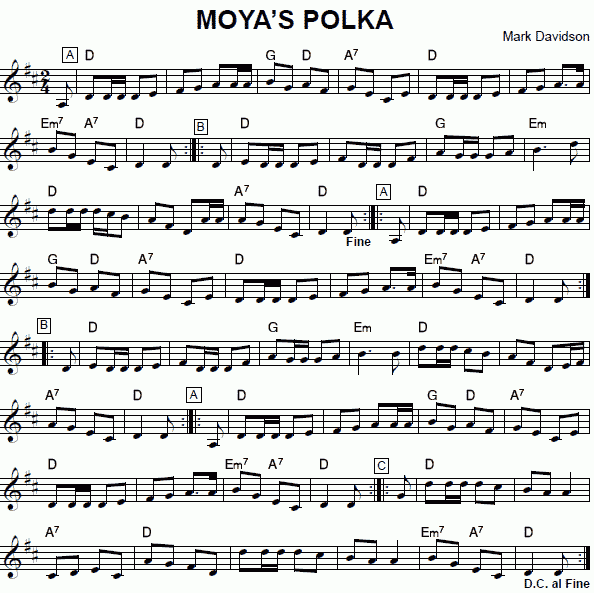 [top]
---
OVER THE HILLS
Click here to play or download midi file
Here's a really nice little Irish jig that was originally collected from the playing of the piper Police Sergeant James Early in Chicago at the end of the 19th century. What with Captain Francis O'Neill (the famous Chief O'Neill) and other police officers like John McFaddan, Patrick O'Mahony, Bernard Delany and countless others, Chicago must have been a session-players' heaven in the 1890s. O'Neill's remarkable Music of Ireland is one of the great treasures of Celtic culture, and is a work assembled directly from the playing of ex-pat Irish musicians living in Chicago between 1890 and 1905.
Happy Playing, Alan Craig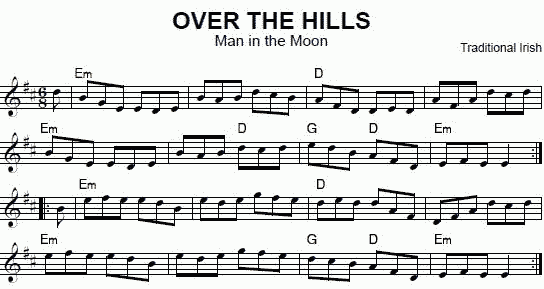 [top]
---
HIGHLANDER'S KNEEBUCKLE
Click here to play or download midi file
The first tune for 2011 is an Irish single jig commonly found set as a reel. The Highlander's Kneebuckle is a popular piper's tune and was known in the early 1800s. Many call it Pat Ward's Jig, and it gets that name from Pat Mitchell, a piper who died in 1927. Pat learnt it from the famous Seamus Ennis, who learnt it from his father, who learnt it from .... you guessed it, Pat Ward! Who Pat Ward learnt it from is anyone's guess. I have no idea who calls it Leather Buttons, or why, but most sources give it as an alternative name.
Happy Playing, Alan Craig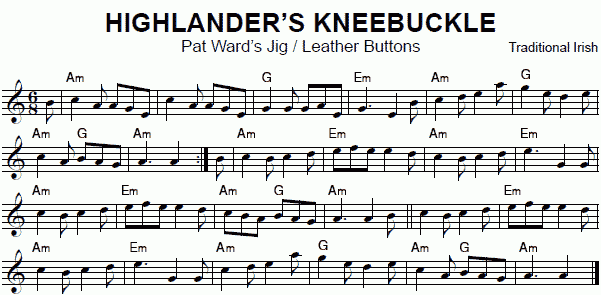 [top]
---