[ HOME ]


(Note: javascript must be enabled to view and enable email links.)
---
TUNES 2012
---
---
THE OLD GREY CAT
Click here to play or download midi file
Terry Jacobs is at it again! Can this man be stopped? A few weeks ago, Terry played the Old Grey Cat at the Friday session (Celtic Cafe, Manly) and I thought it was a great little tune. He likes to play it as a reel, but it can be equally effective as a polka or march.
The tune is also known as the Smuggler's Reel and appeared by that name in Scottish collections in the 1880s, where it was noted as an Irish tune. The cadences seem to reflect American old-time tradition; indeed, the tune is well known in parts of the US, particularly Pennsylvania where a version of it has been collected.
However, on closer examination, the Old Grey Cat is almost identical to the Scottish 6/8 (jig) pipe tune Hills of Glenorchy, except for the lovely rising cadence in the last 4 bars. Try playing the Hills of Glenorchy followed by the Old Grey Cat - they make a great set!
Happy Playing, Alan Craig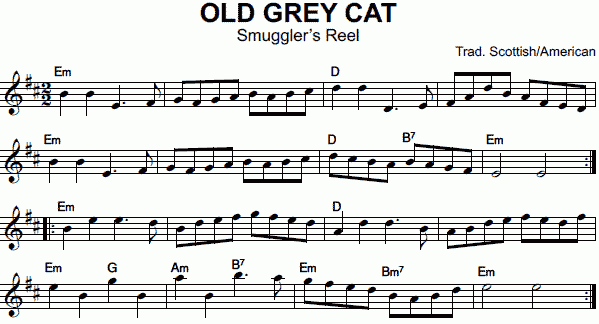 [ top]
---
BEHIND THE BUSH IN THE GARDEN
Click here to play or download midi file
I was reintroduced to this single jig recently by the legendary [insert your favourite epithet] Bob McInness during a workshop at the Bundanoon DanceFest. Bob is, as those who know him can attest, a human repository of both the very best fiddle tunes, and the very worst jokes. I am constantly amazed by Bob: just when you think he's plumbed the very depths of dreadful jokes, he always manages to go one better! Thankfully, his wonderful fiddle playing redeems his soul.
Behind the Bush in the Garden is well-known in Ireland, Scotland, Cape Breton and the Shetlands. In Scotland it is best known as Wha'll Be King but Charlie and was a rallying song for the Jacobites. Indeed, a few Irish fiddlers have recorded the tune under the title Royal Charlie, and this seems to support the Jacobean link. Some attribute the tune to the great Scottish fiddler Neil Gow, although he never claimed it. This delightfully melodic single jig is also commonly used to accompany the dance Flora MacDonald's Fancy.
Happy Playing, Alan Craig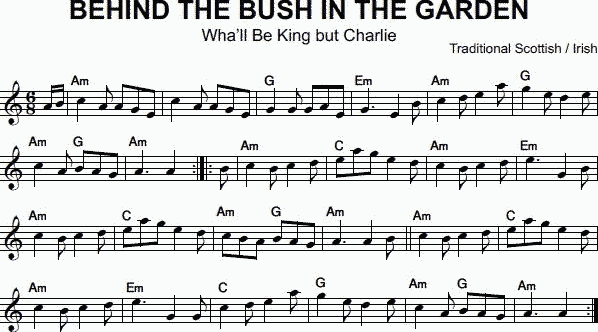 [top]
---
JACKY TAR
Click here to play or download midi file
During a recent session at the Celtic Corner Cafe in Manly (every Friday night from 8 pm) we had the pleasure of welcoming Shayne and Roz Kerr from Newcastle. Both are fine players and host their own Sunday sessions back home in Hamilton (near Newcastle). One of the wonderful things about having guests turn up at the session is you often get to hear inspiring new tunes and the revival of some old ones that you might not have heard for years.
Jacky Tar was one of those 'oldies but goodies' that Shayne and Roz pulled out of the bag last Friday night, and I was wondering why such a great tune had, over the years, fallen away from my repertoire. The actual provenance of this hornpipe is a little hazy, and versions of it can be found all over the British Isles and Ireland - however, it's believed to have originated with a Scots measure with the saucy name Come Ashore, Jolly Tar, with Your Trousers On. There are many other variants of the tune around and The Cuckoo's Nest (an even saucier reference to a part of the female anatomy) is the best known of these. Although these tunes vary considerably, the connection is obvious when you listen to both (The Cuckoo's Nest can be found in my Session Tunebook No. 4).
As I mentioned, this tune is a hornpipe and can be played in the lilting (cut and pointed) style of the modern hornpipe, or the smoother style of older hornpipes (like Jack's a Lad - aka The Sailor's Hornpipe). I have it here in the older, smoother style, and I think it could just as easily be executed as a march.
Thanks to Shayne and Roz for helping to make last Friday's session a really good one – and thanks for reminding me of a great tune I'd all but forgotten.
Happy Playing, Alan Craig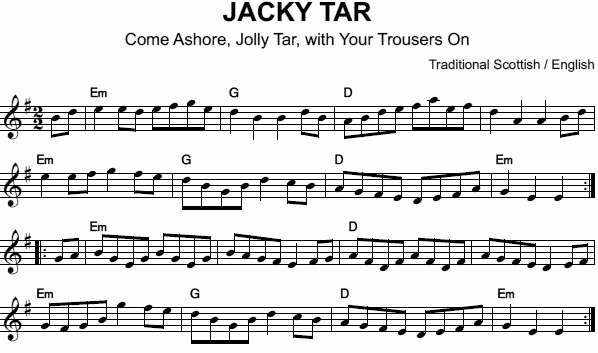 [top]
---
LORD SYDNEY'S FANCY
Click here to play or download midi file
Well, another DanceFest (aka Bunders) has come and gone, and another great event it was. The festival is run by Bush Traditions in the small town of Bundanoon (Southern Highlands, NSW), and is a long weekend of folk dancing workshops, balls and music. It's just great!
Among the many workshops at Bunders this year was one on Early Colonial Dances by Queenslander Heather Clarke. Heather's son, Roland, was the lead musician for this workshop and he presented a variety of early music for the dances, including the very pretty Lord Sydney's Fancy. The tune is taken from an 18th century collection called Twenty Four Country Dances for the Year 1789, and this was printed in London by Longman & Broderip.
Lord Sydney (Thomas Townshend) was, of course, the the British Home Secretary who dispatched Governor Phillip and the First Fleet to Australia in 1788, and the tune is sometimes called Lord Townshend's Fancy. The original melody was published in the key of F, but I've transposed it to D to make it more accessible to folk musicians. This is a very lovely tune with a couple of unexpected twists, and it does have a distinctly Scottish sound to my ear. I think Lord Sydney's Fancy is at its best when played Largo (50 - 60 bpm), like a slow march.
Happy Playing, Alan Craig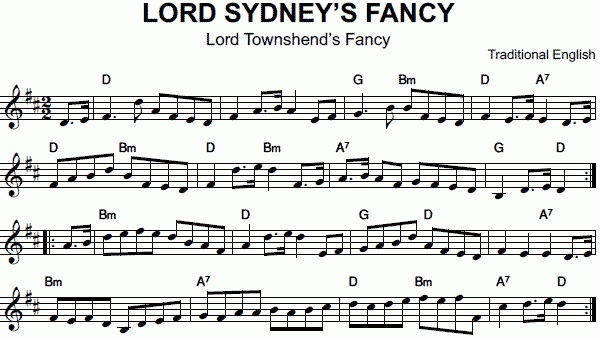 [top]
---
GILLAN'S APPLES
Click here to play or download midi file
This month's tune is a popular Irish jig often heard at sessions. Derrick Chetwyn does a lovely version of it on his tenor banjo, and he calls it Gillian's Apples. This shows how the folk process works, because that name is a corruption of a wrong name.
The tune's original name is, in fact, Apples in Winter and some players do use that title. The problem first started when Francis O'Neill collected it for his seminal Music of Ireland collection and discovered that he already had a tune by that name. So, to avoid confusion, he renamed it in honour of the person from whom he collected it, John Gillan, and published it as Gillan's Apples.
Somewhere, in the mists of time, players started calling this wonderful tune Gillian's Apples and, like Derrick, that's always what I've called it. It appears in a number of collections under that name. Perhaps there was a Gillian out there somewhere who influenced the name change, but we'll never know. I'm glad that O'Neill sorted out the confusion!
Happy Playing, Alan Craig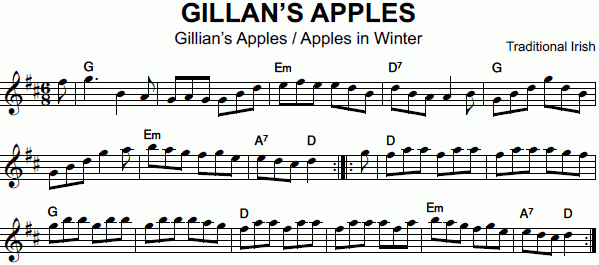 [top]
---
HOMMAGE À EDMOND PARIZEAU
Click here to play or download midi file
I had the very great pleasure of playing with the Champion Moreton Bay Bush Band for the Heritage Ball at the National Folk Festival over Easter. That pleasure was heightened by having the legendary Bob McGuiness join us for the affair. Bob's fiddle playing is simply wonderful, and he has undoubtedly become a living treasure in the Australian folk music scene. So, it was no surprise to me when I saw him the following day, with bush band aficionado Ralph Pride, playing for a contra workshop at the Plaza. Among the contra tunes they were playing, I was particularly taken with their rendition of Hommage à Edmond Parizeau.
This tune is a wonderful example of the style. It was originally known as Reel du Commonwealth, but was rearranged by Marcel Messervier and popularised in Laurie Hart's book Danse ce soir! Traditional Tunes of Québec. However, Hommage à Edmond Pirazeau has some challenges, especially for fiddlers. The first four bars require some real discipline in bowing technique, so it's best to learn the tune slowly and gradually build your speed. The bad news is that these reels are normally played at a very brisk pace (so you will need to practice) - the good news is that they still sound wonderful at more moderate speeds: so go for it!
Happy Playing, Alan Craig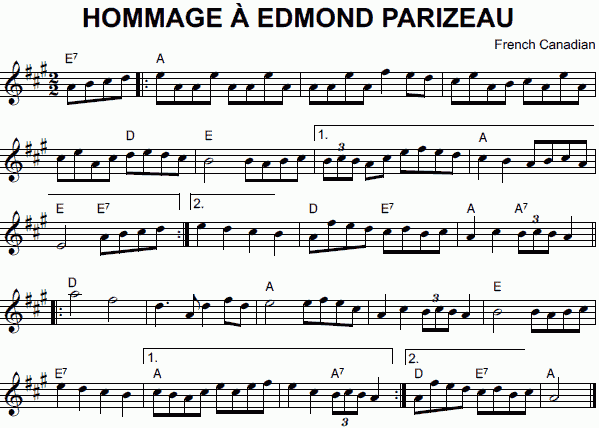 [top]
---
OVER THE HILLS AND FAR AWAY
Click here to play or download midi file
While at college in the early '70s, I took up the bagpipes and delighted my parents by practicing morning and night. I know they were thrilled because they would always request a particular tune: Over the Hills and Far Away! That my parents, devotees of Frank Sinatra and Glenn Miller, knew this tune at all is a testament to the longevity of many old traditional tunes. Over the Hills and Far Away (not to be confused with the Irish jig Over the Hills) is known from at least 1700 in both England and Scotland, and the earliest Scottish version was called The Wind Has Blawn My Plaid Away. A variant of this song is still extant in the children's rhyme Tom, Tom, the Piper's Son.
Over the Hills and Far Away gained wide currency throughout the 18th and 19th centuries right across the English speaking world. It was used as a march, air and country dance, and there are several songs sporting a variety of lyrics. John Gay's libretto for his Beggar's Opera (1729) was one of the more famous, and Laurence Olivier sang this in the Hollywood movie of the same name in 1953. During the Napoleonic Wars (1793-1815), Over the Hills and Far Away became a famous English marching tune and was traditionally played when a regiment left its garrison camp or barracks, and it was the official marching tune for Wellington's 95th (Rifle) Regiment of Foot.
O'er the hills and o'er the main,
Through Flanders, Portugal and Spain,
Queen Anne commands and we obey,
Over the hills and far away.
An intriguing feature of this tune is that each part ends on the dominant 7th (e.g. D7 for the key of G), and this leaves the tune 'hanging' or 'unresolved' at the end of each line. I have it here as more of a country dance, but it is equally lovely as an air. Interestingly, the range of the tune makes it totally unsuitable for the bagpipe's 9-note chanter, so my parents never got to hear me play their most popular request.
Happy Playing, Alan Craig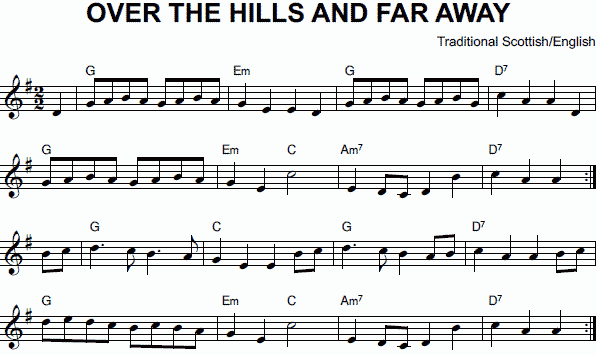 [top]
---
ROCKY ROAD TO DUBLIN
Click here to play or download midi file
The Rocky Road to Dublin is a well-known Irish slip jig and often heard at sessions. What many don't know is that it has a very nice third part, and it's a pity that most players only ever play the two. The first time the Rocky Road came to anyone's attention was when it appeared in 1898 in a playlist for Philip Goodman, a piper in Farney, Co. Louth. There was a dance for this tune at one time, but in the 19th century it appeared as an anonymous broadside with these words in the chorus:
One, two, three, four five, hunt the hare and turn her,
Down the rocky road, and all the way to Dublin,
Whack fol-lol-de-ra.
If can get your tongue around the rest of the words, well, good luck to you!
Happy Playing, (and don't forget the third part!) Alan Craig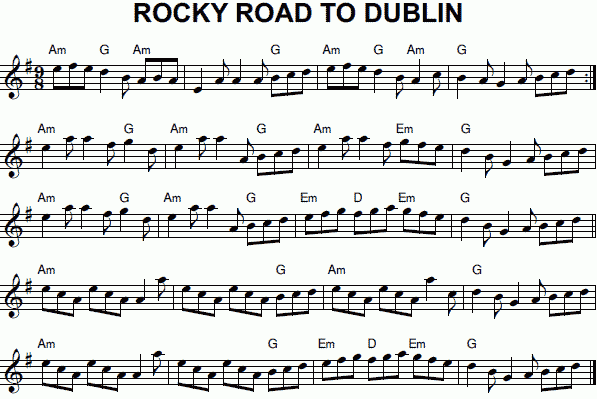 [top]
---
THE MAXINA
Click here to play or download midi file
The Maxina is an old time dance from the UK, still popular at bush dances in Australia. Although not a 'folk dance', it has an elegance and old-world grace that makes it a perennial favourite.
Originally a round dance for the ballroom by Madame Low-Hurndall. It won first prize in 1917 at a competition organised by the British Association of Teachers of Dancing and an immediate hit. It arrived in Australian ballrooms by the end of the First World War and remained very popular here for many years. The original music was composed by W.F. Hurndall & Marguerite Boissonaide, and notable as one of the few dances that uses a 24-bar melody.
I know of several regional variations of this dance and heard many arrangements of the tune. Brisbane folkies tend to play a tune variant in D and Bm, but I learnt this old-time dance-band version from Jan Davis many years ago. Jan had always said she had learnt it from Melbourne's Mulga Bill's Bicycle Band way back in the '70s. Lionel O'Keefe (the ex-Brisbane, now Toowoomba fiddler) was in the band at that time.
Happy Playing, Alan Craig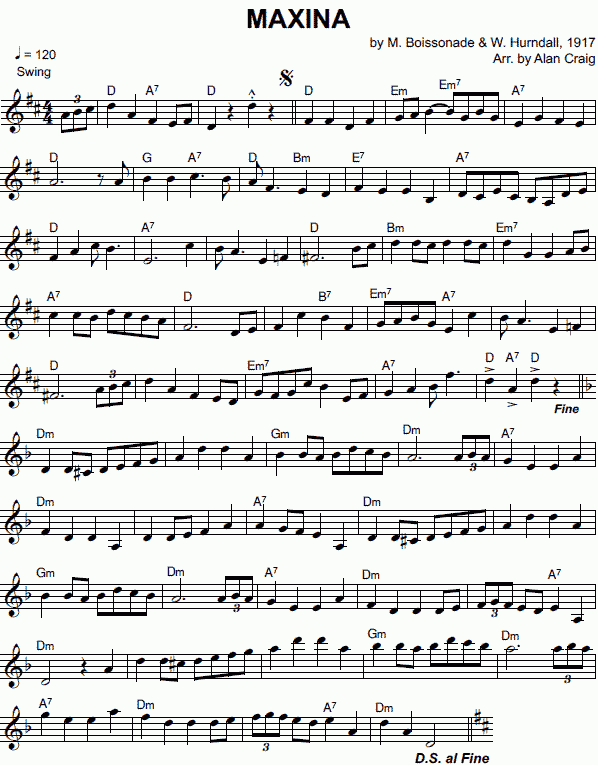 [top]
---
MANLY BEACH POLKA
Click here to play or download midi file
I have an Australian offering for this month that was written in 1854 by Lieutenant George Douglas Callen, bandmaster of the 12th Regiment. In those early days, the regimental bands were quite sophisticated and provided a wide range of musical services. Apart from parade duties, these bandsmen were called on to be music teachers, provide church music, be theatre players, and perform light occasional music for the many balls being held in the colony.
Quite early on, many of these musicians began composing pieces with a local flavour, and this galop was one of those. Douglas Callen also wrote the Mary Asthore Waltz and the Rosina Polka, and these tunes are still played by Australian Army bands. I used these melodies for the Triplet Quadrille in our Bush Dance! publication, and the 1st Military District Band (under the able baton of Major Laurie Young) was kind enough to record it for us at the time. On that album, the 1MDB also played a fabulous rendition of Sir Walter de Coverley, and it's worth having a listen to those recordings if you have a chance -- those chaps really know how to play old time dance music!
Of course, the original Manly Beach Polka was composed in brass band keys, but I've rearranged it here for bush bands. On that note (shameless advertisement here), I've recently finished doing full MIDI arrangements of all sets used in our Bush Dance! kit, and a disk with those MIDI files (and MP3 versions as well) will be available soon.
Happy Playing, Alan Craig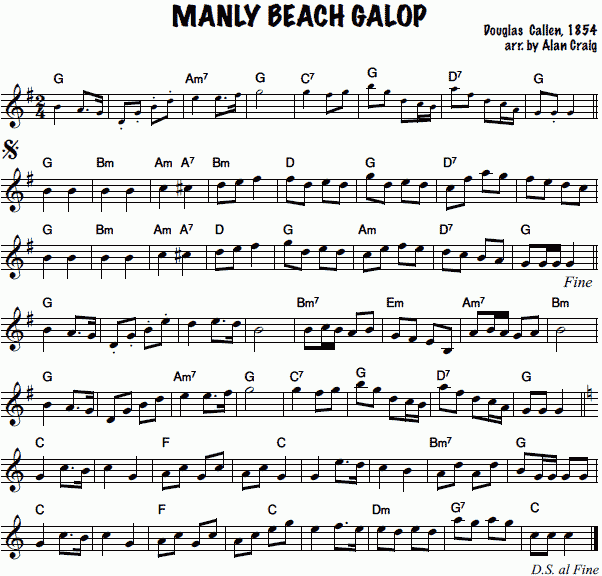 [top]
---
GLASGOW GAELIC CLUB
Click here to play or download midi file
This month's tune is a typical Scottish 6/8 march with its 'cut and point' rhythm (dotted quaver, semi-quaver, quaver) and its use of the Scottish 'snap'. These tunes are often played as jigs, but this tends to smooth out the notes to quavers and they lose their cheeky swing (but they're still good jigs!).
The Glasgow Gaelic Club is great piper's march and is likely to have been composed by William Gunn (1788-1867), a piper with the club in the 1800s. The tune is first published in Gunn's Caledonian Repository of Music Adapted for the Bagpipes in 1848 and is famously recorded by Jimmy Shand (1908-2000) in the 1930s.
Sir James Shand MBE (to give him his proper title) was one of most prolific recording artists of his day, and is noted to have recorded more tunes than the Beatles and Elvis Presley together - a remarkable feat for a wee baldy Fifeshire lad who was born into a mining family of nine.
Happy Playing, Alan Craig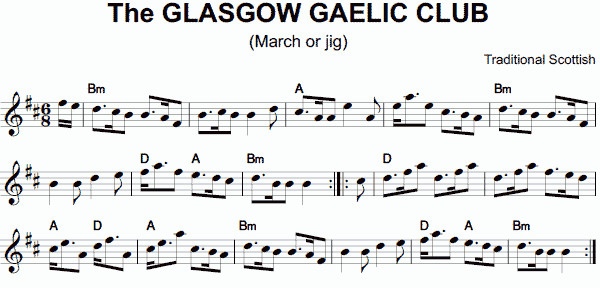 [top]
---