[ HOME ]


(Note: javascript must be enabled to view and enable email links.)
---
TUNES 2013
---
---
BOW LEGGED BOSUN
Click here to play or download midi file

Classifying some tunes can be awkward. The Bow-Legged Bosun is one of those that seems to slot easily into a number of categories, and a quick search of online resources shows it defined as a hornpipe, a march, and a reel. For good measure, I'll add another: a Scottish measure (little joke; sorry). So, which one is right? Well, effectively, they all are. Defining a tune's variety is a little bit like explaining what folk music is: it can be anything to anyone.

Hornpipes have generally been grouped by musicologists into three broad styles: the older, and now rare, 3/2 tunes (think Dance ti Thy Daddy … when the boat comes in); the less common 'rounded' 2/2 variety, like the famous Jack's a Lad (aka The Sailor's Hornpipe); and today's ubiquitous 4/4 style with it's loping 'swing' rhythm (Harvest Home, et al.).

If we're going to call the Bow-Legged Bosun a hornpipe, then it most definitely falls into the second category, along with the Red-Haired Boy and Jacky Tar. However, if I were to use this lovely little tune for folk dancing, I'd be more inclined to group it with some Scottish measures like, Astley's Ride and Jamie Allen – which is precisely how Bob McInnes used it for a Scottish country dance workshop at the Bundanoon DanceFest in June. If it's good enough for Bob, it's good enough for me

.

So, happy ‹hornpiping› ‹reeling› ‹marching› ‹measuring› (delete those not applicable)!

Happy Playing, Alan Craig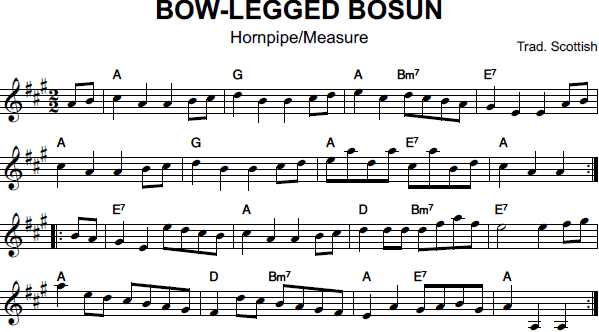 [ top]
---
ARRAN BOAT SONG
Click here to play or download midi file
Keith Barrett, of the Champion Moreton Bay Band, made a good point a few weeks back when he complained about having a tune like The Dark Isle as part of a waltz set. In my opinion, Keith was perfectly correct - because The Dark Isle is, quite simply, not a waltz. I made some allusion to this issue some months back when I posted a similar tune: The Mist Covered Mountains.
"But," I hear you say, "it's in 3/4 time, and everyone knows that waltzes are in 3/4 time!"
Well, of course, you're partly right. The problem is that while all waltzes are written in 3/4, not all 3/4 tunes are waltzes.
The confusion comes from a basic misunderstanding about the underlying rhythm of a waltz. To be a waltz, the pulse of the melody must go: strong/weak/weak, strong/weak/weak; or, um-pa-pa, um-pa-pa. That rhythm can be exaggerated or muted, but it must exist for the dance to be a waltz and for dancers to feel comfortable. Celtic airs like The Dark Isle and Planxty Irwin are often (mistakenly) written in 3/4 time, but dotted-quavers and semi-quavers within their beat structure cut right across the strict 'um-pa-pa' of the waltz. Mostly, these tunes are better written in 6/8 time (like Mozart's Silent Night).
So, for this month, here's another Celtic non-waltz - more properly called a 'slow air'. The Arran Boat, also known as The Highland Boat Song, is a beautiful tune from the west of Scotland. It was published in the 1880s in both Maver's Genuine Scottish Melodies and Kerr's Merry Melodies. However, lyrics were written for it even earlier by Robert Allen (1774–1841) under the grand title of Queen Mary's Escape from Lochleven Castle, so it is old indeed. The Arran here is the large island in the Firth of Clyde, not the Aran Isles in Galway Bay.
Happy Playing (but not as a waltz!), Alan Craig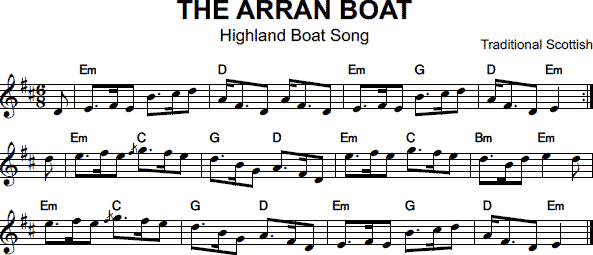 [top]
---
WOODLAND REVELS
Click here to play or download midi file
Dale Riddle requested Woodland Revels at the Friday-night session a few weeks ago, and I thought right away it would be a great tune for my monthly contribution. I usually associated this tune Mike Jackson's playing, as it seems to be one of his standards. Mike is a fine melodeon player, and at the National Folk Festival this year won the inaugural prize for a lifetime's contribution to folk music (and well deserved, too!).
Mike, who learned Woodland Revels from the English country band Flowers and Frolics (1974 - 1985), recorded his version of the tune on his 1991 album Rufty Tufty (accompanied by Canberra musical genius Ian Blake). The tune is certainly from the early 1900s, and even in 1924 was part of the repertoire of the prize-winning Tadley Band, a brass band from the Berkshire-Hampshire border. Although it is usually classified as an English country dance tune, to my ear, Woodland Revels has an unmistakable ragtime feel about it and, indeed, it is often paired with tunes like Bill Bailey and Alexander's Ragtime Band.
Happy Playing, Alan Craig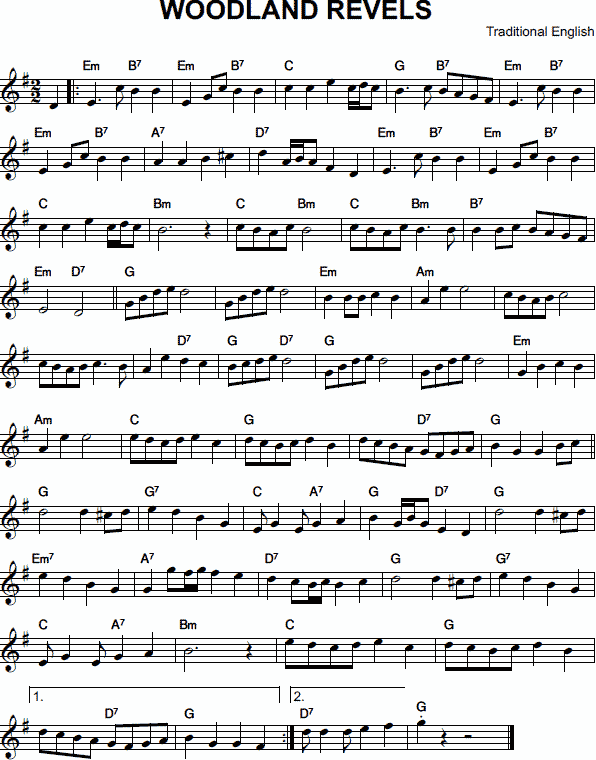 [top]
---
BIG JOHN MCNEILL
Click here to play or download midi file
I was discussing Big John McNeill at the July Colonial Ball with Michael Whitehouse, and he suggested it would be a useful item as 'tune of the month' – so here it is! In fact, I first came across this tune from the playing of Derrick Chetwyn. Derrick plays a terrific tune that he always called Big John McNeill, and it does bear some resemblance to the original: but that's about as far as it goes – he has really written a new tune, and one day I'll present it in The Rag, because Derrick's tune is a ripper.
The real Big John McNeill, however, is another of those tunes that is positively huge in Canada and the USA with recordings of it going back to the 1940s. In fact, most people would assume the tune originates from North America given its popularity with fiddlers in that part of the world. But the tune was written by the brilliant Scottish fiddler Peter Milne (1824–1908), and his is a sad story.
Peter Milne (known as the 'Tarland Minstrel') was born in Kincardine and was, in fact, one of J. Scott Skinners teachers and early playing partner, and that alone should tell you he was a musician of enormous talent (Skinner, a deity of Scottish fiddling, acknowledged Milne as "one of the finest native musicians Scotland ever produced"). Living on the cold and bleak (some would say dreich) east coast of Scotland meant that, like many Scots, he developed rheumatism, and for this he was prescribed laudanum (think Sherlock Holmes, another fiddler!). Milne gradually began to abuse this opiate, and he was eventually reduced to busking on the ferries that plied across the Firth of Forth. He deteriorated to a deplorable state, and finally shuffled off his mortal coil at the Nelson Street Hospital in Aberdeen, where he had spent the last ten years of his life (all fiddlers repent and beware lest ye too should follow his path!).
Milne originally named the tune just John McNeil, and it was tribute to a great highland dancer of the mid-to-late nineteenth century. Given it's two-octave range, this reel is particularly suited to the fiddle, but I have a workable version for the whistle and flute embedded in the midi file. This tune is also ideal for contra dancing, which is why it remains so popular in Canada.
Happy Playing (and keep off the laudanum!), Alan Craig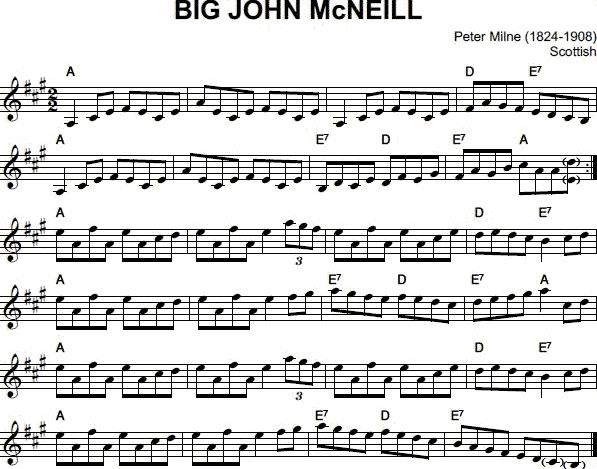 [top]
---
CROSSING THE MINCH
Click here to play or download midi file
This month we have the fashionable Scottish hornpipe Crossing the Minch ("The Minch" is the strait between mainland Scotland and the Outer Hebrides). This tune is very popular with pipe bands and is often used as a competition piece for both soloists and bands at highland gatherings. The Shetland fiddler Ali Bain has a particularly impressive version of the tune, and it is well known amongst the Cape Breton fiddlers who call it McNab's Hornpipe (sometimes spelled McNabb's).
This tune also exemplifies the great tradition of using variations to the theme when repeating the tune. Crossing the Minch has always featured two particular variations: one by Pipe Major Donald Ramsay, and the other by Pipe Major Donald Macleod of Lewis, and I have included these in the MIDI file. This is a great tune to practise your triplets!
Happy Playing, Alan Craig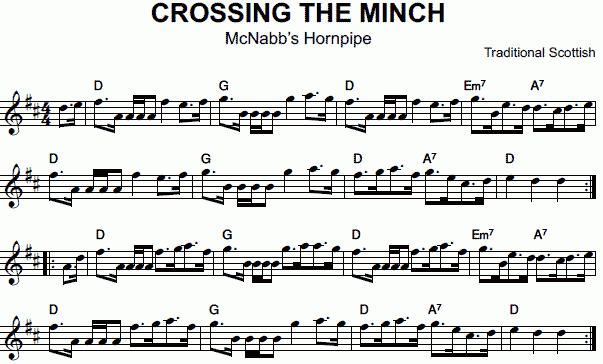 [top]
---
WHISKEY BEFORE BREAKFAST
Click here to play or download midi file
I've just returned from yet another grand weekend of folk dance and music at the Bundanoon DanceFest (half way between Sydney and Canberra). What a great four days for both dancers and musicians! I have a lot of new tunes and I hope to share some with you over the next few issues (I might need Michael to bump up my allowance for a couple of longer ones!).
Contra is, again, all the rage, and since we now have our own contra dance group starting up in Brisbane, I thought I'd kick off with a superb tune I picked up at one of the Bundanoon workshops. Whiskey Before Breakfast is an old Canadian breakdown from the maritime provinces, and is often called Spirits of the Morning (you'll see the connection, no doubt). The tune is often credited to fiddler Andy de Jarlis (Manitoba, Canada), largely because it appeared as a copyrighted arrangement in his 1957 book Canadian Fiddle Tunes from Red River Valley. However, the tune is much older and is related to a group of melodies with ties to the even older Speed the Plough.
For the dancers, this tune is the usual accompaniment to the Canadian quadrille Reel of Eight, and is normally danced at a fairly brisk pace (sorry musicians!). The contra tradition requires the band to keep playing the same tune until the band leader calls for a change, and usually one other similar tune is used for variety. Scottish measures and American breakdowns fit the 'contra' feel, but there are plenty of great French Canadian tunes out there, so keep an eye out for them: they're great!
Happy Playing, Alan Craig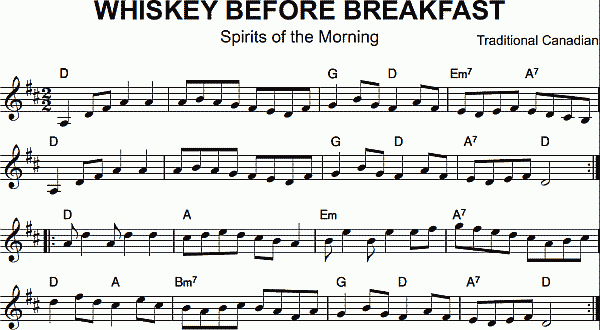 [top]
---
MIST-COVERED MOUNTAINS
Click here to play or download midi file
I've returned from the Easter National Folk Festival in Canberra inspired as always. Playing in the sessions with so many talented musicians is always a thrill and a great way of learning new tunes or getting reintroduced to old ones. When I was a young piper (sometime in the far-distant mystic past), I used to play the Mist-Covered Mountains, and always thought it one of the loveliest of the Gaelic slow airs. Its appeal can be measured by the fact that it was played at the funerals of both King George VI and John F. Kennedy.
The age of this tune is unknown, but the Gaelic words for it were written in 1856 by a homesick John Cameron of Ballachulish. The Gaelic name is Chi Mi na Mor-Bheanna, which means I will see the great mountains, and was first printed in Alfred Moffat's The Minstrelsy of the Scottish Highlands sometime before 1916. The most popular version nowadays comes from the Scots Guards Standard Settings book, one of the bibles for highland pipers everywhere. The Scots Guards have the tune in B minor, but everyone in Canberra seemed to be playing it in A minor, so I've stuck with that.
Remember, this is an air not a waltz - and it is deliberately written in 6/8 time. Also be aware that the middle note of the triplets is usually a 1/16th note. There is a tendency for many dance musicians to pick tunes like these and use them for folk dancing, but they generally lose their inherent character and majesty when played at anything above adagio.
Happy Playing, Alan Craig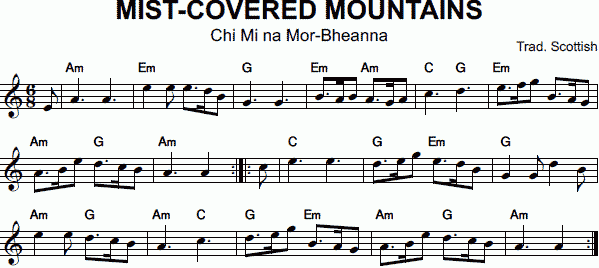 [top]
---
THE WARLOCKS
Click here to play or download midi file
I had the great privilege recently to see Alisdair Fraser and Natalie Haas in concert at the Danish Club, and to attend a fiddle workshop with them for a couple of hours the day before. These are very impressive musicians, and great communicators about the "language" of music. At the workshop, we worked on The Warlocks and heard how to add some flavour, rather than ornamentation, to the notes; Alisdair calls it a "a bit of haggis, peat and heather". Wonderful!
Natalie is an outstanding cellist and accompanist, and part of the workshop was devoted to rhythm patterns that we might use behind a tune like The Warlocks. Interestingly, most of the patterns were based on 12/8 timing, and this highlights something that we need to focus on when playing strathspeys. The dotted and cut (dotted quaver + semi-quaver) notes we see in the music tend to overstate the "cut", which should be played more like a tuplet with a crotchet (quarter note) and quaver (eighth note), as in "jazz swing". With any traditional tune, it is always best listening to how live musicians play them rather than depend on the dots for anything other than a guide to the correct pitch and sequence of the notes - there is no sensible way for written music to adequately display any haggis or peat!
The Warlocks was written by the Scottish fiddler Robert Lowe, son of Joseph Lowe. He must have written it in or before 1844, as the tune appears in his father's publication Lowe's Collection of that year. The tune is very popular in Cape Breton, Nova Scotia, where it has been recorded by many great artists, including both Buddy MacMaster his niece Natalie.
Happy Playing, Alan Craig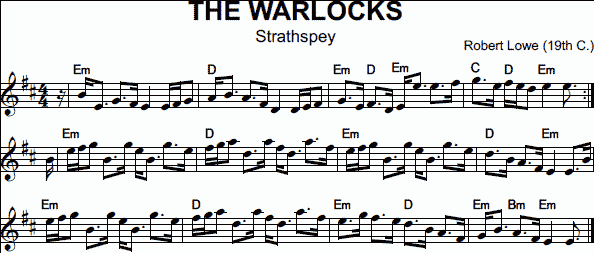 [top]
---
MERRYWEATHER POLKA
Click here to play or download midi file
Mike Jackson has been a significant multi-instrumental performer on the folk scene in Australia for 40 years. He is just winding down his career, and many may have seen his farewell concerts at the last Woodford Folk Festival. He's doing a similar thing at this year's National Folk Festival over Easter. Mike, however, is best known for his career as a childrens' entertainer, and he has performed to (literally) millions of children over those 40 years - everywhere from Perth to Alaska! Mike has had several ARIA gold albums (and a platinum), and will always be remembered for his hits with Dr Knickerbocker and Bananas in Pyjamas.
Mike is, of course, an outstanding melodeon player, and he has composed many fine tunes over the years. This month's contribution is one of those, and I picked it because it's a tune he composed while playing at the Merryweather Kindergarten in Newcastle, NSW, in about 1985. Mike says it just fell off the button, and should be a comfortable tune for melodeon, anglo concertina or mouth organ. When I use it it for dances, I usually play it first in E minor (actually, E Dorian) and then change up to A minor - fantastic!
Just email me if you'd like a copy of the dots in A minor.
Happy Playing, Alan Craig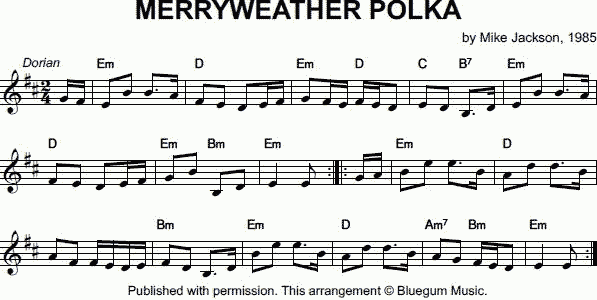 [top]
---
SHIPS ARE SAILING
Click here to play or download midi file

Brendan Williams is always a good source of new tunes. You can find him most Friday nights at the Celtic Corner session in Manly, and you can almost always rely on him to come up with a tune or two not normally played by the mob. Brendan managed to get everyone's attention last week with this wonderful reel, and I'd like to share it with you as this edition's tune of the month.

Ships Are Sailing is an E dorian reel that is likely to have originated in New England, USA, where it is still a favourite at Irish/Celtic sessions. It is a good example of a tune that has crossed the Atlantic from west to east, as it has been a well-known tune with Irish musicians since early last century. It seems to have been unknown in Ireland before Francis O'Neill included it in his seminal Music of Ireland collection. O'Neill collected most of his music from Irish immigrant musicians in Chicago, so it's easy to see how tunes that may have evolved in the New World eventually made their way into the repertoire of musicians back in the Auld Sod.

This tune can be played either at dance tempo (~ 106 bpm) or at a more steady march tempo (90 bpm), as I have it here. There are a number of variations in the versions I found of this tune. The last bar can either end on a G note or an E, and I have given both as a first and second time variation. O'Neill also has the D notes in the last bar of both parts as D# (very cool, and a clue to the tune's American origin); however, Brendan played them as D natural, and this seems to be the most widespread interpretation. Some variants of Ships Are Sailing, are in A minor, and it is also known as Boys in the Boat, or the slightly more disturbing Take Her Out and Air Her. The mind boggles.

Happy Playing, Alan Craig

<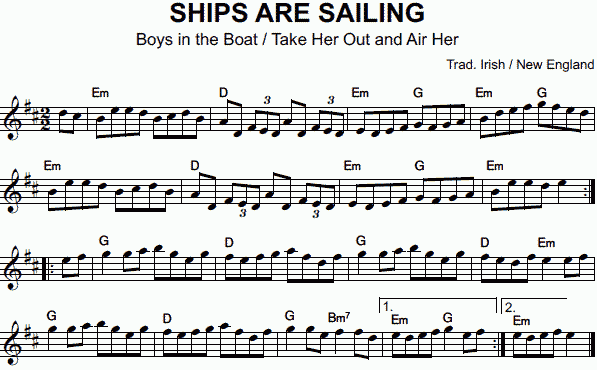 [top]
---
MOLLY ASTHORE WALTZ
Click here to play or download midi file
Lewis Lavenu (1818-59) was an English composer, publisher and musician who had dismally failed to forge a successful career for himself in England, despite having once toured Franz Listz. He ended up selling the publishing business he had inherited from his father and tried his hand at composing a grand opera - but this also was somewhat less than a resounding success. Bankrupt, he eventually made his way to Australia (place of last resort in those days) where he had a short but indifferent stint as the musical director of Sydney Theatre, before managing, somewhat ironically, to shuffle off his mortal coil while performing in a grand festival at the University of Sydney. In fact, Lavenu's only genuine claim to fame is that he was the great grandfather (through his daughter Eliza) of the Hollywood star Tyrone Power.
Lewis Lavenu would no doubt have feebly slipped from the annals of history while cradling his cello at his terminal performance had not Lieutenant Douglas Callan (1814-79) written a waltz based on Mr Lavenu's otherwise unheralded ballad Molly Asthore. Lt. Callan wrote this lovely 64-bar waltz "expressly for Her Majesty's Ball", which was held at Government House in Sydney on May 25, 1858. The Molly Asthore Valse was "most respectfully inscribed to Lady Denison" and, to this day, remains part of the colonial repertoire of Australian Army bands. Indeed, I learnt this tune from Major Laurie Young in 1988 while he commanded the 1st Military District Band in Brisbane.
While the Molly Asthore Waltz was specifically composed for a brass band, I have arranged it here for bush bands. There's no doubt the Champion Moreton Bay Band (amongst others) will make a grand job of it.
Happy New Year to our readers
Happy Playing, Alan Craig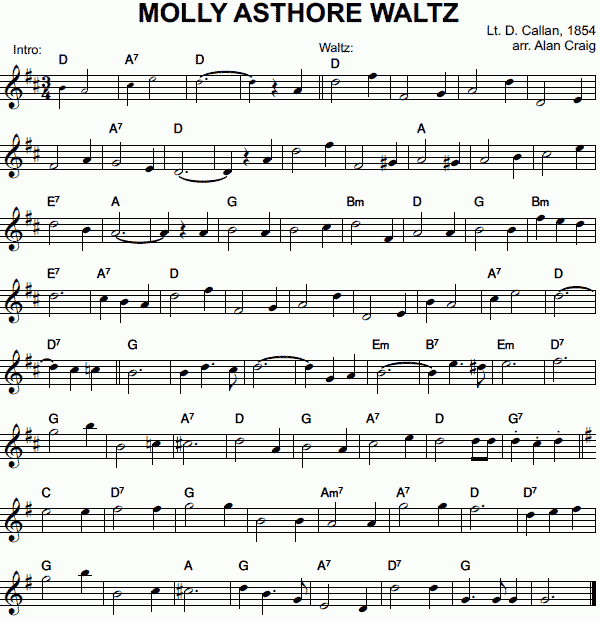 [top]
---