[ HOME ]


(Note: javascript must be enabled to view and enable email links.)
---
TUNES 2014
---
---
TINY'S RAG
Click here to play or download midi file
By way of variety, I've presented a ragtime number for this month's edition. I learnt this tune from June Nichols some years ago, and I know it's a favourite with a number of musicians around town. Tiny's Rag is a little more challenging than most of the tunes I post, but it's not as hard as it looks. Concentrate on the swing style more than the notes and you'll soon be playing it like a pro.
Happy Playing, Alan Craig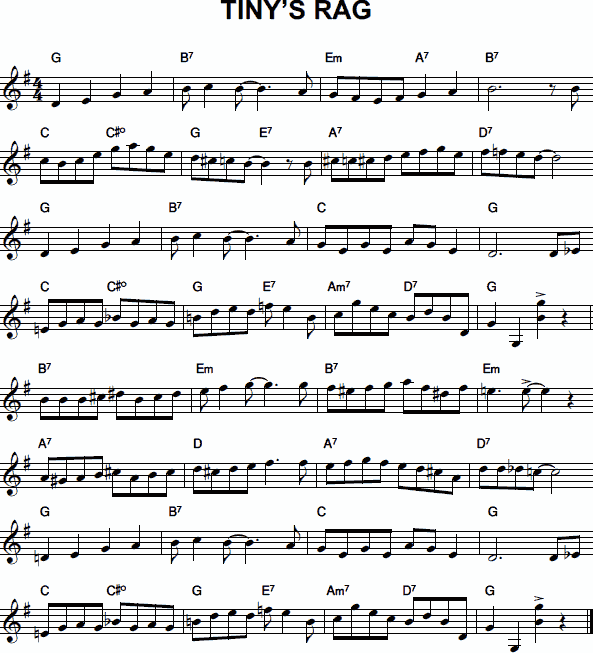 [top]
---
CALUM'S ROAD
Click here to play or download midi file
I've been keen to present this month's tune since I heard the Battlefield Band play it nearly a year ago when they did a concert at the Wynnum RSL (the tune originally appeared on the 1988 Capercaillie album The Blood is Strong. What a band: and what a tune!
The 'Calum' referred to in the title is one Calum MacLeod (1911-1988), a crofter and lighthouse keeper on the Isle of Raasay (near Skye) who spent 10 years constructing a road between Brochel Castle and Arnish using little more than a pick and shovel. Calum's only knowledge of civil engineering came from a road-building manual written in 1900. This road replaced a track that Calum and his brother had previously built in the winters of 1949 to 1952, and for which they were paid the princely sum of £35 a year! For his outstanding feat, Calum MacLeod was awarded the British Empire Medal, and the project is commemorated in books, plays (radio and theatre), music, and a cairn and plaque near Brochel Castle; this heroic story may soon be made into a movie (deservedly so).
Calum's Road is a tune that well conjures up the steely determination of the lighthouse keeper of Raasay and and can be played as a strathspey, schottische, hornpipe or march. Enjoy.
Happy Playing, Alan Craig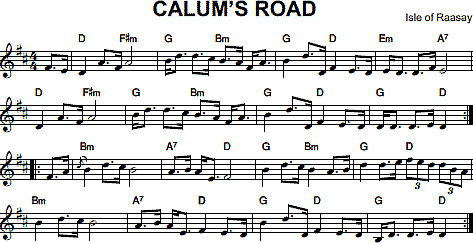 [top]
---
SCOTCH MIST
Click here to play or download midi file
The term 'scotch mist' usually conjures up an image of days dark, dim, damp and dreary - or, as the Scots would say: douth, dern and dreich. However, our tune Scotch Mist is bright, cheery and even majestic. Once again, I am deeply indebted to my old friend Bob McInnis for his non-ending supply of fantastic tunes (oh, if only his jokes soared to the same heights!).
The DanceFest at Bundanoon in June was, once again, a source of inspiration for me, and Scotch Mist is just one of the little gems I stumbled on in the workshops. The tune originally comes from Kerr's Merry Melodies, vol 4 and is in the key of C, so particularly suited to concertina and box players with C/G instruments. It should pose no problems for fiddle/banjo players, but whistle players may want to transpose it to D and play it on their C whistles. Anyone wanting a transposed version should just drop me a short email and I'll be happy to oblige.
Happy Playing, Alan Craig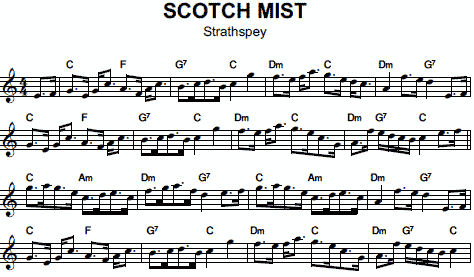 [top]
---
BYGONE DAYS
Click here to play or download midi file
A few weeks ago, I was at the funeral for my wife's cousin who had passed on way too early. To my great surprise, the proceedings opened with this tune, and I was immediately struck by its beauty and haunting cadences. My first impression was that it sounded Scottish, but I'd never heard it before and had to hound the bereaved to discover its name (we fiddlers are shameless when we're onto a new a tune).
As it turned out, my first impression was wrong - Bygone Days is an Irish tune. The version I had heard came from Eileen Ivers' wonderful 1999 album Crossing the Bridge. Eileen is an American fiddler best known for her band Cherish the Ladies, but later as one of the fiddlers in Riverdance. Eileen can play, let me tell you.
On the album, Eileen performs this tune as an air rather than a waltz, but I have it here in slow waltz tempo to make it easier to learn. I hope you're as taken with this tune as I am; it's a ripper. And thanks to Ross Roache for helping me with the arrangement - we had a lot of fun working out the chords.
Happy Playing, Alan Craig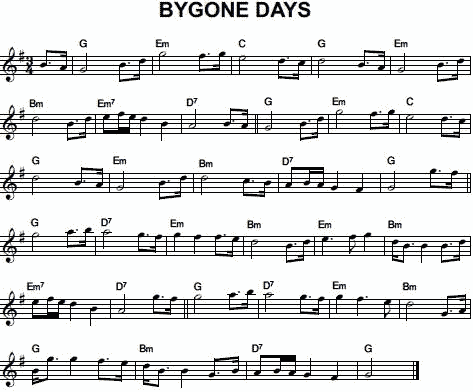 [top]
---
WILLAFJORD
Click here to play or download midi file
One of the regulars at the Manly session on Friday nights is "Big" Dave Cleary, a whistle and concertina player. Dave has always had an interesting tune or two up his sleeve and, in particular, a couple of Shetland reels: Spootiskerry and this month's tune, Willafjord.
Willafjord (sometimes spelt Wullafjord), in fact, seems to have originated in Greenland and belongs to a group of tunes known as 'whaling reels'; others in this genre include Oliver Jack and Da New Rigged Ship. The tune is well known in Newfoundland and Cape Breton and appeared in Tom Anderson and Pam Swing's seminal fiddle tune collection Haand me doon da Fiddle. Willafjord has a number of tied notes that give it a syncopated rhythm. Tom Anderson said of the timing: "...think of walking along with one foot in the ditch, bopping along, and you'll get the rhythm!"
Shetland tunes are usually played at bat-outta-hell pace, but still sound nice when played at more leisurely tempos.
Happy Playing, Alan Craig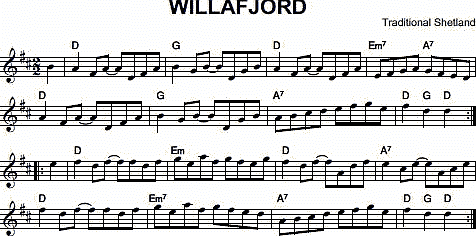 [top]
---
WANGARATTA WALTZ
Click here to play or download midi file
In May this year it will 60 years since the passing of Harry Schaefer, an extraordinary Australian bush musician and composer. Harry was born to German parents in Echuca, Victoria, in 1876, and was the youngest of eight children. Although his father was a violin player, Harry was discouraged from playing and he and his brothers taught themselves by stealing dad's fiddle and sneaking out to to the wheat stripper whenever they could.
After his first marriage, Harry moved to the Forbes district, NSW, where he began farming, but lost his wife and baby in about 1901. He was noted for riding around the district to play at dances with his fiddle strapped to his back, but he was also much lauded for the number of instruments he could play: accordion, fiddle, tin whistle, piano, clarinet, cornet - in fact, anything he could lay his hands on (17 instruments by one count). He never purchased music, but would listen to a tune on the radio, or played by another band, remember it, and rush home to write it out.
Harry was well known as a one-man orchestra, but played with many bands in the Forbes district, including the Forbes Ragtime Band. He was one of the few old-time bush musicians who managed to keep a written record of their repertoire, and his manuscripts are now held by the National Library. He served with the AIF in WW1 and remarried, but his second wife died in 1920. He remained single for the rest of his life and left no heirs. Harry died 22 May 1954 and is buried in the Forbes Cemetery. The Wangaratta Waltz is just one of the great tunes to be found in Harry Schaefer's manuscript.
Happy Playing, Alan Craig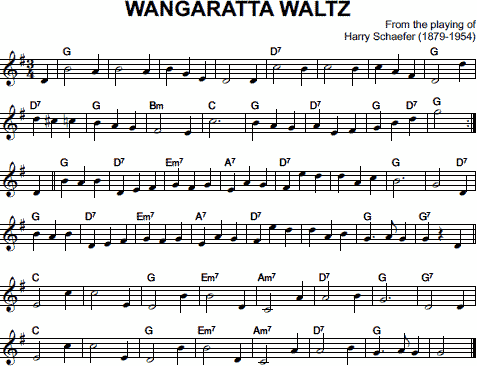 [top]
---
PEAT FIRE FLAME
Click here to play or download midi file
It's amazing how tunes can disappear from one's repertoire for no apparent reason. I was playing with Rantan at a bush dance recently, when Bob Hall started to pick out this month's tune on his guitar. I immediately knew it, but neither of us could remember the second part or the name, even though we used to play it in a set many years ago. That's old age, I guess!
Some days later, I vaguely remembered it was something to do with fire and, after a bit of a search, I finally found The Peat Fire Flame. From its style I already knew it was a Scottish march or measure, and a little reading confirmed that it was, indeed, an old Hebridean tune that is often called The Fireside Reel. The tune was first collected in 1734 in the Drummond Castle Manuscript where it is given as the tune to a dance called The Fireside Reel, and this may be where the alternative title comes from. So, fireside, peat fire, reel, march, measure... whatever - it's a great tune, and I'm glad to have it back in my repertoire.
Happy Playing, Alan Craig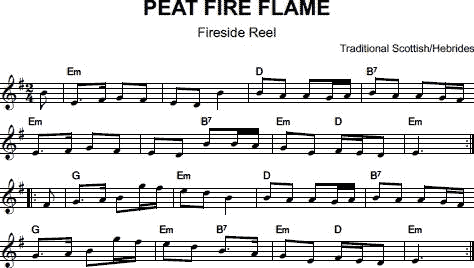 [top]
---
LORD BALGONIE'S FAVORITE
Click here to play or download midi file
So, who was this Lord Balgonie? As it turns out, he is likely to be Alexander Leslie-Melville, 1749-1820, the son of David Leslie, 3rd Earl of Leven, 5th Earl of Melville (1722-1802). The title to Balgonie was held by the Earl, but it was the heir apparent (i.e. the son) who was styled 'Lord Balgonie'. I'll bet you're glad I sorted that one out!
Now, all of this might have faded into the dustbin of history were it not for Michael Nyman, an English composer who wrote the soundtrack for Jane Campion's 1993 movie, The Piano. Michael featured Lord Balgonie's Favorite as the theme to the movie but, annoyingly, did not credit the name or origin of this very lovely tune. I hope I've put that right at last!
Happy Playing, Alan Craig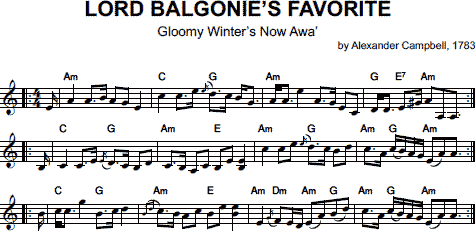 [top]
---
SHOVE THAT PIG'S FOOT
Click here to play or download midi file
Before you all rush for the tumbril, I should explain that this month's tune has nothing to do with cruelty to animals - it's supposed to about an iron worker's tool used to move pig iron around in a forge. Shove that Pig's Foot a Little Further in the Fire is an American old-time breakdown, first recorded in South Carolina. This great little tune was made famous when it was used in the Anthony Minghella movie Cold Mountain (starring Nicole Kidman). In the movie, the tune is called Ruby with Eyes that Sparkle and is played in the key of D, with the second part dropped lower.
Shove that pig's foot a little further in the fire,
Do it now, Miss Liza;
Shove that pig's foot a little further in the fire,
Do it now, Miss Liza.
So, Liza must be a typical Appalachian blacksmith's name. Hmm!

This breakdown is "swung" in the Texas style, so don't try to play all the quavers evenly. A really nice version of it, played by Bruce Molsky and friends, can be found on YouTube here

Happy Playing, Alan Craig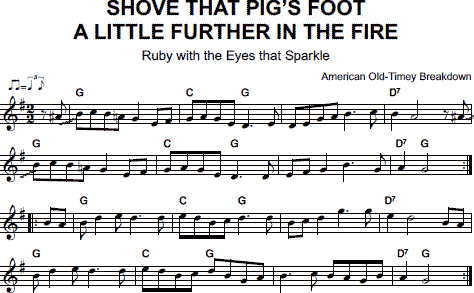 [top]
---
I BURIED MY WIFE
Click here to play or download midi file
Welcome to our first tune for 2014. I thought I'd start the year with an old favourite, better known for its name than anything else. Indeed, this tune is more or less a steal from the 5-part Frieze Breeches (frieze is a kind of course cloth), and was a signature tune of the West Clare piper Garret Barry, who live in the last half of the 19th century. I think the subtle differences in the cadences of I Buried My Wife justifies it being regarded as a different tune.
This two-part jig was also made into the song Cunla, a version of which was recorded by Planxty back in the 1970s:
"Who comes there a-tickling the toes of me?"
"There's nobody here but Cunla."
"Cunla, dear, now don't come so near to me!"
"Ah, but I will!" says Cunla.
I have no idea of where the tune attracted its, ah, contentious title, but the words of this old song may give us a clue:
Last week I buried my wife,
I bundled her up and took her right out the door;
Up the hill and past the old oak,
To where I'd be burying her, right on the old moor.
When I was finished, I began a jig right then and there –
She never had supported me so much before!
I make no comment, other than to suggest that gentlemen use some discretion when playing this tune around the house.
Happy (and safe) Playing, Alan Craig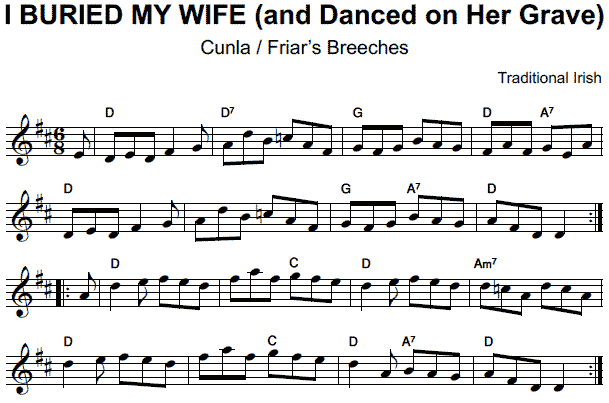 [top]
---