[ HOME ]


Profile
(Note: javascript must be enabled to view and enable email links.)
---
ANDREA BALDWIN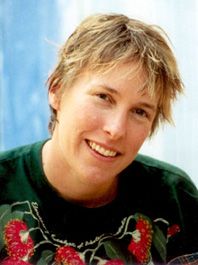 I was born in Nambour - more or less at random. My parent lived in a caravan, traveling round forestry camps for Dad's work. Grew up in Maryborough and Murgon, came to Brisbane for uni aged 17. You can take the girl out of the country…
Dad loves singing - he taught us the wrong words to dozens of songs over the washing up. He still performs in church cantatas and musicals - I will always regret missing his stage career highlight playing a Woodchuck.
Mum is a speech and drama teacher, who encouraged me to perform in local eisteddfods from age six. My sister plays tuba, my brothers play guitar and various brass instruments, my youngest brother is also an excellent singer and amazing (hilarious, heart-warming) songwriter. One brother married a cellist from a family of singers, the other married a trumpet-player whose family form an entire brass band for carol-singing every Christmas! As we kids got older, we sang together on car trips - songs from the Let's Have Music program in school, or the Top 40 (which you could just faintly manage to hear in Murgon, late Friday nights, courtesy of 2UW in Sydney).
The band program started at school after I'd left. I learnt piano in my early teens, but dropped it in favour of riding horses and (unsuccessfully) chasing boys. Bought my first guitar (still my ONLY guitar!!), secondhand, as an eighteenth birthday present to myself. Took it to youth group and proudly showed it to my cool new friend, Angela Kitzelman, and her boyfriend Don Jarmey whom I was meeting for the first time. Don looked it over knowledgeably, sniffed and said "It'll die in five years. Play something". I nervously strummed the three chords I had managed to teach myself so far - G, D, C, god bless 'em - and he said loftily "I hate tentative guitarists". Miffed, I thought something along the lines of "I hate arrogant sh*ts!" Twenty years later, Don is my best friend, manager, guitar teacher, occasional performing partner, and he and Ang are my children's godparents and dear members of our family. Life's funny.
As a volunteer at 4ZZZ-FM for a couple of eye-opening years in the turbulent Joh era, I had the graveyard shift, 2-6am, and could play anything I damn well liked. I was drawn to folk music without knowing its name - everyone was playing The Saints and Dead Kennedys, I was playing The Seekers and Peter Paul & Mary. Turned out Morningtown Ride was a real song, not just something my dad used to sing me to sleep ("First they sing a song about a train…"). I still prefer gentle whimsical songs to harsh, disturbing takes on a reality which is quite harsh and disturbing enough already.
Thanks to PopProperly (Saturday afternoons in the RE beer garden), I rediscovered old Australian songs my dad and his parents sang, and heard contemporary Australian songs by people like Redgum and Paul Kelly. Music slipped down the priorities list, though, as I studied, played Theatresports, met Andy, married, bought a house, had two children, went through several episodes of depression, did some theatre and restaurant reviewing, traveled a little, started work as a psychologist. When Don and Ang moved back from Townsville, I was deep in my second episode of post-natal depression, crying at home with a baby and a toddler, without a single friend I could ring and talk to, with no energy to create or enjoy anyone else's creativity. Don's solution - the Saturday session at the Story Bridge Hotel.
Mum is a gifted poet, and I had written poetry and songs as a kid - mum said I didn't like the poem they wanted me to say in church for Mother's Day when I was three, so I 'wrote' my own! Under the influence of the Story Bridgefolkies, I started writing again. I was slowly learning guitar, gallantly struggling to keep up with whoever was kind enough to tilt their fretboard so I could watch their fingers (usually Don, Ryk Rostron, or Ken Butler - later Dylan Rostron, Michael Bourne and others). It was Glen Donald who encouraged me to sing - he would sing something unaccompanied, perhaps a little rusty-voiced and forgetting half the words - then announce robustly "see, that's how bad you're allowed to be! Go on - if I can do it, anyone can!" It worked - thanks, Glen! For ages, I would only sing if the session was very small, and I couldn't sing and play guitar at the same time. People were so warm and encouraging, I slowly picked up confidence.
I'd always loved singing, but had a breathy voice and a very limited range. Several singing teachers had suggested I had nodules on my vocal chords, but the ENT said I didn't. Eventually speech therapist Belinda Harvey told me what was wrong with my voice, and worked with me for several months to start fixing it. She passed me on to the wonderful Adel Nisbet, for 'singing therapy'. I'm still no great singer, but at least I'm on the right track now. I urge anyone who loves singing but fears to be heard - find a good teacher, see a speech therapist if necessary, and stick at it - "it won't happen overnight, but it will happen!"
At a party one night, Karina Berry asked me to sing with her. We started practicing weekly, eventually performing (little sets at the Kookaburra Café - bless you, wonderful Kookaburra folk! and Mad Ass - three cheers for Mad Ass!), and now sing semi-regularly as The Selkies with a mix of trad songs, more contemporary folk, and originals. We hope to complete a CD this year. In 2004 I recorded Light 'n' The Tunnel, a CD of original songs, with 12 generous and talented friends, the recording skills of Ean Redman, and the mixing and mastering magic of Mark Smith. In 2005 I've worked with Helena Bond, John Thompson and Nicole Murray as The Voices, teaching singing and performance workshops - it's been a fantastic experience, we hope to do more next year.
Other highlights - supporting Martin Pearson at East Brisbane Bowls Club; helping run the Singing Shed at Woodford (thanks Shez!); Imbils, Maidenwells and Mulgowies; Palm Creek Festival; Townsville Folk Club; the Selkies performing at Folkies Old and New, ABOFOTS, Toowoomba Folk Club, Folk Redlands, the Shanties & Seasongs Festival at the Maritime Museum…
This is the moment to say thank you - but there are too many people! To every folkie who has shared their music and themselves with me, and encouraged and supported my music - humble, grateful, and profound thanks. Not a day goes past when I don't think "I'm not depressed - hallelujah!" That is a tremendous gift you have all given me. I hope, through my music and friendship, I am giving something back.
Andrea Baldwin