[ HOME ]


(Note: javascript must be enabled to view and enable email links.)
---
TUNES 2015
---
---
KIRK'S HORNPIPE
Click here to play or download midi file
Kirk's Hornpipe is one of those perennial Scottish dance tunes that should be part of every country dance musician's repertoire. It appeared in Honeyman's Strathspey, Reel and Hornpipe Tutor in 1898, but it can also be found in the manuscript collection of the Yorkshire fiddler Lawrence Leadley, 1827–1897, and here it is called the York Hornpipe.
Although the tune is titled as a 'hornpipe', I lean towards defining it as a Scottish measure, much in the vein of Staten Island or Flowers of Edinburgh. However, we often get ourselves too caught up on definitions – the truth is there are many grey areas in the world of traditional dance music. A tune like Jack's a Lad (aka The Sailor's Hornpipe) is also expressed with smooth flowing quavers rather than the more common 'swing' feel of a hornpipe like Harvest Home – so, what's in a name? Called hornpipe or measure, Kirk's Hornpipe is still a good tune.
Happy Playing, Alan Craig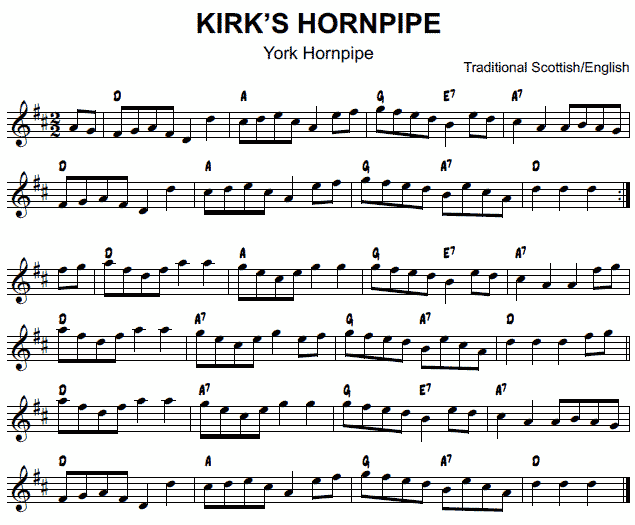 [top]
---
PRETTY MAGGIE MORRISSEY
Click here to play or download midi file
I've just returned from my annual sojourn to the DanceFest at Bundanoon (Central Highlands, NSW), and a great weekend it was yet again. Quite a few Queenslanders made the hike down there this year, and it was good to see so many familiar faces both dancing and playing. It's also a great opportunity for me to sit in with some very fine folk dance musicians and learn a great stack of new tunes.
Among the tunes I managed to pick up this year was the very cute Pretty Maggie Morrissey. This tune is a traditional Irish hornpipe and was published by Francis O'Neill in his 1850 Music of Ireland collection. O'Neill had collected it in Chicago from John McFadden, a fiddler from County Mayo. The earliest recording of the tune was in 1926 by piper Leo Rowsome. The tune has attracted dozens of different names over the years, including (but in no way limited to): O'Neill's Hornpipe; Wexford Hornpipe; Brighton Hornpipe; and The Five-Pound Note.
I was introduced to this tune at one of the Irish country dance workshops where the tunes are generally played flat out! Irish country dancers use a short stepping movement that pulses at half the pace of the tunes, so the music has to be quite fast to accommodate the dancers. This can be daunting, especially when sight-reading the tunes – but, as always, most tunes can be played at a much more sedate pace and still sound very nice (often better!).
Happy Playing, Alan Craig
[top]
---
THE MELBOURNE WALTZ
Click here to play or download midi file
I've been somewhat unavailable for the last few weeks, so this month's tune is a little bereft of any worthwhile background information. Truth is, I know absolutely nothing about it except that The Melbourne Waltz will be on the programme for the next dance at the Morningside School or Arts (23 May), and is one of the many historical tunes collected by Heather Clarke. Thank you Heather!
Of note is the tune's A-B-A-C construction, and the fact that the B and C parts are based on the dominant seventh, which gives it a quite different flavour to regular tunes. The original was written in the key of F and in 3/8 time, so I've transposed it to D and re-jigged it in the easier to interpret 3/4 signature so that it can be played by a wider range of instruments. I've also simplified a couple of bars in the C part to take away two semiquaver runs that would be very difficult to execute on button boxes. Keep the tempo sedate, and you'll find this waltz quite pleasant to play.
Happy Playing, Alan Craig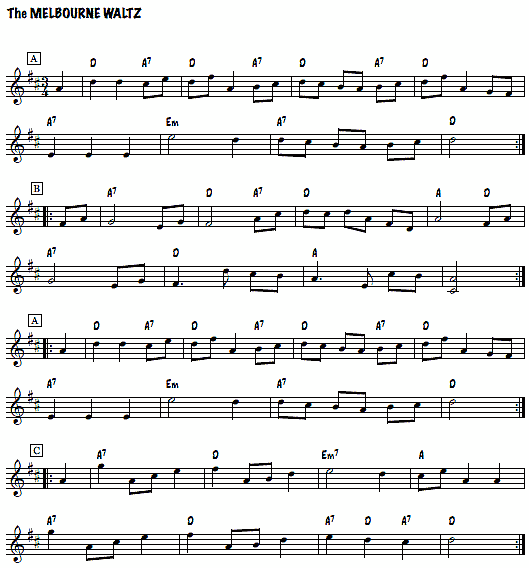 [top]
---
MYLECHARAINE'S MARCH
Click here to play or download midi file
I present this month's tune with a fair degree of misapprehension. Mylecharaine's March is a famous Manx ceremonial dance and tune, which is usually accompanied by the (symbolic) beheading of the fiddler! I find that faintly alarming, so I play it on the tin whistle to avoid any misinterpretation of the 'symbolic' bit. I suspect the Viking influence on Manx traditions may be still extant!
Despite my misgivings, however, I thought it was about time I presented something from the Isle of Man, a tiny country that has quite a wealth of folk tunes, songs and dances. Though Mylechardaine's March and it associated (gruesome) dance seem to have been at their height of popularity in the late 1800s, it is now the island's national anthem, with words being crafted for it around 1907. You will no doubt have noted that the tune has a 16-bar A part and a 12-bar B part (both repeated).
An interesting part of the 'cutting off the fiddler's head' routine was that the decapitation was preceded by the fiddler going around and placing his head on the laps of all available girls. This bit sounds somewhat less alarming to me, and I hope to revive this ancient custom while dispensing with the second part. I'm sure I will have the unerring support of the fiddling community in this ambition.
Happy Playing, Alan Craig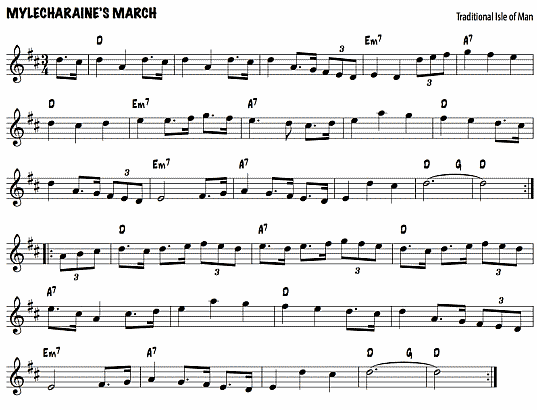 [top]
---
ROSBIF WALTZ
Click here to play or download midi file
I picked up this lovely waltz from the playing of the ubiquitous Terry Jacobs, who has a great repertoire of tunes. The Rosbif Waltz was popularised in the folk scene by the English band Les Rosbif, but is probably best known as the song Au Café du Canal, the lyrics of which were written in 1977 by French singer Pierre Perret. The song version was released on the album Lily in the same year.
The word 'Rosbif' is a cheeky French term for the English, and Anglo Saxons in general; a humorous payback, no doubt, for the English using the honorific of 'Frogs' to describe the citoyens de la belle France.
Happy Playing, Alan Craig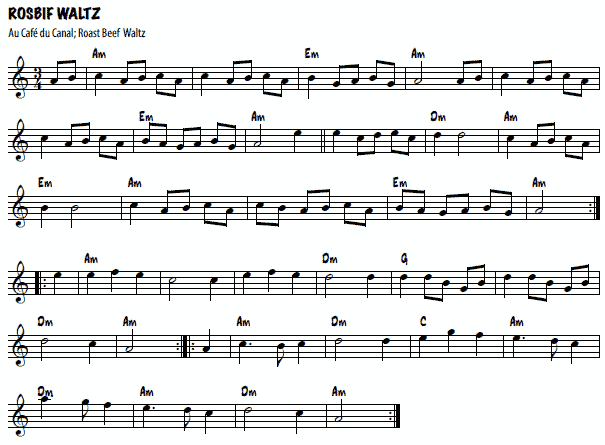 [top]
---
SOUTHWEST BRIDGE REEL
Click here to play or download midi file
I've admired this tune for over thirty years when I first learnt it from a young fellow called Dale Riddle. Dale recently reminded me of the tune, and I promised I'd include it in an upcoming Rag. This is as good a reel as you'll ever hear, but it ain't the easiest tune in the world. Scottish players often play the Southwest Bridge Reel in Gm, and flute players like it in Em, but I've generally heard it in F#m (basically A major), and I think that makes a good compromise. It suits the fiddle very well.
This tune was composed by the legendary Cape Breton fiddler Dan Rory MacDonald (1911–1976), a native speaker of Scottish Gaelic. Dan grew up in Cape Breton, but went to Scotland when he joined the army in 1940 and where he was a regular on the BBC. However, Dan first played on radio in Sydney, Australia, way back in 1935, around the time he composed The Lasses of Campbell Street. Among other notable compositions were Lime Hill, The Boys of the Lake and The Trip to Windsor.
The Southwest Bridge Reel nowadays is a favourite as a contra dance tune, and I hope to hear our own contra dance band play it in the near future (Paul?). Anyone wanting the tune and midi file transposed to one of the other keys, just drop me an email and I'll be happy to oblige.
Happy Playing, Alan Craig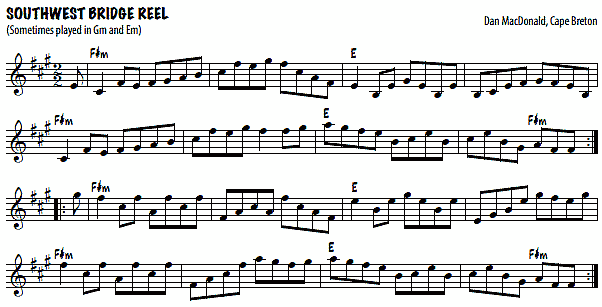 [top]
---