[ HOME ]


CONTENT
WELCOME TO FOLK RAG
---
- DEADLINE is on the twelfth of the PREVIOUS month to the event

-
eg:- for an 'October' edition please send material in by September 12th and so on.
---
EDITORIAL

POSTAL ADDRESS: P.O. Box 2029, Brookside Centre Qld 4053

'FAREWELL TO PAMELA GALLAGHER' by Mary Brettell READ HERE!
COVID-19 update: .
Most venues which were closed have re-opened under new rules.
Visit relevant venue and performer websites to check for details.
Due to the closure of venues some musicians have been uploading videos online.
SEE the LIST for some of these Video Sharing sites.
NEW NOTES:

Read Meg Philp's Storytelling in the Oral Tradition article.
More DANCE links see See REGULAR
The PANDORA link to read some years of previous editions of the Folk Rag.

Visit DATECLAIMS.
You are welcome to send in a profile of around 1000 words plus photo to be published.

Scroll down to view most content on this page.
Visit the updated FESTIVALS page or Facebook events. Read the important notice.
See Sessions and Workshops - Fridays.
Download the Neurum Creek Festival trad Songbook HERE! Still there...
Check out the offerings of the various Clubs, Tunes and the Woodfordia environmental announcements.
Happy Reading! Michael Bourne
For the Folk Rag
---
- 2022 -
---
SINGERS & TUNE SESSION
Now back at the Brunswick Hotel,
569 Brunswick St, New Farm. Lounge bar. Parking behind. Public transport outside.
Information: call Don Jarmey 0437-332-871
---
MONIQUE CLARE
MONIQUE CLARE AND CHARM OF FINCHES DOUBLE LAUNCH
Supported by Lachlan Hawkins
Featuring Locky Hawkins on drums and Rob Davidson on bass
Stream and save on Spotify
Stream and save on Apple Music
Tip Monique on Bandcamp
See the "You Are" release TOUR DATES
---
BRISBANE FOLK:

Folk music in Brisbane 1950 to now – Book launched!
Brisbane has arguably the most vibrant folk scene in Australia. From humble beginnings in the '50s, Queensland has generated a passionate and organised community of singers, dancers, musicians, songwriters, instrument-makers and – yes, knitters. People from many walks of life, countries of birth and shades of political persuasion identify as folkies, bound together by a common ethos as powerful and enduring as it is hard to define.
Yet folk functions as an underground movement, barely recognised by mainstream culture. Ask someone on the street about 'folk music' and they'll say it wandered into the sunset humming I Shall Be Released around 1975. The folk interviewed for this book, aged 9 to 90, tell a different story – in fact, hundreds of them.
Here for the first time the Brisbane folk community reflects on this creative, cohesive, multi-generational sub-culture. How has folk music shaped and been shaped by the state's political evolution? Where does the Brisbane folk scene intersect with Queensland, Australia, the world?
And what's coming next?
Packed with shenanigans, insight, tragedy, love and phone-tapping, with its blood alcohol content perhaps a little high but its heart firmly in the right place, Brisbane Folk makes you feel the music.
For more info: Brisbane Folk History Project.
If you haven't got your copy of Brisbane Folk yet, don't despair. You can order the printed book online at the website link above, or purchase all 6 sections of the ebook for under $20 at Amazon.
---
An Irish Set Dance Ceilidh at Canberra National Folk Festival
IRISH SET DANCING CLASSES
Sandgate Scout Hall
134 Brighton Road, Sandgate
Sunday afternoons 4pm - 5pm (Hall is open from 3.45pm)
Beginners and experienced dancers welcome - $10 per session
Have fun & keep fit

Contact Des on 0421 615 055 or
Mary on 0426 837 857 (evenings only)
---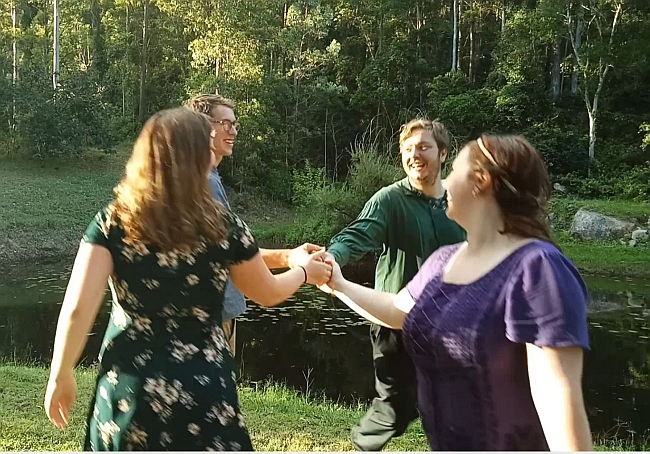 COMMUNITY FOLK DANCES IN SAMFORD
Our aim is to create a dance community with live music on the north side of Brisbane. Dancers and musos welcome. Music on request. In a world where we can lack connection and common purpose, dancing together can enrich our lives, build community, & speak to the needs of the present. It's more than just exercise – it's what brings us together.
Fridays at the Farmers Hall (air conditioned), Main Street, Samford,
Time: 7:30pm, Cost: $10 Tea/coffee & cake included.
Contact Heather 3289 4708, Dance website
Dance DETAILS
Also in DANCE PRACTICES & WORKSHOPS
---
DARE TO BE DIFFERENT
Instead of joining the gym crowd, why not try Scottish Country Dancing. It's FUN. You can laugh at yourself when you make a mistake. It's CHALLENGING. You have to remember sequences, move in time to the music and co-ordinate your foot movements. In other words, you have to think on your feet. It's good food for the brain. Your general FITNESS will improve. Age is no barrier. If you can walk, you can dance.
What you DON'T need is:
Special clothes – everyday clothes are just fine - no spandex, tights or other styles of clothing needed. Op shops (if you frequent them) will provide any clothes you may think you need.
Special shoes – soft, flat-soled shoes are all that are necessary. As you progress you may like to purchase ghillies, but they're not essential.
A partner – you definitely do not need a partner to accompany you. Be adventuresome. Come by yourself and meet folk who are anxious to be FRIENDS with you.
This is a low cost activity – under $10 a class. It's definitely cheaper than buying cigarettes – and better for you healthwise. A course of 6 weeks will cost you $50.
For frugal Scots, that's good value for trying out a new activity.
The first of the classes will be held at the Uniting Church Hall, Glory Street, Ashgrove West, starting on Thursday, 7 March at 6.30pm.
For further details, contact Heather Clarke 07-3289-4708 or Desley Butters-Whitehouse 0405-339-760.
Funding for these courses has been made possible through the Queensland Branch of the Royal Scottish Country Dance Society
---
BRISBANE FOLK HISTORY PROJECT YOUTUBE
If you'd like a peek, go to YouTube and search "Brisbane Folk History Project"
CLICK this LINK to the BFHP website
---
STORYTELLING IN THE ORAL TRADITION
7.30 - 9pm, SECOND Fridays monthly.

Storytelling in the Oral Tradition Storytelling Unplugged in the
Grange Library Meeting Room (After-hours 7.30 start till 9pm)
We meet monthly - every 2nd Friday of the month except Jan - to listen and tell stories in an informal setting.
Most months have a suggested theme led by host e.g. February's theme is Hodja Stories.
We are flexible. The story's the thing.
Tea & coffee supplied. Evening is free if you tell us a story, or
you may make a suggested donation $5. It's fine to just listen.
For more details contact via
---

GOOD TUNES SESSION
7.30-9.30pm, Mondays fortnightly.

Regular sessions continue at THE BURROW, at 52 Russell St, West End, Brisbane. Facebook Event
WHAT:
- BYO acoustic instrument to play wide range of traditional style folk tunes from around the world.
- We'll play through jigs, reels, polkas and waltzes and more from all over the place including
Ireland, Scotland, Italy, Spain, France, Quebec, Australia, England, USA, and Scandinavia.
You can see a sample of the tunes at: www.goodtunes.com.au
- All levels of musicians are welcome to join in … - The aim is to have fun and get everyone playing.
HOW:
- I'll have copies of the Good Tunes Book (with 157 tunes) to use.
- The tunes are written as single line melody and with guitar chords.
- You can also just use your ear if you wish.
THE PLAN:
The plan is to have the session fortnightly. Join the Facebook page HERE to keep up to date with coming dates.
So would love to see you there for a few good toons and fun.
Bring your friends if they just want to listen and enjoy the atmosphere, food and drink.
---
SHANTY SINGERS, FOLKIES, MUMMERS BOYS
The James Maddison Carpenter Collection of traditional folk songs and drama (1928 – 1935) is going on line from August this year. In a nutshell Carpenter was a post grad at Harvard (shades of Frances James Child of Child ballad fame) who took a recording device to England and Scotland collecting folk songs and mummers plays among other things. The original recordings have been digitized and will be made available soon.

More information is available ONLINE HERE!
---
IRISH TRADITIONAL MUSIC SESSION WITH TWIST
Brendan Williams and Peter McMeel are co-convening a new Irish Traditional Music session (ITM) with a twist! It will run every Thursday evening in Morningside. As Brendan successfully ran the Celtic Corner for ten over years, I expect this one to be successful too.

So ukuleles, classical guitars and mandolins etc will take the lead for the first hour. All other instruments are invited to join after the first hour. The breakdown between tunes and songs will be around 50:50 throughout the evening which may finish around 8 PM.

READ IrishtTrad Ukulele a briefing for ukulele players here, as this is now a popular instrument.

Brendan and I have a pedigree in teaching and playing ukes. We will attract a following of ukulele enthusiasts but would expect a healthy complement of other conventional instrumental players as well. We are expert in those more conventional ITM session forms.

While we are very open to other repertoire the Irish Traditional Music (ITM) will predominate at first.

People can for more info, please 'like' us on our Facebook page McCarthy's Celtic Music Session to receive updates.
---
FOLK ALLIANCE AUSTRALIA SMALL GRANTS SCHEME
Folk Alliance Australia is pleased to announce an initiative:
---
THE FOLK CHOIR
Do you love folk singing? Join The Folk Choir for an uplifting and satisfying year of singing in harmony.
The Folk Choir began in 2013, and we're currently singing traditional and contemporary folk songs, shanties and rounds.
We are looking forward to new chorus songs, and we're starting another song that leads us down the rabbit hole of history: Harriet Tubman, by Holly Near.
The Folk Choir, Thursdays 7.15 - 8.45pm
at Red Hill Community Sports Club, Fulcher Rd (next to Broncos), $15.
Visit the Folk Choir website.
---
CLUB ACOUSTIC MALENY RSL
First Thursday of each month, $5 admission
for a blackboard evening plus a featured band each month.
Contact Jacinta Foale or 'Sparky' Paltridge for more details
Club Acoustic Maleny RSL
---
BILL SCOTT DOCUMENTARY - HEY RAIN by ABC TV
This documentary has been placed on YouTube where it is available for all to enjoy.
For over half a century, Bill Scott travelled this country with his eyes and ears open, collecting folk material and writing stories, songs and poems and in 1992, Bill was awarded the OAM for his services to Australia folklore. He was a 'folkie' for over 50 years, who wrote and edited over thirty books of poems, short stories, biography, fiction and fact for adults and children.
He is story teller. He is Bill Scott. And this is his song.
YouTube: Bill Scott Documentary Thanks to Mavis and Harry Scott.
---
Nostalgia out of the 1970's:
Jolly Rumbylowe was a Brisbane based group of five musicians, namely,
Don Nichols, Marty Gallagher, Alan Forshaw, Liz Thompson, and June Nichols.
Visit: jolly-rumbylowe-untitled-album
---
CONTRA DANCE, WHAT IS IT?
For any who may be wondering, Contra dance originated as English Country Dance.
In the 1700's it got exported to France by the name of Contre Danse, then in turn this was exported to the US becoming known as Contra. By and large the dances are danced in long lines of couples. The stepping is a walk but the moves flow into each other to become almost hypnotic after a while.
Even if you're not a dancer, it's very easy to get into, and the music is great! It's a full scratch band of folkie type musos and the dance moves are all walked through first. - Paul B-R
2pm - 4.30pm. Uniting Church Hall, cnr Kingsley Pde & Kadumba St, Yeronga. VENUE: Anglican Church Hall, cnr Killarney & Cork Streets, Yeronga
Live music, $4 to cover costs. When finances permit (couple of times a year), they are free. All Welcome, Musos very welcome too. Please invite anyone you know who may be interested (Dances will be called). Enquiries: or call Paul: 07-3395-8956
---
VISIT REDCHAIR FOR EVENTS
Sunshine Coast Guitar Orchestra; Flamenco events;
and some of your favourite artists in many genres.
www.redchair.com.au
---
THE CEILIDH CLAN
A Brisbane based collective of musicians dedicated to supplying traditional Scottish music and dance,
for events (weddings, festivals, parties, celebrations, Scottish events etc) that require an authentic Scottish touch.
Website: The Ceilidh Clan and
---

1st & 3rd Sundays 1pm - 4pm
Finbar's Lounge Bar
12 Bicentenary Lane, Maleny Free Entry
Musicians and Audience Welcome
Tunes played include BBS, NFF Session Experience, Maleny Tunes Class &
other common tunes at a moderate pace. Playing by ear encouraged.
More Info: Kate Fraser 07 5499 9172
Maleny Tunes Class - Wednesdays
Maleny Presbyterian Hall, Cedar Street, Maleny
Mainly Irish Tunes taught slowly by ear, slower and more advanced learning catered for.
www.malenytunesclass.blogspot.com.au
---
Click image


---
---
GRILL'D WEST END OPEN MIC TUESDAYS
OR
CHIPS & TUESDAYS…
Hi Brisbane friends! I host an open mic night every Tuesday in West End
If you have 15 - 30 mins of material that you would like to share in a very supportive setting let me know!
This is a family friendly restaurant so kids welcome.
Venue: Grill'd West End, 88 Boundary Street, West End 4101. 07-3255-3057
The owners of Grill'd, Dave and Colin, are committed to supporting live original music, which is fantastic… covers welcome too.
So if you would love an audience to play to and don't mind a burger as a thank you, give me a hoy.
Tell your friends… and come along and support this worthwhile event, sing your songs, even some covers.
---