[ HOME ]


Profile
---
SUZY FISH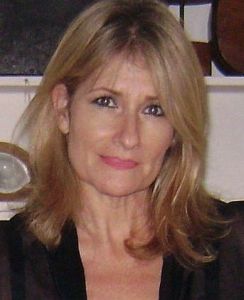 I was born in Zimbabwe in the late fifties to a Scottish mother and a second generation Rhodesian father. Although the former years of my life were spent in somewhat colonial environs, my immediate cultural experience was Celtic.
My family emigrated to New Zealand in the 60s, eventually settling in Auckland.
As far back as I can remember, I have always sung and my mother's relationship with the New Zealand Broadcasting Corporation ensured there was always a radio blasting out songs from old musicals and a Scottish programme at least once a week to sing along to.
At university, I met actual musicians who were playing and performing folk music. This resonated profoundly and it wasn't too long before I found a niche singing at small venues. In those days I played the guitar. How fortunate for me (and the auditory unchallenged) that I managed to develop musical relationships with people who could actually play. I hung up my nylon strings and just sang with anyone who cared to play.
The folk scene in NZ at this time was a little insular and a tad parochial.
I had reached a stage most antipodeans arrive at where they embark upon the obligatory Overseas Experience. I left NZ in the early 80's and spent the next 4 years travelling. I lived in Scotland for a year and basically traipsed from folk festival to folk festival; I visited Ireland many times but it really wasn't until I went to live and work in London that my love affair with Traditional music began. As in the case of all profound affairs, it consumed me and I spent many nights listening to the wonderful characters that epitomised the North London Irish music scene, playing endlessly in pubs before and after the doors closed. Musically, it was one of the most rewarding times of my life. I met Sean Casey, (son of Bobby) a fine fiddle and banjo player and whilst this relationship did little to enhance my personal development, it was through him and this eclectic circle, that I met Michael Tunney.
I returned to New Zealand only to find that my family, in its entirety, were considering a move to Queensland. When Michael followed with the intention of re-entering Australia via the back door, a sense of symmetry prevailed and we emigrated to Australia in 88.
Brisbane was buoyant, Expo was in full swing and Michael and I started playing music. It seemed as though Folk music in the Southern Hemisphere had come of age. I met the infamous Manilla Street residents and simultaneously became acquainted with the many and varied characters of the Irish scene. I lent my support to the Australian Aid for Ireland movement and played my part in the goings on at the Celtic Club in Fortitude Valley. Michael and I were now performing regularly at Dooley's Hotel in the Valley. Our band Shebeen played Thursdays and Sundays and Michael, Gerry Farrell and I would knock out almost any Irish tune a self respecting Celtophile could request.
A residency at the Australian National Hotel followed with the band Blackthorne; an off shoot of this resulting trips out West sponsored by the Arts Council - a great way to see parts of the country I may not have otherwise been able to experience.
I began to forge other musical connections too. Arguably the most significant was with Bernard O'Scanaill, a beautiful songwriter, a fine musician and great friend. We formed a duo called Bruscar and Bernard and I played many a gig on the Sunshine Coast, highlights of course being the Maleny and latterly, the Woodford Folk Festival. I'm indebted to Bernard; he was instrumental in creating a pathway along which I developed something more than a facsimile of musical style.
At this point Michael and I had met the highly accomplished Adrian Jefferies and Shebeen entered one of the many metamorphoses it would encompass over the years. Rose Broe joined the band, her dedication, delicious sense of humour and musicianship made playing with Shebeen a truly enjoyable experience. ("Gaelic for Mermaids", Rosey.. there's still an opening!?)
We were now one of the resident bands at the Irish Club in the city and in addition to the great nights we played there began to support many of the International artists who were travelling the country.
Other musicians came and went some stayed longer than others. Randall Mathews joined and played fine fiddle in addition to recording with the band, later Cairan O'Connell was to star for a while.
One of the most enduring factors in the musical equation for me has been the Queensland Folk Federation. A truly organic organisation, it has been partly and wholly responsible for many of relationships and musical experiences I've had. Most of the musicians I know have been associated in one way or another with the QFF and Steve Cook and Fred Graham are notable examples. I'd known Steve for many years and was delighted to be a part of the Tulca mór musical project. Playing with musicians of their calibre was a fantastic opportunity and it was a huge learning curve for me.
Music definitely became a passport, Tulca mór performed at many of the major Folk festivals, played support for great overseas artists, we recorded Rise a Mile with Adrian Jefferies and Ceri McCoy and played regularly in Brisbane.
It was the year 2000, a new Century.. a new outlook.. I decide to have a rest. I left the band and decided to concentrate on my career – or perhaps more accurately on the task of obtaining one.
I started teaching again however I missed the music.
This need was sublimated with fellowship from The Underachievers Club. Mark, Jenny, Tommy, Michael Tulley, the lovely Ryk and Rosey, the Highest point of Highgate Hill and the best ensemble to be inebriated with.
Tulca mór had been joined at this stage, by Andrew Heath, moonlighting from The Poachers. Their singer, Penny Boys had left the country and he asked if I'd consider auditioning for the band. He informed me that their band; didn't play pubs, didn't lug a P.A..ANYWHERE.. and were booked to play a Folk Festival in New Zealand..it took about 3 nano-seconds to make up my mind.
Filling the shoes of a great performer, playing with a spectacularly gifted guitarist not to mention the perfectly pitched, extraordinary talents of Cathy Bell, has been a wonderful challenge. Singing with the Poachers has allowed me to explore the music I've always wanted to interpret; it's made me want to be a better singer.
Irish music informed my singing and led me on an amazing journey. The music I sing now doesn't necessarily conform to any particular genre, it's drawn from every experience I've had. I've poached songs unashamedly and continue to do so. It's been a great ride for a girl from Zimbabwe and I hope it continues for a long, long time
Sue Fish